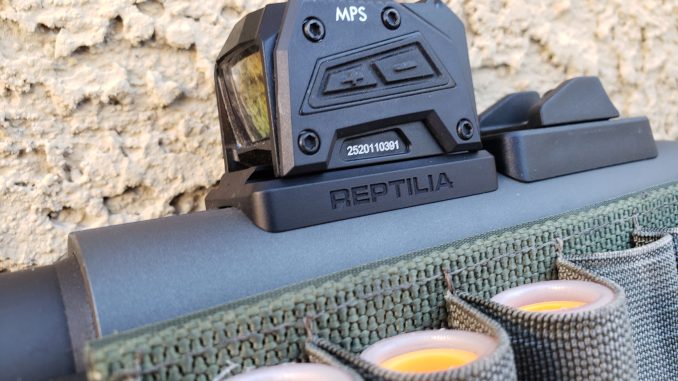 When I started my review of the Beretta A300 Ultima Patrol I wanted to do something different. This time around "different" meant putting an optic on a shotgun. With a spare Steiner MPS laying around, I had a candidate, and now I needed to find a mount. This led me to Reptilia, who I've already had success with in the past. I picked up one of their Saddle mounts for the Beretta 1301/A300, compatible with both the MPS, and the Aimpoint ACRO. Upon arrival I threw it on the gun and began the review process. How has the Reptilia Saddle mount fared over the past few months?
Design of the Reptilia Saddle Mount
The design of the Reptilia Saddle is fairly straightforward. Made from 7075-T6 aluminum, and MIL-STD, Type III, hardcoat anodized, the mount is rugged and rust resistant. Weighing a light 0.81 ounces, the mount itself is virtually unnoticeable on top of the receiver. I threw some Vibratite VC3 on the MPS's mounting screw prior to attaching it to the Saddle.
Mounting the Saddle is very simple. Two screws affix it to the receiver, and the optic clamps onto the mount just as it would a pistol slide. These screws are in the same place as the factory picatinny rail on a 1301, with the mount acting as a replacement for said rail.
Range Time
The Reptilia Saddle mount has been mounted to the A300 Ultima Patrol since April 2023. During that time it has seen regular range time, along with Gunsite's 260 Shotgun, and the Rangemaster Shotgun Instructor Course. Throughout the course of this review, the Reptilia Saddle mount has seen 1,011 rounds. Below is the breakdown of those rounds as of the time of this review:
10x handload birdshot 2-3/4"
25x Winchester AA Xtra Light #7.5 2-3/4"
55x Winchester AA Light #7.5 2-3/4"
433x Federal Top Gun #7.5 2-3/4"
16x Hornady American Gunner 8 pellet 2-3/4 reduced recoil 2-3/4"
157x Remington LE Low Recoil 8 pellet 00 Buck 2-3/4"
84x Hornady Critical Defense 8 pellet 00 buck 2-3/4"
16x Federal Flite Control LE132 9 pellet 00 buck 2-3/4"
10x Wolf 9 pellet 00 buck 2-3/4"
21x S&B 9 pellet 00 buck 2-3/4"
5x Federal Power Shok 41 pellet #4 buck 3"
179x Federal Power Shok 1oz slug 2-3/4"
To date, I have had zero issues with the Reptilia Saddle mount. Despite a significant diet of buckshot and slugs, at no point have screws come loose, nor anything become deformed. While not a common source of contention, I prefer this setup with the irons and optic mount being separate components. This keeps them independent in the event of loosening under recoil or other impacts, helping to ensure one sighting system is still functional in an emergency.
Final Thoughts on the Reptilia Saddle Mount
Overall the Reptilia Saddle mount has been a fantastic piece of equipment. Between its rugged reliability, and the ability to use iron sights through it, I have no complaints. If you're considering adding an optic to your shotgun, I strongly recommend the Saddle mount. I know I'll be a repeat customer for my next shotgun that needs a dot.
MSRP on the Reptilia Saddle Mount for Beretta A300 and 1301 is $119.95. You can find yours >>HERE<<
Support My Work
If you made it this far, thanks for reading! Writing isn't my full-time profession, and nearly everything I do comes out of my own pocket. Between ammunition, tuition, range fees and more, expenses add up fast. If you like what I have to offer, consider making a donation to my Patreon.
Every bit helps bring more work like this to you, and contributes to shortened timelines or more in-depth work on my part. You'll also have more direct access to me, offering suggestions for future projects, looking behind the scenes, and getting early access to some content. You can find my Patreon >>HERE<<