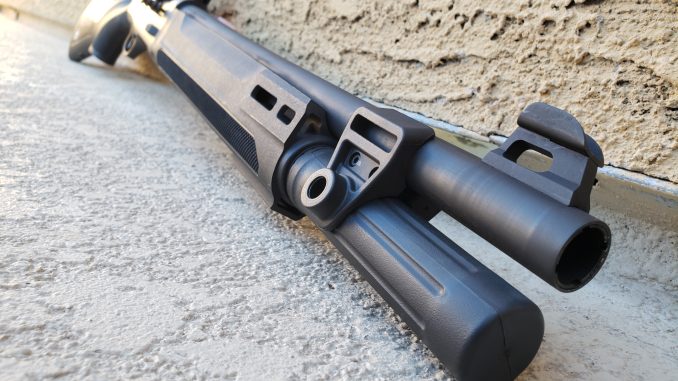 Beretta unveiled their latest shotgun during SHOT Show 2023, the A300 Ultima Patrol. As a massive fan of the scattergun, I was intrigued by this, as it appeared to check a lot of the boxes of many premium guns for a lower price. First impressions were good upon handling their floor samples, but I wanted to get hands-on to see how they perform in the real world. I love its older brother, the 1301, so the chances of this being a winner were good.
A few weeks later I reached out to Beretta to request a sample for review. Shortly thereafter I found myself picking up a loaner from my FFL, ready to put the gun to the test. So how has the Beretta A300 Ultima Patrol faired over the past several months?
Design of the Beretta A300 Ultima Patrol
The Beretta A300 Ultima Patrol is a twelve gauge, semiautomatic, gas operated shotgun. With this, Beretta has taken their already successful A300 sporting line of shotgun and configured them for martial use; think home defense, law enforcement purposes, and more. The 19.1 inch barrel is threaded for chokes, and comes standard with an Improved Cylinder from the factory. The gun features a 3-inch chamber, and comes in at seven pounds unloaded.
Sights are ghost rings, with a red fiber front post, and polymer non-adjustable rear sight. These rear sights are compatible with metal 1301 sights, if shooters prefer an adjustable rear ring. The receiver is tapped for optics, both direct mount and 1913 rails. At the beginning of the review process I attached a Steiner MPS/ACRO mount from Reptilia to the receiver.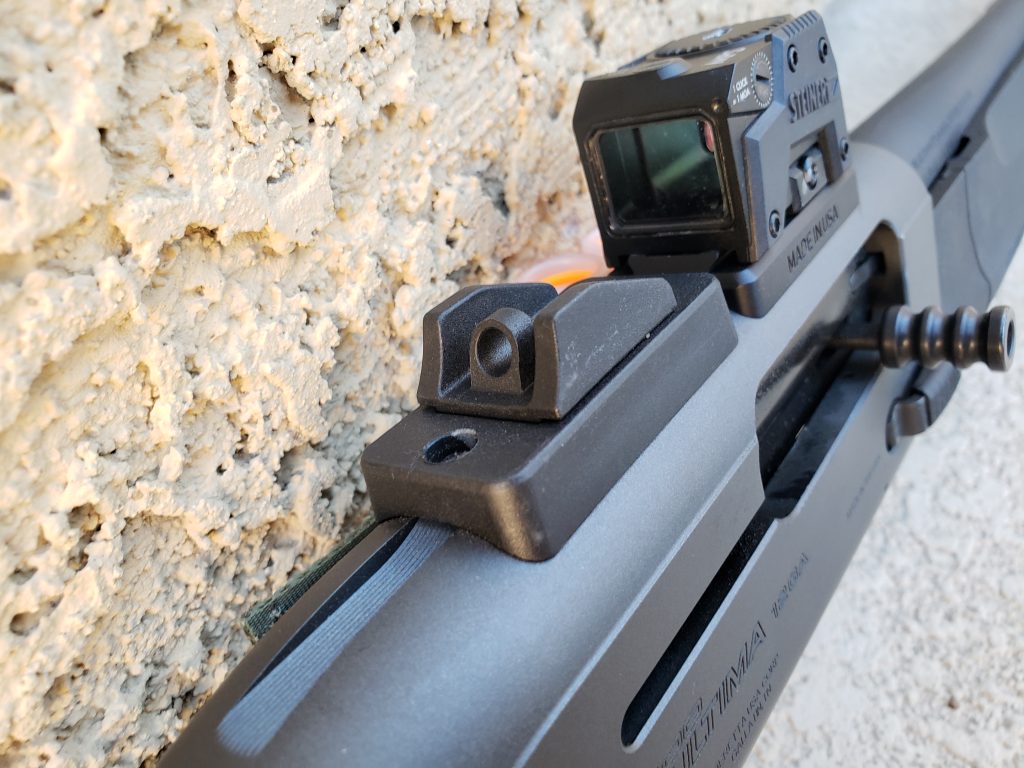 Below our barrel is a one-piece, OEM extended magazine tube, bringing capacity to 7+1 rounds of 2-3/4 inch shells. If using shells with a roll-crimp, such as those from S&B, you'll reduce capacity by one. Covering the tube is a screw-on polymer sheath. Helping to keep the tube in place is polymer barrel clamp. This clamp features QD sockets on each side of the gun, along with slots to thread your sling through.
Ergonomics
The Stock
The Beretta A300UP's stock is visually similar to those on the 1301, but they are not the same piece of hardware. Currently the A300 is not compatible with 1301 stocks, to include aftermarket options, though I've heard rumblings of adapters being in the works. Multiple spacers come with the gun to help adjust length of pull to suit a variety of sizes of shooters. Texturing on the semi-pistol grip is fantastic, helping to ensure a positive purchase on the gun under recoil. This grip is fairly vertical, though a little further back than my preference. Overall, the stock is very good, and I don't see myself swapping it out even if the opportunity ever arises.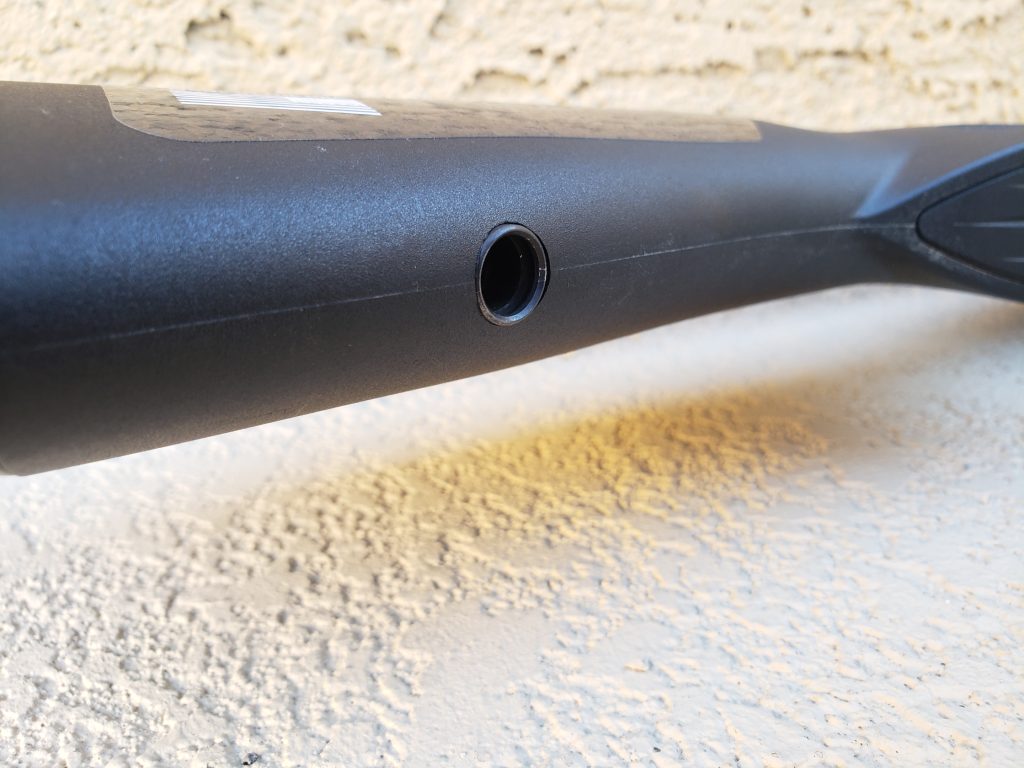 On the bottom of the stock is a QD socket where traditional swivels are typically located. This socket comes with a rubber plug which I found a little tricky to remove, requiring the use of pliers. I regularly see people say that this socket doesn't work, but that is not the case. The QD socket is adjustable for depth, and some users may need to make a change to work with their QD equipment. To date I have had zero issues with this mount.
The Forend on the Beretta A300 Ultima Patrol
The forend is one of the stand-out features of the Beretta A300 Ultima Patrol. A large portion features very aggressive directional texturing. This does a fantastic job maintaining my grip, even with sweaty hands or gloves. That said, this texturing has torn up some skin on my hand after long ranges sessions with heavy recoiling ammunition. Some users may want to hit these areas with sandpaper to slightly reduce their sharpness. Towards the end of the forend you'll find MLOK slots at the 3/6/9 o'clock positions. These put your white light within reach without requiring a remote switch or excessive stretching, and have proven durable throughout the review process.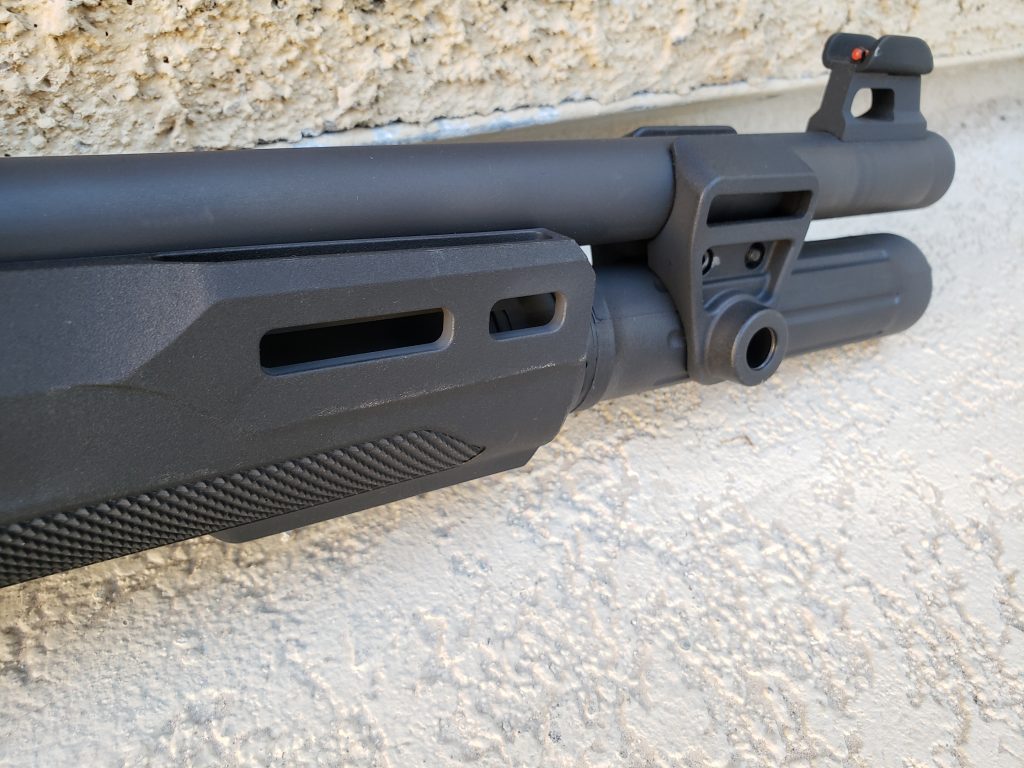 Currently the A300UP forend is not compatible with the Beretta 1301. There are adapters in the works, which will be a nice addition to the more expensive shotgun.
Controls
Large controls are the name of the game on the Beretta A300 Ultima Patrol, and that's a good thing. A large safety is located in front of the trigger guard that is very positive and easy to reach. This should be the standard for other manufacturers, and is probably my favorite shotgun safety on the market. Just below the ejection port is the bolt release, which is large and covered in a rubber sleeve to give it some texture. Enough force is required to close the action to avoid accidental activation, but not enough to cause users any difficulty. Pulling this lever out allows you to eject rounds from the magazine easily as it is connected to the shell stop. Do this while pressing the lifter/carrier upwards to easily unload your gun safely.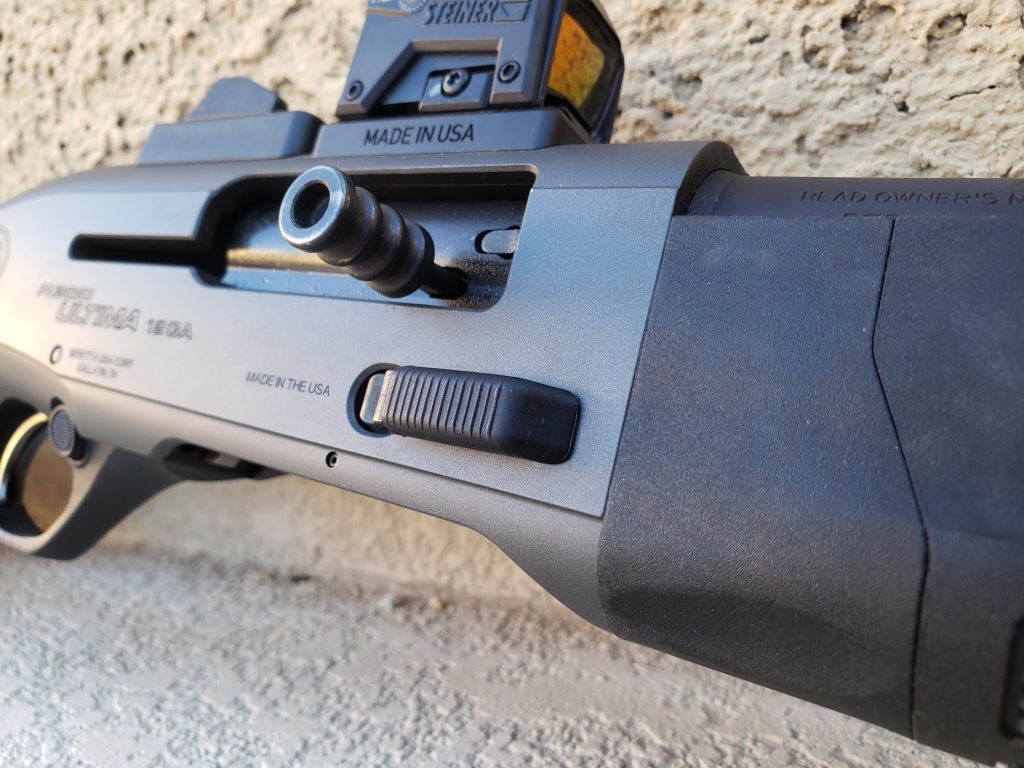 Keeping with this theme is the charging handle. Smooth in finish, the ribbed handle is larger than what you find on sporting guns without being excessive. With medium size hands, I can get my index and middle finger around the handle to aggressively charge the gun when needed. If clearing a stoppage or performing certain loading techniques, the handle is easy to hold back with just a thumb.
Slight Differences
A feature that catches some shooters off guard is the carrier stop. This small square button at the rear of the lifter allows you to place a round on the lifter with the bolt closed. Without pressing this button you can port load or eject the round from the chamber, and no rounds will leave the magazine no matter how many times you cycle the action. Pressing the carrier stop loads a round from the magazine onto the lifter. That round can then be chambered by cycling the charging handle.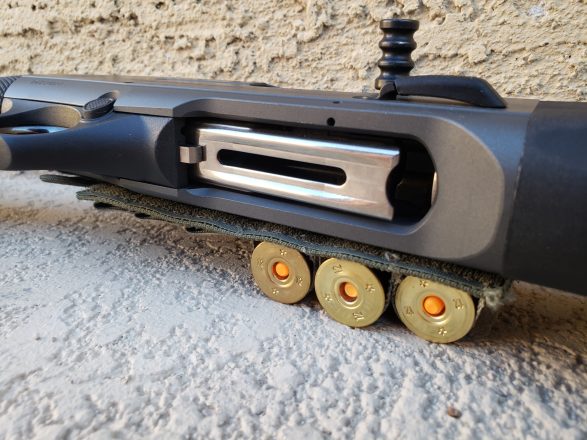 This takes a little getting used to, but is a fantastic system for deliberate manipulation of your shotgun. One of the biggest advantages of the carrier stop is allowing you to keep a gun in "cruiser ready" condition, requiring only a quick running of the charging handle to chamber a round.
Range Time with the Beretta A300 Ultima Patrol
I received the Beretta A300 Ultima Patrol in the Spring of 2023 from Beretta. During that time the shotgun accompanied me to Gunsite Academy 260 Shotgun, as well as the Rangemaster Shotgun Instructor Development Course. Outside of this I also brought the shotgun along to most range trips, and developed a handful of drills and courses of fire using it. In total, the A300UP has seen 1,012 rounds over the past several months.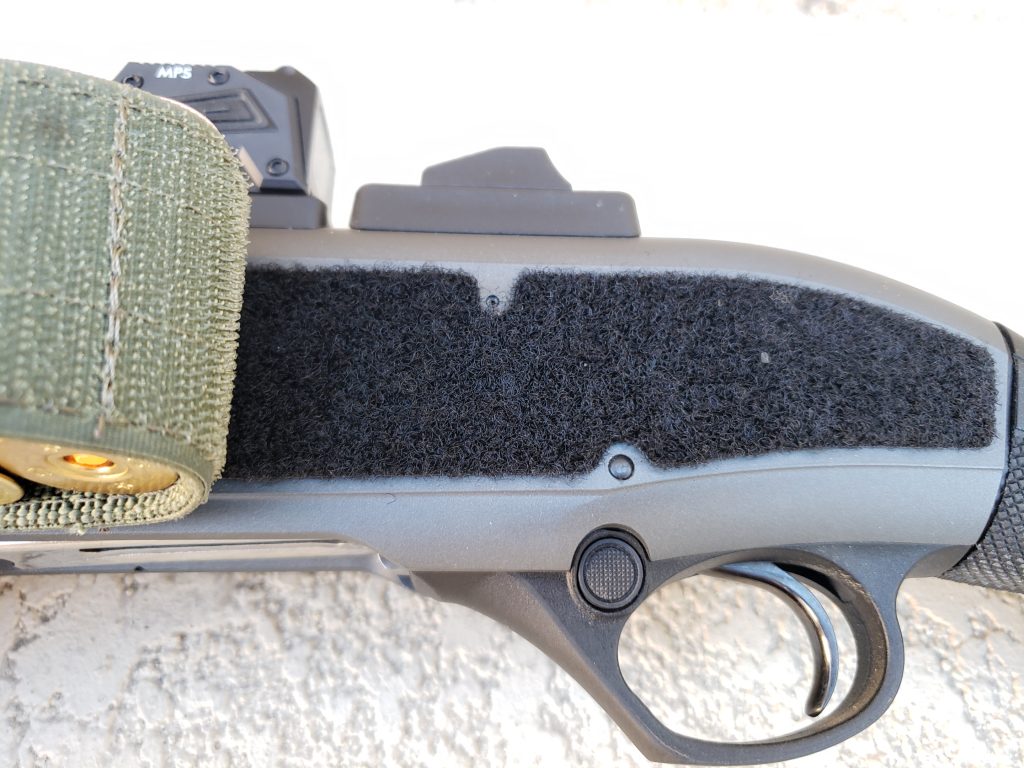 Over the course of this review I only experienced three stoppages; each was a failure to go into battery during the Rangemaster Shotgun Instructor Course. Interestingly, each came from different ammunition. Simply running the charging handle cleared the stoppages, with no other reliability issues popping up during testing. Below is the breakdown of rounds fired.
Rounds fired total:
4x Winchester AA #8 Low Recoil Low Noise 2-3/4"
10x handload birdshot 2-3/4"
25x Winchester AA Xtra Light #7.5 2-3/4"
50x Winchester AA Light #7.5 2-3/4"
433x Federal Top Gun #7.5 2-3/4"
5x Federal LE133 Flite Control 8 pellet 00 buck 2-3/4"
19x Hornady American Gunner 8 pellet 2-3/4 reduced recoil 2-3/4"
55x Hornady Critical Defense 8 pellet 00 buck 2-3/4"
157x Remington LE Low Recoil 8 pellet 00 Buck 2-3/4"
3x Federal LE132 Flite Control 9 pellet 00 buck 2-3/4"
5x Rio 9 pellet 00 buck 2-3/4"
5x PMC 9 pellet 00 buck 2-3/4""
10x Wolf 9 pellet 00 buck 2-3/4"
21x S&B 9 pellet 00 buck 2-3/4"
10x Federal Power Shok 41 pellet #4 buck 3"
5x Winchester Super X 1oz slug 2-3/4"
195x Federal Power Shok 1oz slug 2-3/4"
Real World Performance
Beretta has been quoted as saying the A300UP will provide an "open hand" group at 15 yards using 8-pellet Federal Flite Control. While not quite as tight as the "closed fist" groups provided by the more expensive 1301, this is still a solid starting point.
My very first shots with the Beretta A300 Ultima Patrol were using Federal Flite Control LE132. These were taken at 15 yards on an IDPA torso, with all pellets, minus two fliers, staying in the 8" chest circle. Using irons, the gun instantly hit to point of aim with both buckshot and 1oz slugs out to roughly 25 yards. This would prove to be indicative of the gun's performance over the next several months with most ammunition. Throughout this review, all rounds were fired using the included IC choke, so your results may vary depending on your configuration.
Across a variety of ammunition I have reliably kept 00 buckshot inside a B-8 Repair Center out to 10 yards. With good technique, slugs reliably hit on C-Zone steel out to 50 yards, and even 100 yard shots can be made regularly. Of course some loads perform worse than others, but quality ammunition provides quality results.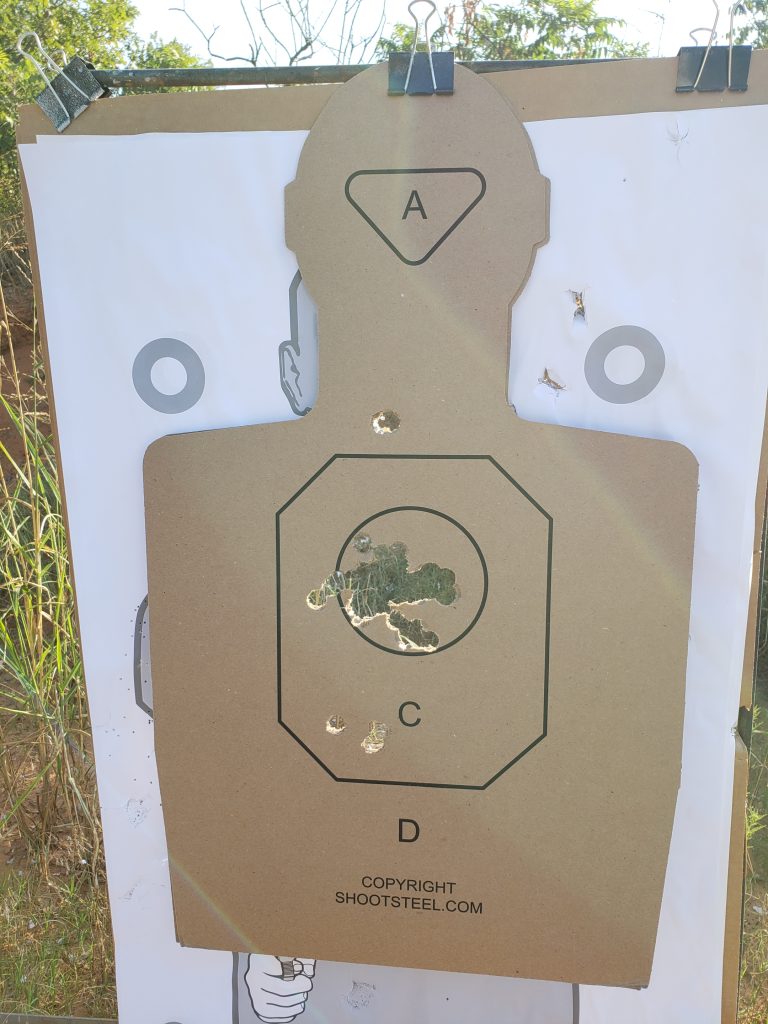 As an experiment, I wanted to see how light I could go on ammo until the gun stopped cycling reliably. While ejection is weak, reliability stayed at 100% using Winchester AA Light birdshot. An attempt was made using their Xtra Light, and Low Noise Low Recoil loads, but those failed to properly cycle the action. Despite this, the gun exceed the expectations of many, continuing to run the Light loads, even when dirty.
Check Your Gear
Just after the 550 round mark I noticed the barrel clamp had slid up significantly. This was despite the screws showing no rotation with their witness marks. The front sight protector plate also had loosened substantially, though the front post itself is a separate piece that was still solid. Of note, this screw does not have thread locker applied from the factory, which I quickly fixed. At this point nearly 400 rounds were buckshot or slugs, with a handful of 3" magnum shells being fired through the gun. Upon closer inspection nothing else appeared to have loosened of moved out of place. From here I tighten everything and continue with my review.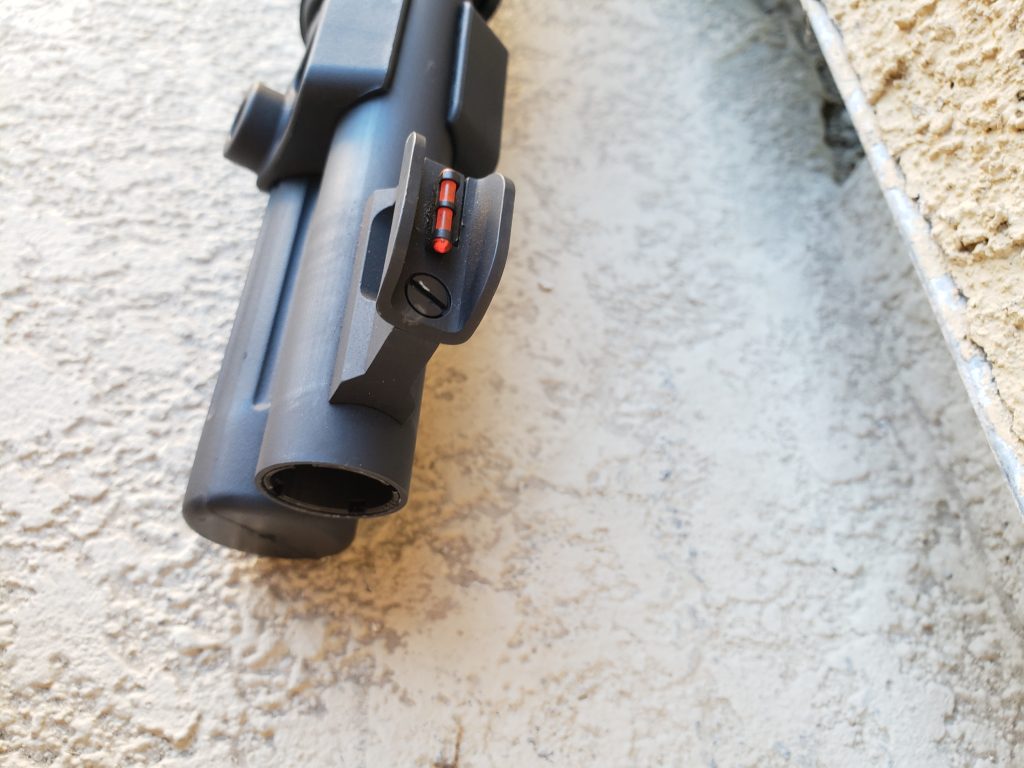 The clamp once again moved after the second day of the Rangemaster Shotgun Instructor Course, and I quickly moved it back into place. Additionally, the choke tube needed about 1/4 turn of tightening. The trigger guard retaining pin also began sliding out at this point, moving by just a few millimeters. This pin is easily tapped into place with a rubber mallet. None of these issues impacted function, but could be problematic if not caught early.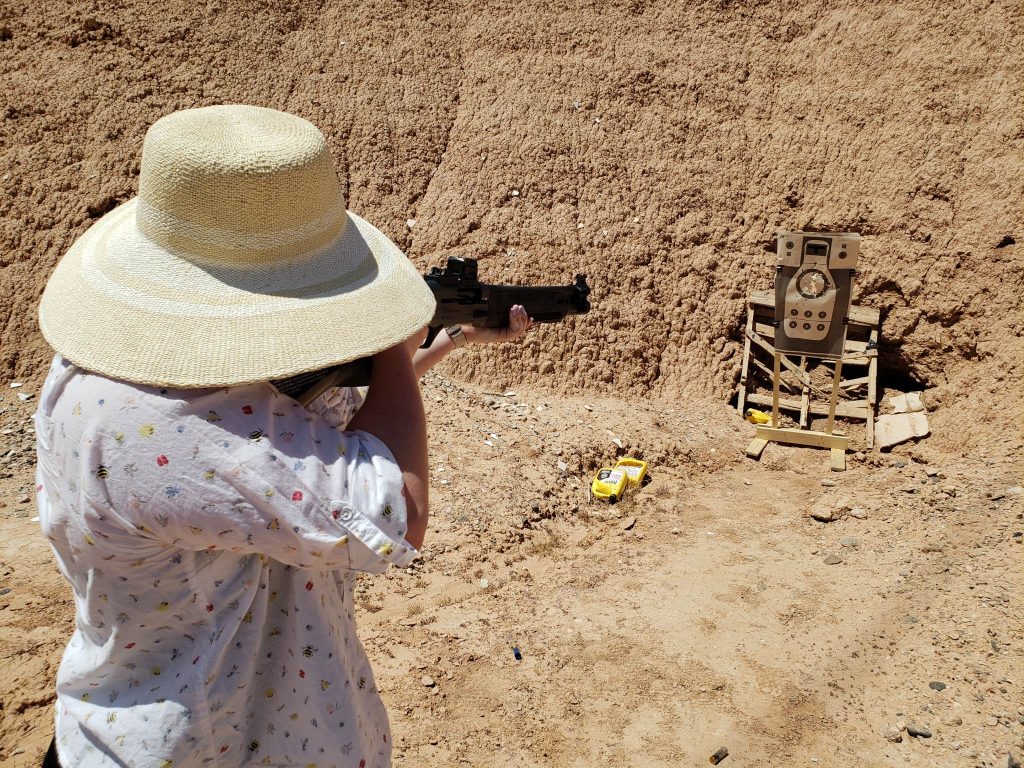 I am not surprised that things were starting to rattle loose after that large amount of high recoiling ammunition. Let this be a reminder to regularly check your equipment for any abnormalities. A quick once-over every now and again can keep you from losing any pieces or parts, or damaging your ego in front of others. Even the most well made equipment can run into issues, however minor. This is especially true when paired with the harsh recoil of a 12 gauge shotgun.
Other Opinions
Over the course of the review I had a handful of smaller statured shooters try their hand with the A300 Ultima Patrol. The first was a brand new shooter, a roughly 95 pound woman who was getting beaten up by her husband's Kel-Tec KSG. I offered them a try with the Beretta, and they both instantly fell in love after a bashing from their bullpup. This shooter managed to score a clean 15 yard headshot, and a big boost in confidence after a few rounds. Overall, the reduced recoil from the gas system, and improved ergonomics have proven to be a hit among shooters.
Final Thoughts on the Beretta A300 Ultima Patrol
Overall the Beretta A300 Ultima Patrol has been a fantastic shotgun. With a focus on being a "budget" option versus the 1301, there are a few concessions, such as the non-adjustable rear sight, or slightly reduced precision in the barrel. Despite this, the build quality across the entire gun is still stellar, and the A300UP manages to punch well above its weight class. I have no qualms choosing this for personal protection, and I think it should be the go-to when looking at an autoloading shotgun.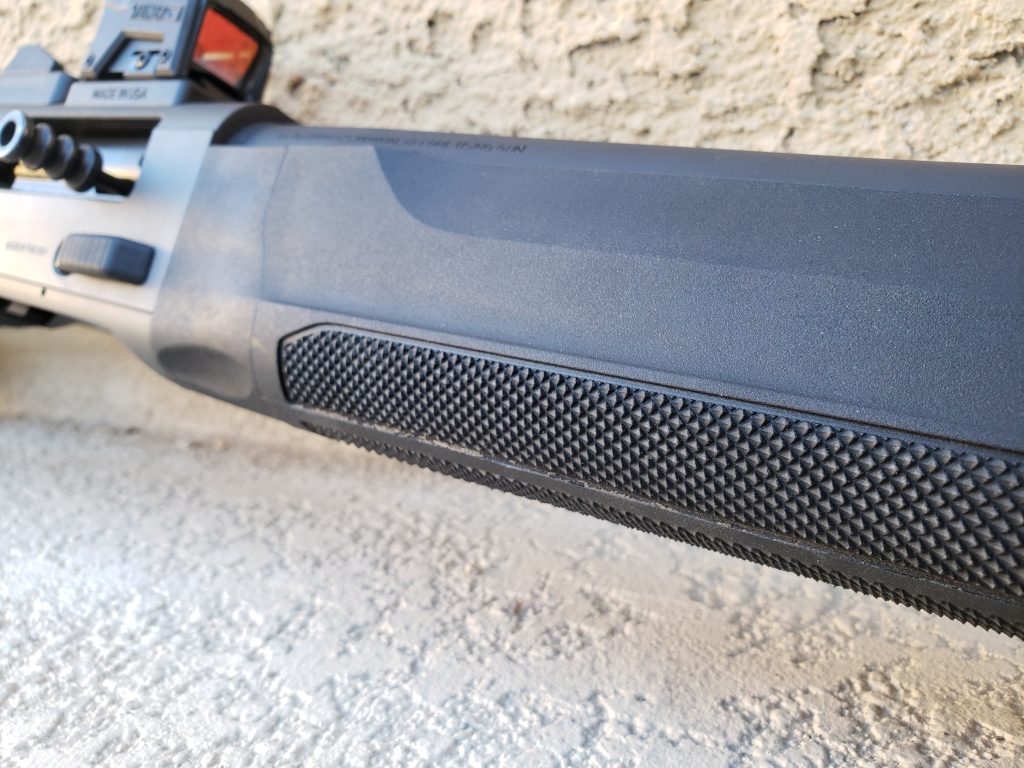 From the fantastic forend, to the rugged optic mount, reduced recoil, and awesome accuracy, the Beretta A300UP is probably the best bang for your buck in the shotgun world right now.
MSRP on the black and grey models of the A300 Ultima Patrol come in at $1099.00. The Tiger Stripe model comes in at $1199.00 MSRP. You can find yours >>HERE<<
Author's Note: Beretta sent this gun to me on loan for purposes of review. No expectations of a positive review were provided by either party.
If you're feeling generous, consider subscribing to my Patreon.