Dark Star Gear is one of the most popular holster makers for those "in the know." They support a fairly wide variety of pistols, and are known for offering vibrant color configurations. I received my Orion for free after winning Top Shot during Citizen's Defense Research Handgun Tests and Standards. I opted for a Glock 34 length holster in Toxic Green. With no prior Dark Star experience, I was excited to see what the hype was all about.
Dark Star Gear Orion Construction and Design
Dark Star Gear's Orion is designed for conceal carry at the appendix position, AIWB. With a focus on minimalism, Dark Star avoids many of the built-in frills found in the competition.
Holsters feature a full length sweat guard along the body side of the gun. Shooters must specify cuts for optic use, as the feature is not standard, but also does not increase price. A large channel for suppressor height sights comes with all Orion holsters. The sweat guard is blocked to fit extended slide stop levers, and the holster is compatible with ambidextrous controls. This sticks out slightly lower than I prefer, and can sometimes interfere with my thumb during the draw.
The mouth of the Orion is fairly tight, which is consistent with most of the competition. This can make holstering slightly challenging when tired, preoccupied, or in darkness. The area near the trigger guard is substantially relieved, allowing for a high grip with no interference. This relief cut is excellent, and still manages to completely cover the trigger guard.
The muzzle end of the Dark Star Orion is closed and rounded. making for a very comfortable carry solution. There are two downsides to this however. You are restricted to the barrel length of the holster you order (no G34's in a G17 holster), so order the longer size if you plan on swapping guns. If brass or other debris makes its way into the holster, you'll have to fish the debris out instead of having it falling completely through. I have experienced this first hand in training and competition. Neither are major issues, but things to be cognizant of.
Retention
Retention is adjustable through two screws below the trigger guard. There is very little room for adjustment, but that has not been an issue. The Dark Star Gear Orion is one of the few holsters that has perfect retention in my experience. Straight out of the packaging I had zero desire to loosen or tighten the holster's grip on my gun. It retains the pistol under extreme movements, but not so tight to impede my draw. Retention is off the trigger guard, allowing shooters to use varying barrel lengths in the same holster.
Dark Wing
Dark Star's in house claw/wing is known as the Dark Wing. This is probably my favorite wing on the market. It is fairly aggressive in driving the gun into the body. I've noticed that some wings will bend easily, making them virtually irrelevant to the holster, but the Dark Wing is incredibly rigid and stable. The Dark Wing also seems to be easily modified due to the stair step design, allowing shooters to file off steps for a custom fit. Two screws hold it in place, which are also used to adjust retention for the whole holster.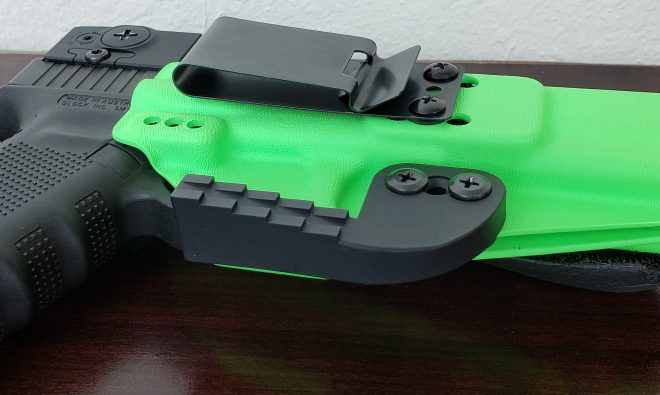 Mounting Options
Dark Star offers several options for mounting the Orion to the belt. Their primary method is through a single, large, spring steel belt clip. This is mounted via two screws, and features a large lip for manipulation, along with an internal reverse hook to help maintain purchase on the belt. The metallic clip does a good job of keeping the holster attached to the belt, but that's about it.
The clip is roughly 1.75" in height, making it taller than the average belt. It is also quite deep, being larger in thickness than any belt I own. This, combined with its single point of contact, makes for an unstable mount. I frequently found my pistol at different angles throughout the day, with both negative and positive lateral cant. This is exactly the opposite of what you want when drawing your pistol during a defensive encounter. Users can easily solve this by swapping the Dark Star clip for Discrete Carry Concepts. For those who prefer Pull-the-Dot loops or a Monoblock, Dark Star includes options for mounting those as well.
Wedge
Dark Star Gear does not offer an integral wedge with their holsters. Instead, users can purchase various foam wedges to suit their preference. I opted for their teardrop foam wedge, which is a little too aggressive for such a long holster. The teardrop wedge ends up pushing the mouth of the Orion so aggressively into my body that I have difficulty reholstering the gun. This also causes my front slide serrations to drag against the mouth of the holster, impeding my draw and shaving away holster material. I ended up replacing the teardrop wedge with a Dr Scholls heel insert to reduce the extreme angle of the holster. While the Dr Scholls isn't very effective at concealment, it is certainly better than no wedge, while being more usable with this holster configuration.
I do think that the teardrop wedge is a solid option for shorter barrels. It has become a mainstay on my Harry Holsters Icon, as well as a Dark Star Apollo.
Final Thoughts on the Dark Star Gear Orion
Overall I think the Dark Star Gear Orion is a solid holster. The materials are high quality and the design is sensible and modern. Swapping out the belt clip for something more stable would substantially improve the holster. It is not my favorite holster in my inventory, as that falls to my Tenicor Velo. That being said, Dark Star has earned a place among my top recommendations.
Pricing starts at $80 for the Orion, putting it on par with the competition. To sweeten the deal, the company includes a small box of Lemonheads candy with each order. An unusual, but nice touch. Check out what Dark Star Gear has to offer >>HERE<<