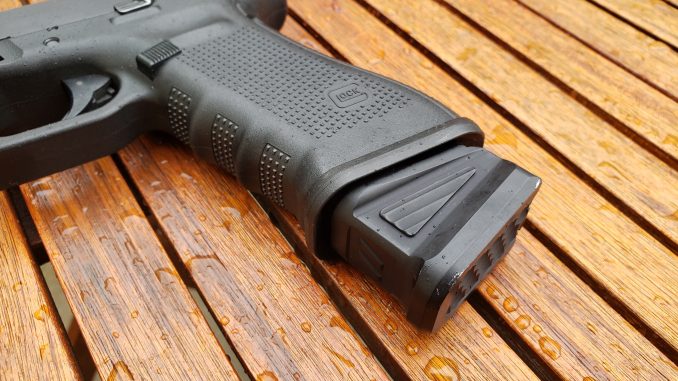 ZEV Technologies are known for their higher end firearms, parts, and accessories. With a distinct visual flare, ZEV gear is hard to miss on shelves or on the range. After seeing their Glock magazine extension, I was intrigued by the mounting solution, and picked one up for testing. How did it perform?
Mounting
The ZEV extension is one of the simpler extensions to mount. First you must disassemble your OEM magazine, and swap your follower to the enhanced power spring provided by ZEV. Next, disassemble the extension by sliding the locking tab downward, and the floorplate rearward. From here, place your enhanced power spring into the magazine. Compress the spring and slide the floorplate back on, then ensure the locking tab is in place to secure everything.
Dimensions
The ZEV extension is fairly traditional in design. The top edges of the extension are slightly beveled to aid in compatibility with flared magwells. Both sides and front feature raised texturing, with the floorplate having fairly aggressive stippling of sorts which helps ensure a proper purchase on the magazine. The extension as a whole has a slightly rough finish to it, to assist in a solid grip.
The Zev extension comes in at 4.1 ounces when mounted to a Glock 17 magazine. This places it solidly in the middle in terms of weight among other extensions I've reviewed. As a +5 extension, it gives me a full capacity of 22 rounds of 9mm.
Function
Before being trusted on my belt all magazine extensions endure a drop test. Parameters are simple. Each magazine is fully loaded, then dropped five times onto concrete from shoulder height. Mags are dropped straight down onto the extension as though falling from a firing pistol. The first drop results in the extension popping off my magazine. After reattaching the extension, it remained firmly in place throughout subsequent drops.
Having survived the drop test, the ZEV extension earned a place in my regular rotation. From here, it saw action at The Armed Parent/Guardian, the P&S Training Summit, a local course, and regular range time. Approximately 1,015 rounds have been cycled through this magazine at the time of writing. During this time I've experienced exactly zero stoppages attributable to the magazine, and the extension has remained solidly attached.
Final Thoughts on the ZEV Technologies
Overall, the ZEV Technologies Glock magazine extension has worked very well. I'm still a little hesitant about the security of the mounting method, but so far my concerns have proven to be without reason. While this isn't my favorite magazine extension, it offers unique aesthetics with boringly consistent reliability.
With an MSRP of $47.00, ZEV Technologies Glock magazine extensions are on par price wise with much of the competition. You can find yours >>HERE<<