There is nothing quite like a great factory built rifle sometimes. Like many American shooters my first rifle was an AR-15, unlike most American shooters I decided to build every single one I have owned. I never treated myself to spending quality time behind a premium factory built rifle. Man, was I cheating myself. Sure, my home builds work as you would expect, but the Daniel Defense M4A1 Mil Spec+ took the level of quality to a new place.
Daniel Defense sent us one of their Mil Spec+ rifles for review, this means that it is finished in their Mil Spec+ Cerakote coating. It really makes the rifle rather handsome in my humble opinion. The finish is uniform and appears to be very durable, it is also a nice FDE sort of shade. I also liked how they matched the Cerakote color perfectly to the grip and stock.
Once I received the rifle the very first thing I did was check the chamber, I was pleasantly surprised with a bolt action like feel when I pulled back on the charging handle. Normally there is a bit of spring noise as well as a bit of resistance when the bolt moves over the hammer, with the M4A1 all you experience is feel of the bolt moving smoothly over the hammer. I know it isn't a groundbreaking feature, but I was so impressed with it that I handed the rifle back to my dealer and instructed him to feel how smooth the bolt is. As soon as he pulled back on the charging handle he looked up at me and said "Woah dude".
Enough about that.
Looking over the rifle's specs from Daniel Defense's website reveals an impressive list of components. The M4A1 offers just about everything you could want out of an AR15 carbine, the only thing I feel that Daniel Defense missed was an upgraded charging handle latch. I feel that is an oversight given how many people run red dots, magnifiers, and scopes on their rifles. No matter, it is an oversight that is easily fixed.
MATERIALS & CONSTRUCTION

LOWER RECEIVER: Mil-Spec with Enhanced Flared Magazine Well and Rear Receiver QD Swivel Attachment Point. CNC Machined of 7075-T6 Aluminum, Type III Hard Coat Anodized
UPPER RECEIVER: Mil-Spec with Indexing Marks and M4 Feed Ramps. CNC Machined of 7075-T6 Aluminum, Type III Hard Coat Anodized
BARREL: Chrome Moly Vanadium Steel, Cold Hammer Forged, 1:7 twist, 14.5″ M4 Profile, Chrome Lined, and Mil-Spec Heavy Phosphate Coated
GAS SYSTEM: Pinned Low Profile Gas Block CNC Machined of 4140 hardened steel with Mil-Spec Heavy Phosphate Coating, Carbine Length, Direct Impingement
MUZZLE DEVICE: Pinned and Welded Daniel Defense Flash Suppressor, Extended, 17-4 PH Stainless Steel, Salt Bath Nitride Finished
BOLT CARRIER GROUP: M16 Profile, Chrome Lined, Properly Staked Gas Key
BUFFER: H Buffer
SIGHTS: Sold Separately
HANDGUARD: Daniel Defense M4A1 Rail Interface System (RIS) II, CNC Machined of 6061-T6 Aluminum
RECEIVER EXTENSION: 6 Position Mil-Spec 7075-T6 Aluminum
BUTTSTOCK: Daniel Defense Buttstock, Glass Filled Polymer with Soft Touch Overmolding
PISTOL GRIP: Daniel Defense Pistol Grip, Glass Filled Polymer with Soft Touch Overmolding
RAIL PANELS: Daniel Defense Rail Panels made from Santoprene, heat resistant to 300° F.
FINISH: Daniel Defense Mil Spec+ Cerakote
Made in the USA!
Another thing that I really found annoying is that since Daniel Defense built this with a 14.5″ barrel it has a pinned flash hider. Unfortunately, this makes changing muzzle devices near impossible at home. So much for running the DD M4A1 suppressed. I do quite like the flash hider they chose though, I am not normally a fan of anything other than a standard A2 birdcage or whatever QD muzzle device is needed for a suppressor. I found the M4A1's flash hider to be clocked perfectly and the pin and weld job to be cosmetically pleasing.
Daniel Defense installs their M4A1 Rail Interface System (RIS) II on the M4A1. If I am honest I have lusted after one of the MK18 RIS II for my personal SBR for a long while, but it never was in the cards. The rail is very solid and accessories lock up tightly to it when installed. It is easy to see why the Daniel Defense rails were selected by the Department of Defense as replacements for the robust Knights Armament rails found on most M4 rifles. Daniel Defense even included rail panels made from something called Santoprene. I have no idea what that is but it sure felt nice, sort of a cross between a silicone pot holder and a more traditional rubber.
Both the rails and upper receiver is nicely T marked so you can quickly locate accessories in the same place every time you attach them.
The upper receiver to lower receiver fit is nice and tight. All of the lower parts are standard Mil-Spec parts and work well, no mushy clicks. The trigger is also Mil-Spec but the feel of it is nicer than other standard triggers.
The pistol grip and stock are of Daniel Defense's own design. They have some added grip panels that they refer to as Soft Touch Overmolding. Normally I don't like rubber on my grips because over time they become sticky and leave a residue on my hands. I can't say this won't happen over time with the Daniel Defense parts, but the rifle I had for testing didn't seem to exhibit the same gross stickiness that I have experienced with the Magpul MOE+ grips.
The sights that Daniel Defense supplied aren't standard on the rifle, but I wish they were. They are super lightweight at only 2.8 ounces. They have an MSRP of $125 and you can find them here.
The M4A1 includes a rear QD swivel attachment point in addition to the QD attachment point on the stock.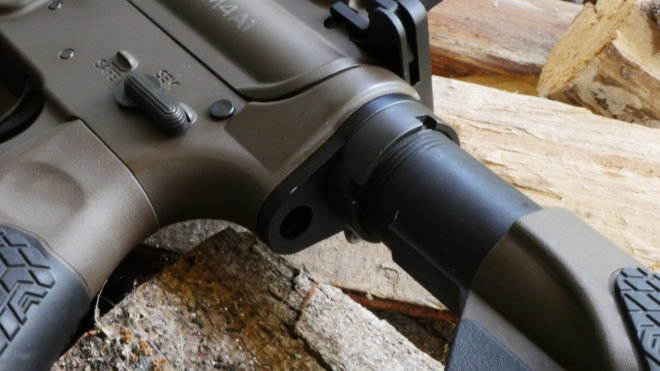 Out at the range, I found the rifle to handle nicely, at under 7 pounds it was a treat to shoulder. Unfortunately, I had so much fun shooting the steel targets that I forgot to group the rifle. Other reviewers have reported MOA or sub MOA accuracy out of the same testing and evaluation rifle I received. The M4A1 became my go-to AR-15 while I had it, making several range trips with me and digesting darn near 500 rounds of various ammo.
I was enjoying it so much that I asked some of my friends if they would like a go, none of them turned down some free trigger time. My friend Randy was the first to take the bait. After he handed the rifle back he had a ton of questions to include "Where can I order one?". Randy seemed pleased with his time behind the gun.
Then I passed the rifle to a friend of mine's son Alex. He had just celebrated his 21st birthday and was out at the same range we were breaking in his new 1911 that he purchased as a birthday gift to himself. Alex was eager to shoot a nice AR-15 so I loaded a mag and handed the rifle over to him. Again, I was met with a couple of questions about the rifle.
After all, was said and done the Daniel Defense M4A1 Mil Spec+ turned out to be a wonderful rifle. After taking it to the range half a dozen times and roughly 500 rounds put down the pipe I didn't experience a single malfunction. I liked it so much that I am planning on ordering one of their MK18 Mil Spec+ rifles for my personal collection when finances allow. At an MSRP of $1949 the price is a bit steep, but once in a while treating one's self is called for. If you are looking for a premium AR-15 or AR-15 parts I suggest that you check out Daniel Defense's offerings on their website.
This post originally was run on The Firearm Blog - http://www.thefirearmblog.com/blog/2015/07/08/review-daniel-defense-m4a1-mil-spec/