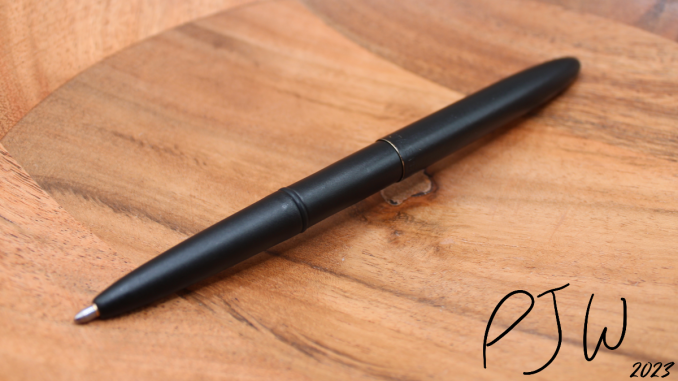 I've always had a fascination with flight. Going back to a very young age, warplanes of WW2 always excited me. From the North American P-51 Mustang, to the Grumman F4F Wildcat, aviation has interested me. Even now in my late 20s, I've got framed prints of a Lockheed P-38 Lightning and a Mitsubishi A6M5 Zero hanging in my house. However, spaceflight has been a more recent interest of mine. A part in that has been the Fisher Space Pen, the interesting writing utensil that's been on every NASA space mission since 1968. What is the Space Pen, and should you carry one?
What Is the Fisher Space Pen?
The Fisher Space Pen is a pen. It's not a normal pen however, as it uses a pressurized ink cartridge. With this, the pen can write upside down, in zero gravity, underwater, in oil/grease, and even at extreme temperatures. I've personally carried one since I was a sophomore in college, so for about 8 years now.
The sealed & pressurized cartridge system invented by Paul Fisher in 1966, and has been used by NASA since the Apollo 7 mission in 1968. There's a lot of history about these pens, and usually a few jokes about pencils too.
Fisher makes a range of Space Pens, but the topic of this review is the 400B, also known as the "Black Bullet". I've owned two Black Bullets, and a Blue Bullet over the last eight years. Sadly, I've lost two of the pens due to well, life, but have retained my current Black Bullet for a few years. Fisher sells clicky-tailcap pens, and removable cap pens. The Bullet style is a removable cap, which you place over the tail of the pen to make the grip for it. The part of the pen that you hold onto is powder coated brass, as is the internal cartridge. With that construction, the weight of the entire pen is a mere 20g, or 0.7 ounces.
MSRP on a Bullet with cartridge is $34.00 on Fisher's website. However, you can find them for a few bucks less on Amazon. The cartridges and pens are US made, in Boulder City, Nevada.
As I mentioned above, I've been using the Fisher Space Pen for nearly a decade. How well does it write?
Writing Performance
Well, it's pretty damn good for being a tool pen. I say this, as a lot of "tool" pens tend to write like crap, even compared to bargain bin BIC pens. I've used similar pens made by Rite in the Rain, and they wrote rather poorly in comparison. With the Fisher Space Pen, you can choose the precision of the cartridge point. I've generally stuck to the "medium" point, which works well for taking notes, or signing documents. I stick to black ink, but Fisher sells cartridges in a fairly wide range of colors. I've had minor problems with smudging on some paper, but nothing that was egregious or bad.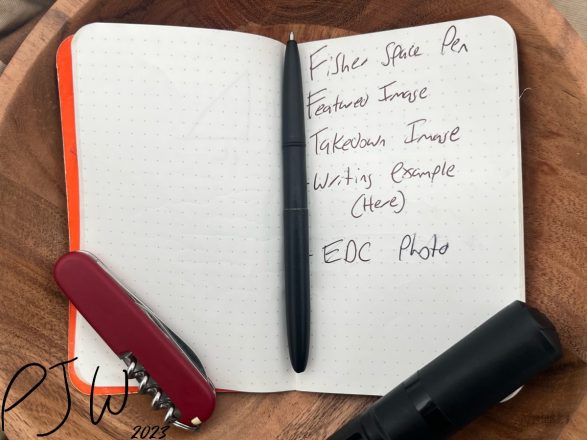 While I've not had to use the pen in zero gravity, extreme temperatures, or in grease, I have used it in wet conditions, and while upside down. I carry waterproof paper, generally from Field Notes, which works great with the Space Pen. As such, I've taken notes in wet conditions, with no issues there. While writing upside down may sound like a strange use, sometimes you need to mark something while on your back. I've been under my 4Runner before, and needed to note how something went back together. In those situations, having the pen made the process much easier.
Now, using it on both standard and waterproof paper is a breeze. However, a surprising element is just how comfortable this pen is in the hand. It's hard to discuss how a brass tube can be comfortable in the hand, but it really is.
I've been carrying the Fisher Space Pen around for nearly a decade. How has it slotted into my EDC?
EDC'ing the Space Pen
I'm not usually a hardline absolutist about things that people should EDC. There are some that I'm a bit more rigid on, and some that I'm a bit more lenient about. However, a good pen is something that you can never find when you need one, unless it's on your person. As such, I've carried a pen since I was in high school, as I found that most places have crappy pens. Ever notice how bad the pens are at a restaurant when you sign your check? As such, I've enjoyed carrying my own utensil.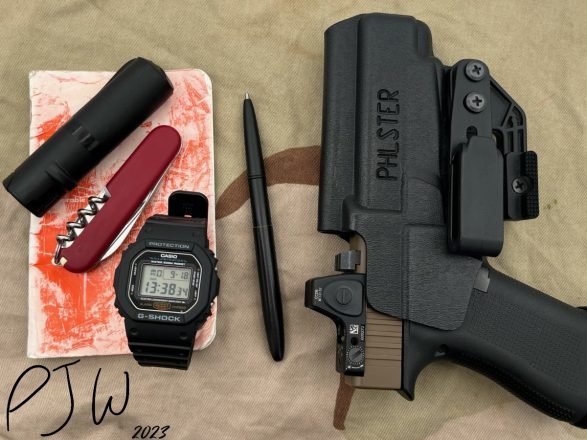 The Space Pen has been my most consistent writing companion for my adult life. With the small size and extremely low weight, it fits in any pocket quite well. As part of my EDC, the Space Pen usually rides in my back pocket with my notepad. When in gym clothing, it easily fits into my fanny pack. It's one of those things that you truly forget that you've got on you, until you need to use it.
I've washed my pen a number of times, as it tends to get lost in the pants. I've had no issues with it when that happens, as the brass construction won't rust. The ink cartridges tend to last a long time, with mine usually going for 2-3 years before needing a swap.
The Fisher Space Pen has been a constant in my EDC. When I've lost my previous ones, I immediately replaced it. I've swapped guns much more often than the pen that I carry. It's just such a great tool.
The Verdict
The Fisher Space Pen is a historically important, practical writing utensil. It's been in space, used in the hands of US presidents, and persists in use today. It's an American owned company, and a US manufactured product. Between the history of the Space Pen, and the excellent quality and usefulness, recommending this pen is very easy. If you want a good EDC pen, this will likely suit you quite well.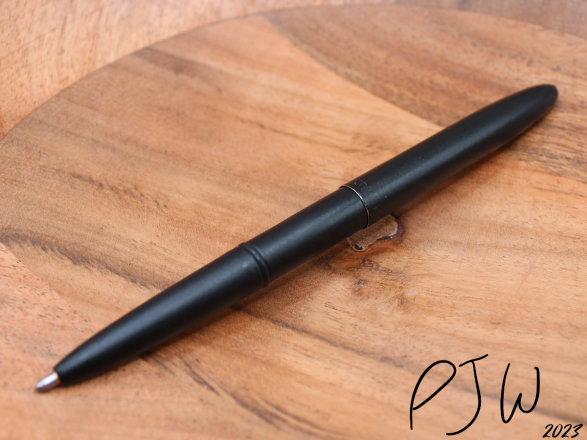 As an aside, the folks that I've met from the Fisher Pen Co. have been extremely enthusiastic about the product. While Primer Peak was at SHOT this year, Dan and I stopped by their booth on Range Day. We chatted with the rep at the booth, and I produced my Space Pen from a pocket. He was so excited to see mine, and that's something that I doubt I'll be forgetting anytime soon. In this industry, it's often difficult to find knowledgeable and enthusiastic folks at trade shows. However, meeting the rep from Fisher showed that they care about what they make, and the history tied to it.
A Pre-Upload, Post-Writing Update
I would not normally do something like this, but I'd be remiss if I didn't mention it. This article was written in early September of 2023. I've carried a Space Pen for a long, long time, something that my wonderful girlfriend picked up on. Well, for my birthday, she surprised me with an engraved Space Pen.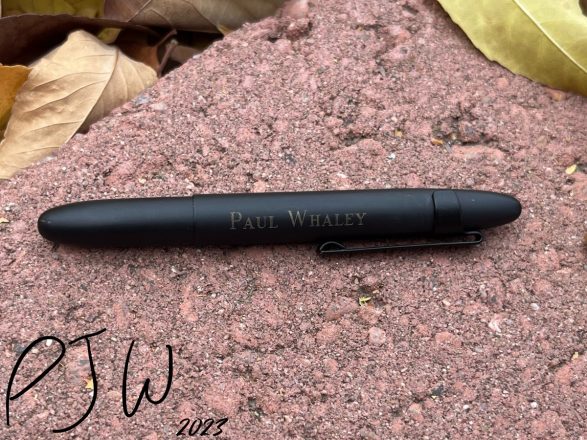 She had no idea that I was penning this review, and independently got the pen for me. She directly ordered it from Fisher, and stated that her experience with them was fantastic. There was a shipping issue in delivery of the pen, and Fisher hopped in to fix the issue before it became a proper problem. In the month of use with it, the Cerakote finish has held up well. The engraving is relatively deep, so I doubt it will scuff over at any point in the future. Much like the ones I've used over the years, it writes quite well, and should be a durable pen.
It goes without saying, but this is a gift that I'll be cherishing for a long time. Serendipity strikes, and sometimes, you'll get to be a part of it.
Additional Reading & Patreon Link
If you liked this review, check out some more of my recent EDC content:
If you'd like to support me on Patreon, I've got the link for that here. Nearly everything that I do on Primer Peak is paid for out of my own pocket, and my content is not shilled or driven by manufacturers or companies. If you decide to donate, I'd really appreciate it, as it would allow for me to continue to bring you quality work.