Author's note: This After Action Report/review is not all-inclusive. I want to give readers an idea of what to expect from not only D5 Handgun, but also the Haley Strategic mindset without spoiling the entire course. Wanting to know what else D5 Handgun has to offer? Go sign up for a class of your own!
Location
Aurora Sportsman's Club in Waterman, Illinois.
Weather
Sunny, low to mid 80's. Nice breeze on day 1, with little-to-no wind on days 2 and 3.
Equipment
Gen4 G34 with a counterfeit x300u. XS F8 sights. 2,000 Rounds Remington UMC 115gr 9x19 (~1,500 fired). PHLster Spotlight holster. OEM 17 round, Magpul PMAG 17/21 round magazines.
HSGI Pistol Taco, Multi Holsters Elite mag carriers. Snake Eater Tactical IWB rifle mag pouch with SOFTT.
Magpul Tejas gun belt, Levi 559 relaxed straight fit jeans, Vertx Guardian shirt, Altama OTB Maritime Assault Low shoes.
Personnel
25 Students, mostly law enforcement, some firefighters, a judge, and concerned citizens. Most students were from  Chicago and surrounding areas, with myself having the farthest drive of roughly 8 hours. Everyone got along excellently, with small groups having dinner together nightly.
3 Instructors, including Travis Haley and Robert Bruce (bios here). Over 20 years military experience, in addition to law enforcement and medical backgrounds. Each is incredibly professional and personable, being more like old friends rather than someone we were meeting for the first time.
Alibis
Typically Travis has students bounce back and forth between classroom instruction and live fire, so that the material is broken into individual blocks to help reinforce concepts. Due to the classroom being geographically separate from the range, we would conduct the entirety of the day's classroom academics in the morning, then transition to the range for the remainder of the day to prevent time wasted commuting back and forth.
Day 1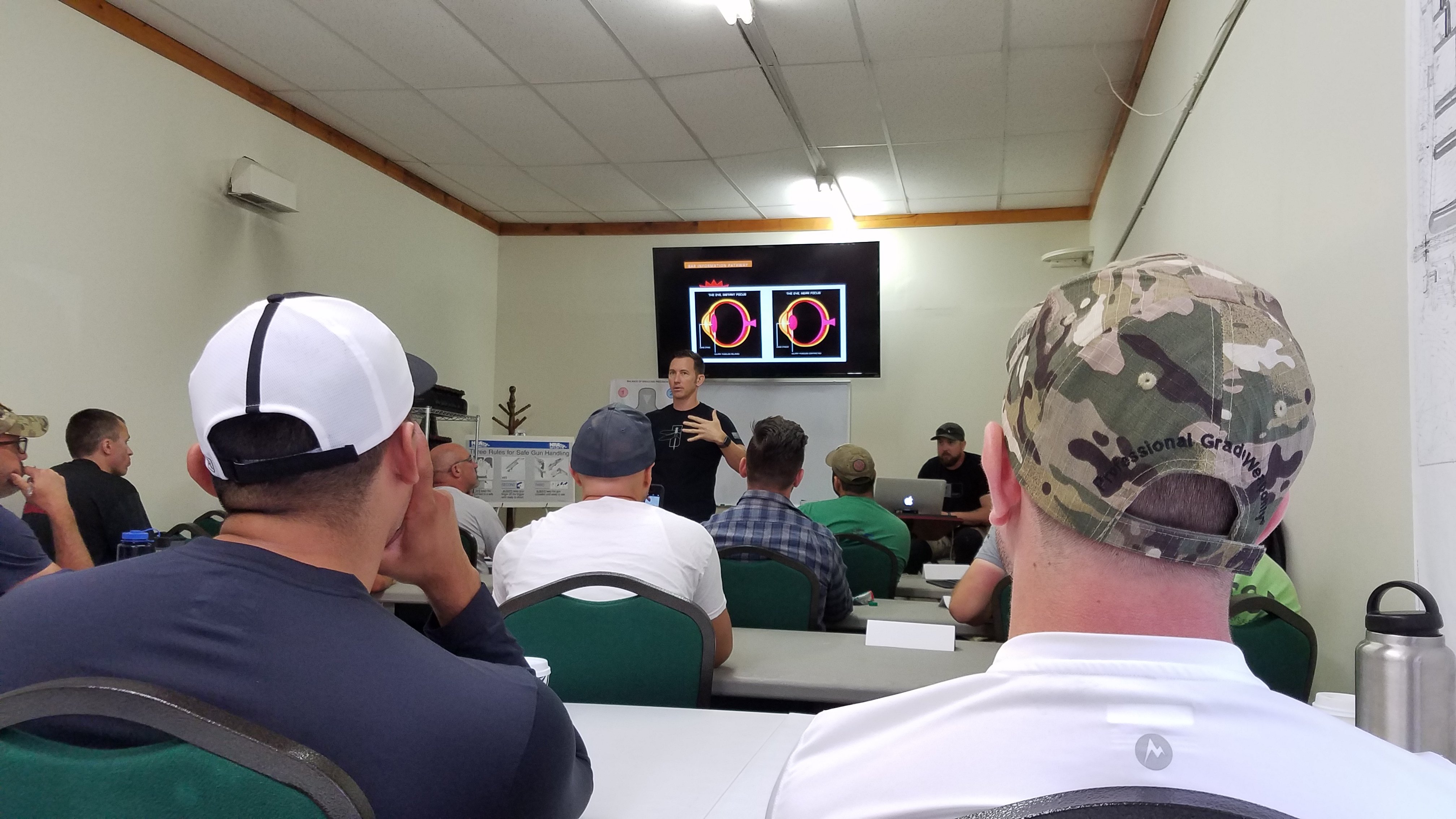 The first day of training starts in the classroom with introductions from both students and instructors. The first topic of the day was setting priorities for our training and creating a skill mastery plan. When Travis says we are building "Thinkers before Shooters" he means it, being apparent from the moment class begins all the way through the final day of training.
After a lengthy discussion on mindset and the thinking process, the subject transitions to biomechanics as it relates to firearms. This begins with a look at historical shooting techniques and an analysis on why they came to be and why we are moving away from them. This portion is one that sets Haley Strategic apart from many other institutions in my opinion. Instead of the typical "do as I do, and do as I say" mentality that so many trainers have, Travis provides the science to support the way he does things. Every motion is made to maximize efficiency to gain that extra hundredth of a second--from how his gear is oriented, all the way to the minute movements of the eye.
After lunch we travel to the range for our first of many Combat Evaluation Tests (CET). This test involves shooting at a 12" circle from three to twenty-five yards with various par times per distance. On my first test I kept every shot within the target, but failed to meet nearly every par time--focusing on precision rather than speed.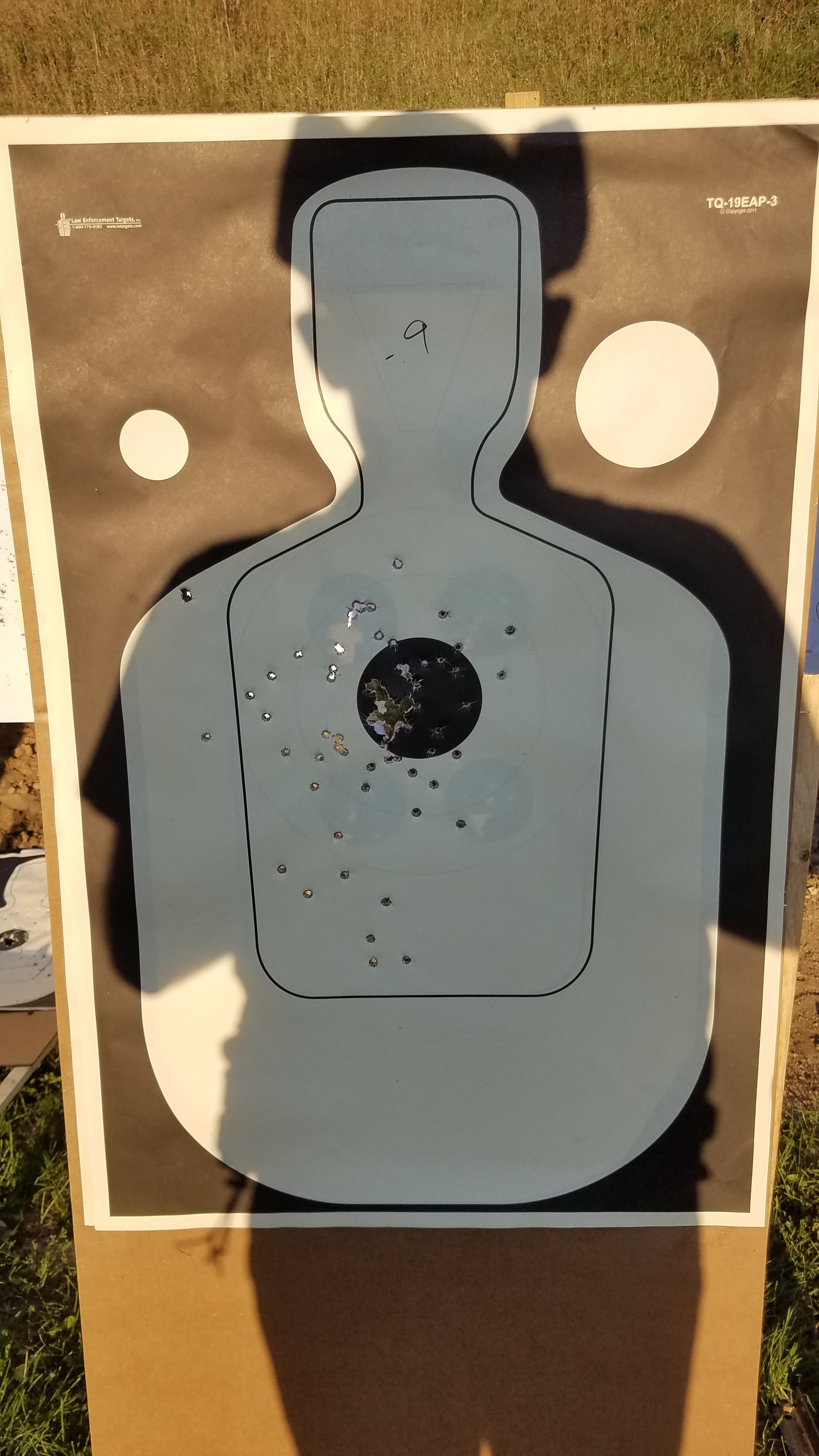 Throughout the day drills continue, working in malfunction clearing and various reloading techniques (one of which I had never seen, and immediately chose to adopt). For each new technique and test, Travis and the other instructors demonstrate and explain in detail. Once students begin to practice, the cadre work their way down the firing line, personally assisting each shooter.
To wrap up the day, we fired the CET again. This time I dropped nine rounds from the circle, but stayed within each par time. Once guns are cleared and packed up, everyone discusses the events of the day and heads back to their hotels.
Day 2
Day two starts with the Body Alarm Response, typically known as "fight, flight, or freeze." With this, Travis discusses biological responses to stress, and how we can train ourselves to be more effective during moments of intense pressure. From here, instruction moves to proper sight alignment, grip, and trigger control.
The Haley Strategic "Feel Eyes Finger" drill acts as the warm up for the day, followed by another CET--this time dropping seven rounds and staying within par times. Rhythm is the focus of day two; demonstrating that a smooth cadence improves not only accuracy but also time management when it comes to multi shot engagements.
Once shooting finishes, we debrief and retire for the night.
Day 3
The final day of training begins and ends on the range, with no classroom time. Shooting starts again with the "Feel Eyes Finger" drill, then moves into a final CET. For this final evaluation I dropped only three rounds, staying within each par time.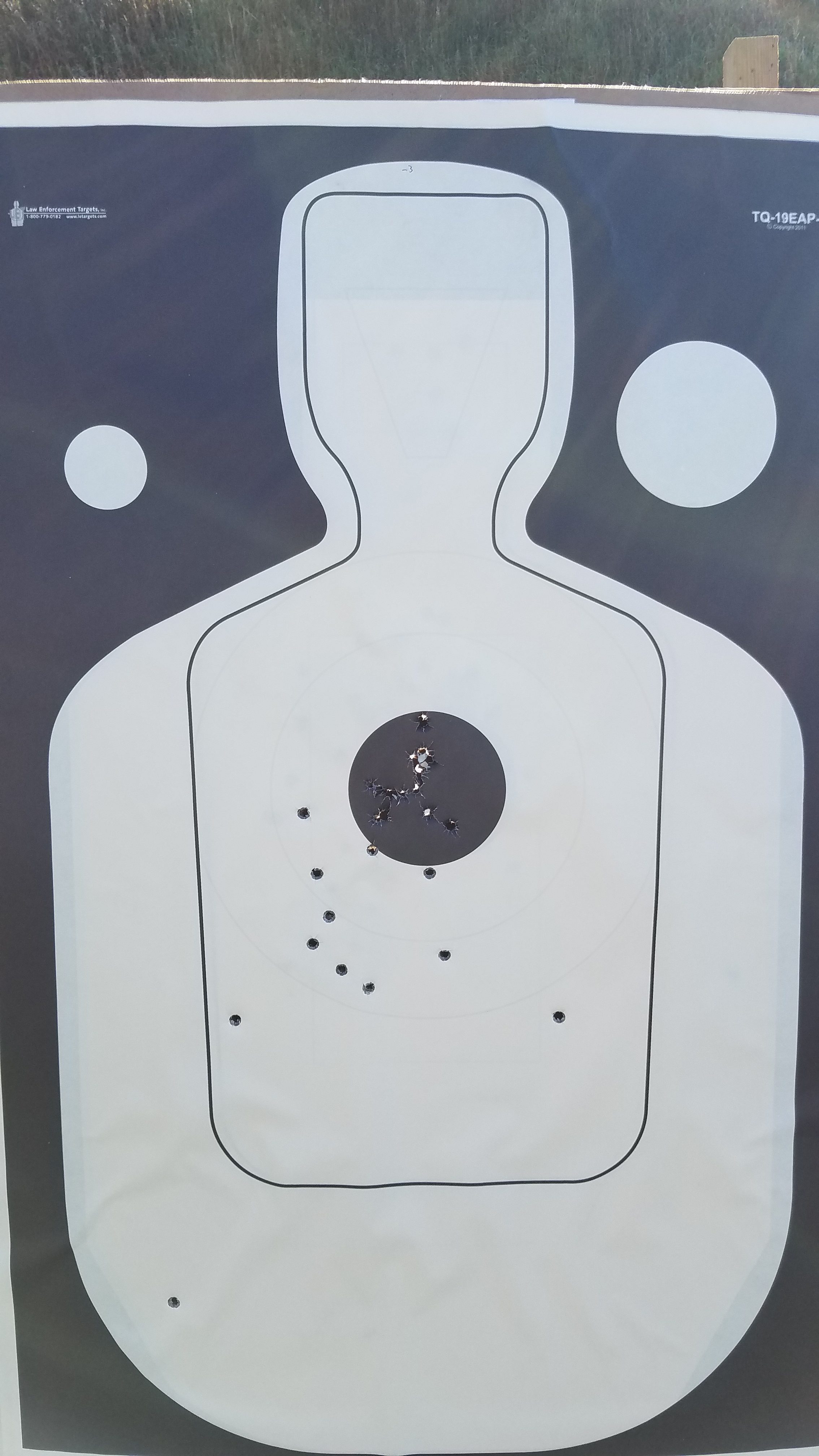 The main focus of day three is efficient and rapid draws from the holster ending in accurate hits on target. With most students using duty holsters, the few of us drawing from concealment had our work cut out for ourselves.
Firing again at our 12" circle targets at three yards, I managed to get my first round on target in 1.55 seconds with a clean sight picture, and in 1.25 seconds using the top of my slide for a reference point. Not the fastest, but certainly the fastest I've ever achieved.
After lunch we work on moving then shooting, and moving while shooting. Instead of the typical "one step to the left" drill that so many other instructors use, Travis has us break into three groups with single shooters. From here we train for large, explosive movements--the kind that will actually get you off the line of attack. Special attention is paid to safety, with each group having an instructor side-by-side with the student currently firing.
This slideshow requires JavaScript.
To close out training, everyone gathers for a friendly shoot off of Haley Strategic's "22422" drill. My best time was 5.11 seconds on a clean target, with the fastest student coming in at 3.64 seconds from his Safariland ALS holster paired with a G34+TLR-1.
One final debrief of the training day is followed by a quick review of the course from each student, along with a self-review of our performance throughout training. A little bit of BS'ing, a class picture, and everyone heads their separate ways.
Final Thoughts
Haley Strategic D5 Handgun is the most expensive, highest round count, and lengthiest firearm training class I have taken. It is also the best marksmanship focused class I have taken at this time, and I wouldn't hesitate to sign up again. I highly suggest anyone who owns a handgun to start squirreling away some extra cash and put D5 Handgun on their training calendar.
Not only will you be a better shooter for it, but also a better teacher, and a better thinker. If more instructors did the things that Travis Haley and his crew do, then the firearms community as a whole would be light-years ahead of where we are now. Without a doubt, I will be training with Haley Strategic in the future.