We spend roughly half of our lives in natural darkness. Account for weather and unlit interiors of structures and you've just brought that precentage up by a substantial amount. With this in mind, what have you done to prepare yourself for a defensive encounter in low light? Shooting into the darkness is a bad idea, both ethically and tactically. As it turns out, there's a little bit more to light usage then just "turn it on".
Luckily, there are several qualified people out there offering training on this exact subject. One of those people is Chuck Haggard, of Agile Training & Consulting.
Location
Class is held at the Living Water Ranch, just outside Manhattan, Kansas. The property is a sprawling ranch located in the Flint Hills, backing up to Tuttle Creek Lake. Dormitories and a cafeteria are available on site, though I did not make use of them.
Weather
The weather was beautiful for my weekend of training. Partly cloudy, in the high 70's to low 80's with a breeze. There were a few sprinkles of rain during classroom portions that did not disrupt training.
Equipment
During class I shot a FN 509T with a Leupold DeltaPoint Pro and a 600 lumen Surefire X300u-A attached. My holster was a PHLster Spotlight, supported by a Magpul Tejas belt. Magazines were factory 17 and 24 rounders held in Esstac Kywi and HSGI Taco pouches. My handheld light was a Surefire Stiletto.
Personnel
8 Students, primarily from the local area. Backgrounds include current law enforcement and military, to retail, and social workers. Ages from mid 20's to mid 60's. Guns include various Glocks, Ruger SR9c, S&W Shield, H&K VP9, and S&W M&P9. Holsters range from Vedder Light Tuck, Safariland ALS, an off brand leather thumb break, an unknown hybrid holster, PHLster Spotlight, among others. A fellow Rangemaster instructor, along with one of our writers help to round out the participants.
The Lead Up
This was my third experience with Chuck Haggard as an instructor. The first with assistant instructing during my Rangemaster Instructor Development Course, and the second during his Pepper Spray / Less Lethal Options course. Chuck spent 17 years on the SWAT team in Topeka, KS, serving over 2,200 high risk warrants. During this he spent a substantial amount of time training and operating under low light conditions, which influenced the material presented in class.
Classroom Low Light Academics
Class starts in the afternoon, beginning promptly at 4pm. Conversation starts with the "why" aspect of low light training. We touch on personal defense aspects, varmint elimination for those in rural areas, and more.
Once we get past the "why" we move into equipment. Everyone talks about their handheld lights, along with the few using weapon mounted lights. This leads to discussion on methods of activation, levels of light output, features of various makes/models, and more. Fenix, Streamlight, and Surefire dominate the handheld market, with Surefire and Streamlight being top contenders for weapon mounted lights.
From here we move into the "how". Chuck dives into several methods of employment, providing context for FBI, Harries, Neck Index, and other techniques. Next he goes into strobe functions of lights, how they are frequently misused, and his techniques for maximum efficiency. His explanations provide more context and better articulate the how and why better than anyone I've seen or heard previously. We haven't even hit the range yet, and I've already had my mind blown time and time again.
Daylight and Low Light Range Time with Chuck Haggard
After a while we head down to the range to start trying these techniques for ourselves. Practice starts with dry guns so we can focus on the light aspect without the added stress of gunfire. Several repetitions later, we load up and begin the first segment of live fire. At this time the sun is still fairly high in the sky. Chuck wants everyone to practice our techniques during the daylight where he can make changes to our form before we run out of sun.
We work on reloads and malfunction clearance and how to mitigate highlighting ourselves during the process. Haggard's technique is simple, but very effective. I'm surprised I've never seen it prior to this class, as it makes more sense than anything else I've seen previously.
Dinner and Lecture
Once we've shot for a bit, everyone returns to the classroom for dinner. Some opt for the catered food from the Ranch, while others bring their own. After dinner, we head back toward the classroom for some more academics while we wait for darkness to come.
This second classroom portion is focused on searching techniques. The phrase "chaotic use of light" is frequently spoken by Chuck. Initially this was a confusing term, but once demonstrated it became extremely obvious. You'll have to train with him to see his techniques, but it allows for effective searching and movement on your part, while concealing your proximity from potential threats. This is demonstrably more effective than the standard constant-on or intermittent light used in most searching techniques.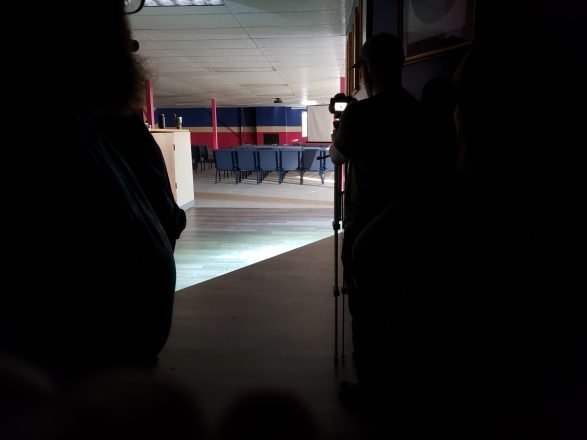 Chuck has us act as both the threat and the one searching during this time so that we can get a full view of varying uses of light. Conditions vary from complete darkness, complete light, going from light into darkness, and from darkness into light. Doors are opened, corners are rounded, stairs are climbed, and more.
Back to the Range
As the sun fades we return to the range for the final portion of class. Here we reinforce the techniques learned throughout the day with actual low light conditions. Chuck splits the class in two to reduce the amount of light on the firing line at once.
We shoot around barricades and at varying distances. This shows the strengths and weaknesses of our chosen lights, along with benefits of differing techniques for different positions. Shooters with weapon mounted lights get their chance to switch between their mounted lights and handhelds. This leads to a discussion on activation methods for WMLs, regarding support hand thumb or trigger finger use, as well as the Surefire DG Switch.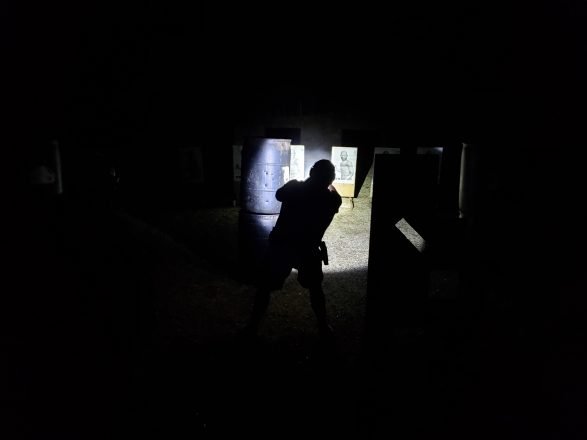 As the night comes to a close, we put away our guns and gather for a final discussion. Chuck has us give pros and cons for the day to reinforce lessons learned and set future goals. Everyone chats a bit then part ways. For some of us, we have to return early the next day for one last class.
Final Thoughts on Agile Training & Consulting Low Light Pistol
Of the four low light courses I've taken, this is by far the best. Chuck provides concise and effective explanations for every aspect of his curriculum. His depth of knowledge shows a true understanding of the subject, without a dogmatic approach to technique or equipment. I highly recommend this course to everyone who may have to defend themselves in low light, which is everyone!
A Special Note
Special thanks to the Living Water Ranch for hosting a great weekend of training at their fantastic facility! For this specific class at Living Water Ranch, Chuck donated a large portion of the proceeds to the Ranch. They are a non-profit which aids children in the foster care system. The ranch is a gorgeous facility, and the staff were all welcoming to everyone. This is somewhere I plan on visiting again in the future.
Check out Agile Training & Consulting on Facebook and on their website
If you're in the Manhattan, Kansas area and need to find local training or a great range, take a look at Tall Grass Shooting Sports, the host range for this class.