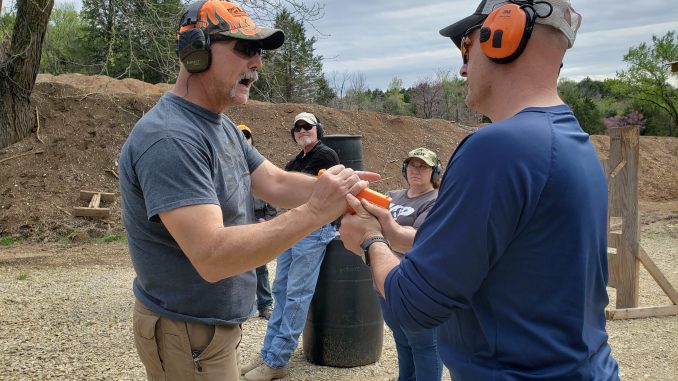 Location
Class takes place at the Living Water Ranch, just outside Manhattan, Kansas. The property is a sprawling ranch located in the Flint Hills, backing up to Tuttle Creek Lake. Dormitories and a cafeteria are available on site, though I did not make use of them. This is something I'll take advantage of next time I'm out that way.
Weather
The weather was beautiful for my weekend of training. Partly cloudy, in the high 70's to low 80's with a breeze.
Equipment
During class I shot a FN 509T with a Leupold DeltaPoint Pro. My holster was a Henry Holsters Flint, supported by a Magpul Tejas belt. Magazines were factory 17 and 24 rounders held in Esstac Kywi and HSGI Taco pouches.
Personnel
We had six students, myself included for class. Experience ranges from other instructors, USPSA competitors, to relatively new shooters. Equipment includes a Tristar C-100 in a Fobus holster, Glock 34 with a Dark Star Orion, SIG Sauer Legion P320 in a USPSA style rig, Glock 48 in a Vedder Light Tuck, and more.
The Lead Up to Agile Training & Consulting Close Quarter Handgun
This was my fourth experience with Chuck Haggard as an instructor. The first with Chuck assistant instructing during my Rangemaster Instructor Development Course. Second and third during this same weekend of training. This includes his Pepper Spray / Less Lethal Options and Low Light Handgun courses. Chuck spent 17 years on the SWAT team in Topeka, KS, serving over 2,200 high risk warrants, and has an extensive background in Jiu Jitstu.
Classroom Academics
"Classroom" time for this course takes place entirely on the range. The material we cover in class is slightly modified from normal to allow for appropriate social distancing due to ongoing COVID-19 restrictions.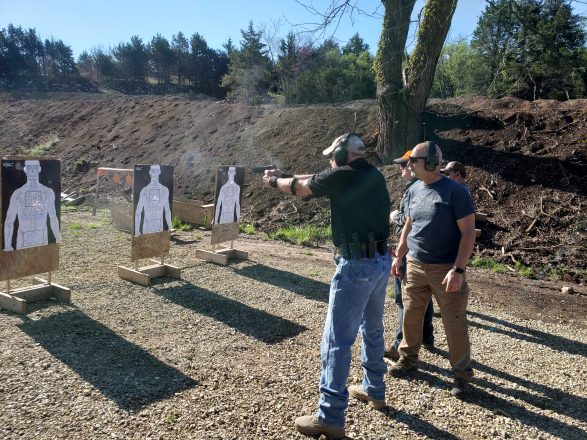 We start using dummy guns as Haggard dives into various ready positions for movement around bystanders. These are situationally dependent, with no "one right answer" being given. From here we move into effective thought processing during stressful situations. After this Haggard discusses shot placement. During this we touch on the FBI's specifications for wound ballistics, appropriate placement for incapacitation and immobilization, bullet selection and more. Several people were shocked at the anatomy lesson in the middle of a shooting class, and were happy for the education.
Range Time with Chuck Haggard
Range time begins with notes on reloading the pistol. Overall, this is something that is incredibly unlikely during a defensive gun use, but is still an important skill to have. From here we move onto our first shooting assessment to gauge our individual speed, accuracy, and recoil control. This allows Chuck Haggard to begin developing plans on how each shooter needs to improve throughout the course.
We take a quick break from shooting to dive into procedures for engagements, and what should be done after a use of force event. This includes how to communicate to law enforcement during your 911 call, how to stage yourself and your equipment for first responders, and more. Our engagement checklist ensures that we cover any potential threats, check our gear, our bodies, and those around us. Many people had "ah-ha" moments during this, with varying aspects they'd neglected in their own planning.
We wrap up the morning with several drills covering movement, malfunction clearance, throttle control based upon target size, and a few other topics. Afterwards we break for lunch. During our meal we give and receive mid-course feedback on the events of the day. Chuck talks about gimmick ammo (looking at you RIP and Fort Scott), along with some general chit chat.
Afternoon Range Time
The latter half of the day is bursting with information. Shooting begins immediately with a moving target drill. From here we go into moving and shooting around friendlies and bystanders in a safe and efficient manner. This is done with dummy guns, followed by empty guns, then live fire using barricades as stand-ins for people. During this Chuck discusses the Can/May/Should/Must Shoot paradigm, using his personal experience to provide additional insight.
Next we cover varying ready positions as they pertain to proximity to a threat. Firing at different positions within your presentation to maintain accuracy without sacrificing control of your pistol or precious seconds. This helps us transition into our final block of instruction--shooting from retention.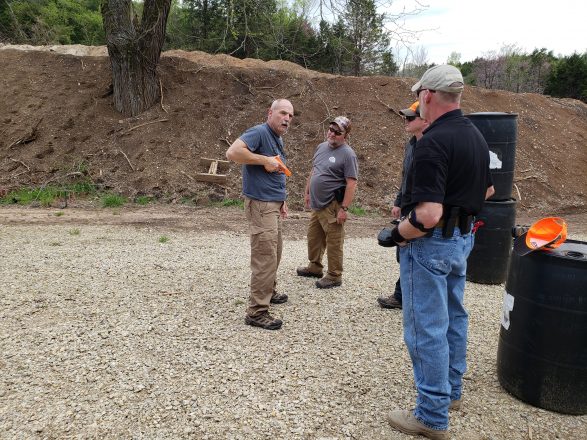 Chuck primarily covers two main retention shooting positions. These are the "High Two", which Shivworks alumni will know as the "Thumb Pectoral Index". This is an excellent position for close-in use of your handgun, providing solid retention and accurate round placement. We also touch on a dust cover grip used frequently by the US Air Martial Service. Prior to class, I'd never seen this position before, and I love it. I won't go into details, but Chuck's explanation on it makes a lot of sense within certain contexts.
Debriefing and Other Discussion
Once shooting wraps up we put away our gear and gather for a final discussion. Chuck summarizes the events of the day, and provides feedback for the students. We ask questions on material, gear, guns, and more. Being a revolver nerd myself, I drag him into a brief chat on the wheelgun. Some information is exchanged, additional notes are taken, and everyone parts ways.
Final Thoughts on Agile Training & Consulting Close Quarter Handgun
As mentioned earlier, this course was slightly modified due to restrictions imposed by COVID-19. We missed out on some of the more physical aspects, but overall I have no complaints. The material presented was clear and concise, with a lot of information being effectively spread throughout the day. This course is an excellent introduction to the use of firearms in a close quarters construct, with years of experience to back it up. Chuck Haggard does an excellent job of balancing fun with learning, and is always great to be around.
I highly recommend this class for anyone who carries a firearm. The mindset and techniques presented here will set you up for success. Tuition is more than reasonable, and you'll enjoy yourself along the way.
A Special Note
Special thanks to the Living Water Ranch for hosting a great weekend of training at their fantastic facility! For this specific class at Living Water Ranch, Chuck donated a large portion of the proceeds to the Ranch. They are a non-profit which aids children in the foster care system. The ranch is a gorgeous facility, and the staff were all welcoming to everyone. This is somewhere I plan on visiting again in the future.
Check out Agile Training & Consulting on Facebook and on their website