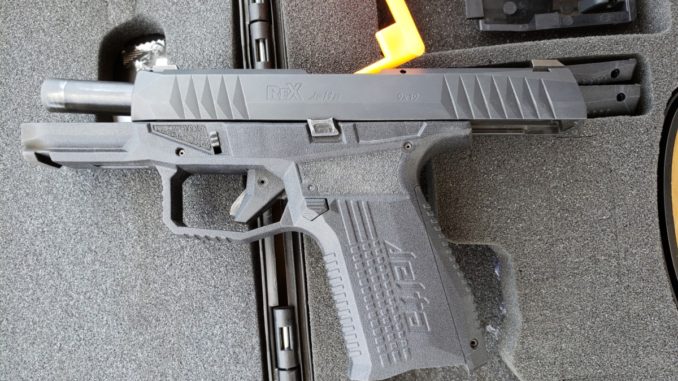 The Rex Delta from Arex is one of the most exciting firearms I put my hands on during range day at SHOT Show 2019. A massive departure for Arex, the Rex Delta is a polymer frame, striker fired handgun. Roughly the size of a Glock 19, the Rex Delta fires 9x19 ammunition, and comes with standard capacity 15 round magazines.
When initially revealed, I had my reservations due to the blocky appearance of the Arex Rex Delta. Those concerns quickly melted away as I got my hands on the pistol and put rounds down range. While certainly angular, the grip presents no uncomfortable angles or edges, and has interchangeable backstraps to accommodate various hand sizes. 
The trigger on the Rex Delta is slightly heavier than a Glock, but provides a smooth and consistent pull. Where the pistol really shines is the trigger reset. I think this may have the shortest reset of any striker fired handgun I have seen. This, combined with very low muzzle rise, makes for an incredibly controllable gun, even during rapid firing. To my glee, the FIME group and Arex representatives continually fed me fresh magazines as I hit targets near and far with ease.
With an MSRP of $479, the Arex Rex Delta is poised to make a big splash on the American firearms market. While it's chances of dethroning Glock as king of the Wonder Nines is unlikely, I believe that Arex has a winner on their hands with the Rex Delta.