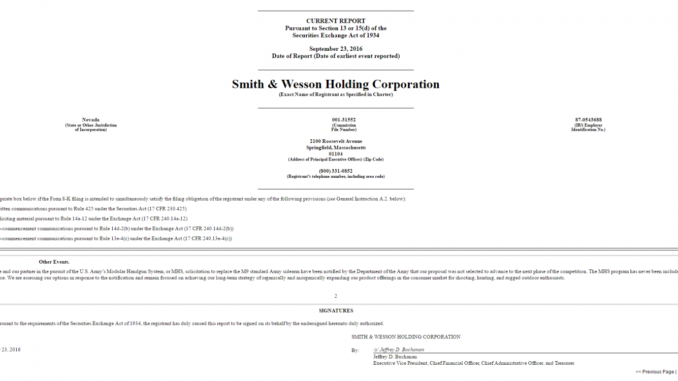 In a Smith & Wesson SEC filing, it was revealed that the Department of the Army eliminated Smith & Wesson's M&P M2.0 from MHS Trials. The news that the M&P will not make it to the next phase is surprising given Smith & Wesson was favored as one of the three entries that would make it through the down selection process.
If I were to wager a guess as to who makes it through to the next phase my money is on Glock's entry, Beretta APX, and the Sig P320.
Glock has proven a solid contender capable of producing unique models for contracts as we saw with the FBI contract 17M and 19M.
The Sig P320 has been identified as a solid contender because it is strangely the only true modular handgun in the competition.
Beretta's relationship with DOD should make the APX another one of the finalists as long as it works as expected.
It has been reported that the down selection process occurred sometime in August. News of the MHS program has been pretty quiet with no indication as to when the DOD will be releasing the list of pistols that made it to the next phase. We will be paying close attention to any other clues as to the fate of the other 11 entries. You can read the SEC filing that details the exclusion of the S&W entry HERE.