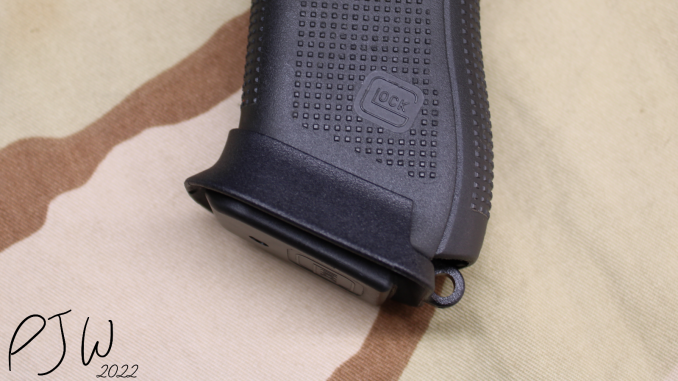 I've never been a big fan of bolt on magwells. Personally, I've never found the need for one. However, I am someone who loves a good deal, which led me to the Glock OEM Magwell. It is a bargain priced magwell, but is it any good?
What Is the Glock OEM Magwell?
Well, it is what it says on the wrapper. Glock came out with their own magwell back in 2020, but I think it has flown under the radar of most people. This isn't too surprising, as at the time of writing, the magwell isn't listed on Glock's webstore. I bought mine via Botach for about $22 shipped (not sponsored), and most retailers have them from the $20-$30 range.
This slideshow requires JavaScript.
The magwell is a fairly simple design, simply fitting over the frame, and locking into place via the hole in the back of your Glock frame. Installation and removal can be done in under ten seconds, which is both a boon, and a bane. The polymer used is identical to that of the frame, so it feels good, and should be fairly durable. As of now, Glock only makes a model that fits on the Gen5 17, 34, and 45. I had it on my Glock 17 for the duration of the testing. The magwell also adds a tiny lanyard loop, but you'll never use that.
I generally like magwells when they are integral to the frame (like the Wilson Combat 320 frame), but bolt on ones are new to me. So, the point of this product is to make reloads more reliable, and to speed them up. The magwell is quite big, adding a funnel to the bottom of the frame. How did it perform during dry and live fire?
Time At the Range
This slideshow requires JavaScript.
I've used the Glock OEM Magwell for three range trips now, and countless dryfire sessions. I can handily say that it only improved my shooting experience with my G17.
The magwell does not modify my grip, even with my large hands. I always hate when a bolt-on part effects my grip, so this was extremely pleasant.
Reliably reloading, and the speed of reloading was also made better too. I've never been a fan of the "Glock buttplugs", those pieces that fill in the gap in the back of the frame. That being said, I've found that the gap would cause a hang-up during reloads, which has been eliminated by the OEM Magwell. During live and dryfire, I found that my reloads were more consistent, and were about 10-15% faster. I'll take that advantage.
I was worried about the magwell possibly causing issues with mags dropping free, but I'm happy to report that I never had any issues with that. I normally do a little wrist flick when I dump a mag, so between gravity and that, I never had any issues. The magwell also held up wonderfully during use, with no breakages or damage done to it.
I've been pretty happy with the OEM Magwell, but it isn't all sunshine and rainbows.
Pros and Cons of the Glock OEM Magwell
Generally, I really like the OEM Magwell. It makes reloads faster and more reliable, has held up well, and doesn't effect my grip. It also weighs nearly nothing, so it doesn't add any weight to the gun. It may look big in pictures, but it doesn't really effect concealment much either. However, I am a big dude, so most guns kinda melt into my profile when carrying AIWB.
The biggest con of the OEM Magwell is its lack of rigidity. It is floppy, and easy to move around on the gun. Since it doesn't use screws or bolts to lock into place, there is vertical play at the front of the frame. The below video shows this in detail.
Now, I never had the magwell come off the gun during my use, but it being so floppy makes it feel cheap. Well, it is cheap, as this magwell is considerably cheaper than most of the other offerings on the market. When you pay peanuts, you get monkeys. When you pay less than $30, you get some downsides on your magwell.
The Verdict
If you are alright with the cheap feeling, I can recommend this. Aside from the floppy feeling, I have had nothing but good experiences with the OEM Magwell. I like it enough that I plan on using it for the foreseeable future, until I find a replacement I like more.