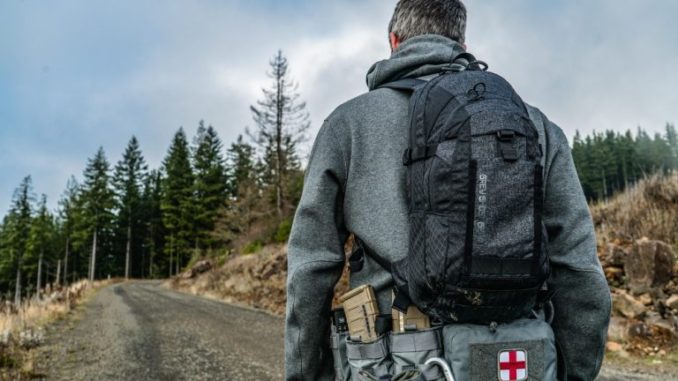 The Grey Ghost T.Q. Thirst Quencher every day carry hydration pack.
How about you say that three times fast.
Grey Ghost Gear has released a new pack: the TQ. It has three liters devoted to libations and 600 cubic inches available for load carriage. Retail is $109.99 but can be found on Amazon for a bit less.
Here's how it is described by GG themselves:
If you plan on going for a run that doesn't require a fully loaded ruck, then smaller is most certainly better. However, most hydration bags are only designed to hold your bladder, maybe some trail mix and that's it. If you've ever had to stuff your keys or wallet in your socks, this one goes out to you!
The T.Q. Hydration Pack is our solution for EDC and exercise. First and foremost, the main compartment has a sleeve for your 3L hydration bladder. After all, the T.Q. stands for THIRST QUENCHER!
Run the drinking tube up through the top and down either shoulder strap, where you'll find an elastic strap for securing the tube for easy use on the move. Even with a full liquid payload, the main compartment still has room for a rolled up light jacket or your semi-automatic dirtbag repellent, as well as your keys or an energy bar within the zippered pouch.
The next pocket has a full organization pouch for your flashlight, writing utensils, stabbing utensils, and even your wallet. Don't worry about overstuffing this pocket, as two adjustable side straps allow you to compress both aforementioned compartments with ease.
The front-most pouch enclosure is intended for whatever item you need the quickest access to, whether it be your smartphone, a snack or medical supplies... should the ground make a sudden and unexpected appointment with your face. Two loops on the front of this pouch are handy for attaching chemlights or your favorite post-workout cigar.
This slideshow requires JavaScript.
Each zipper has a generous plastic finger loop for quick access. Like our other bags, there is a hidden pocket on the bottom that stows a rain cover for those days when the forecast was WAY off. The back panel has concealed padding that is completely covered in breathable mesh, allowing air to circulate down your spine.
Available in Black Diamond/Orange Heather, Black Diamond/Black Heather, Black Diamond/Grey Heather, and Coyote Brown.
Dimensions: 17.5h x 8.5w x 5d
Volume: 594 cubic inches
Ripstop Material: a limited, proprietary diamond pattern, rip stop nylon is a light, low vis alternative when operating where military fabrics would not be preferred. About the same weight as LiteLok Material, 30% lighter than 500D Cordura Nylon. 100% Nylon.
LiteLok Material is about 30% lighter than 500D Cordura® Nylon while still maintaining outstanding abrasion resistance. Features a double layer design that is less visible in low light environments and water resistant up to 127cm. 100% Nylon.