Gun-free zone bigotry is something you expect to crop up in certain parts of the country. If a San Francisco cop is asked to leave his local coffee shop because he's wearing his sidearm, would you really be surprised? How about if something similar happened in Trenton, New Jersey? You'd probably shake your head and tell yourself, 'Thank God I don't live in New Jersey.'
Cleveland, Tennessee, however -- deep in the heart of a pro-gun red state -- is another story altogether.
A Tennessee Wildlife Resources Agency officer was asked to leave the Outback Steakhouse in Cleveland Friday night because he had his service weapon on him.
Officer Andrew Ward thought the restaurant manager was kidding when she asked him to put his gun in his car. Sadly, no. There was nothing funny at all about the request. And don't think this was just the ravings of an isolated, out-of-touch manager enforcing her own brand of hyper-hoplophobia.
The manager made a phone call to one of her bosses, then confirmed that Officer Ward would have to either disarm or hit the bricks. He detailed the whole sordid experience in a Facebook post: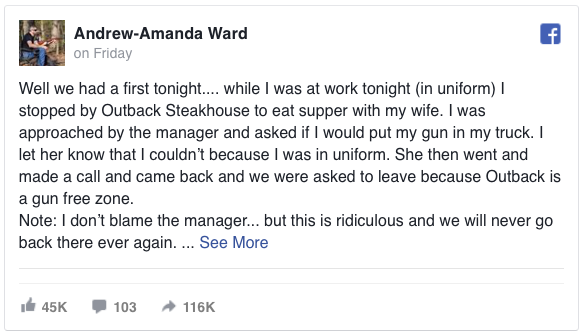 Outback is, of course, now claiming that the whole thing was just a silly misunderstanding.
A spokesperson from the corporate office of Outback Steakhouse said in an email that the manager made a mistake:

"We've always allowed uniformed law enforcement officers to carry their sidearms while dining with us. A manager made a mistake. We have contacted the guest personally and apologized."
Uh huh. Both the manager and her supervisor were somehow under the mistaken impression that their company's policy not only excludes armed customers, but duty officers as well. Pull the other one. It has bells on it.
We'd guess Officer Ward will be eating his steaks elsewhere going forward, at restaurants with more congenial policies that don't restrict their patrons' right to keep and bear arms. Plenty of Tennessee other gun owners probably will, too.