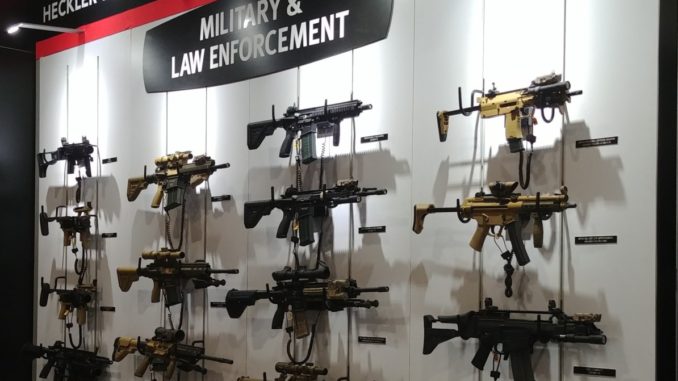 It is no surprise, I love Heckler & Koch. Their guns have been featured in many of my pistol drills, and I've reviewed magazines for the VP9/P30 series. My P30L has close to 14,000 rounds through it. Needless to say, I was really excited to see HK at SHOT 2019.
HK's booth at SHOT 2019 is huge, but they did not have many new products for 2019. What they did have was all of their variants of all of their current production handguns, and the full civilian and military rifle lineups. Walls were lined with other cool miscellaneous HK guns, such as MP7s, and M320 grenade launchers. So what new products did HK come into SHOT Show 2019 with?
Heckler & Koch's New Products for SHOT 2019
I thought that HK's 2019 SHOT Range Day was a little lackluster. They had two tables, with some new .22 caliber 416's, and some already available variants of the VP9. That was it.
However, on Wednesday, HK launched the VP9L kit, a longslide slide kit for VP9.
HK VP9L Kit
The VP9L has been available as the SFP9L in Europe for a while, but we are finally getting it here in the USA. According to an Instagram post by HK from yesterday morning, we should be expecting the kits to be available for purchase by the end of this quarter. The kit will be able to drop onto any full size VP9 frame, so both the paddle and push button mag release owners can get in on the action.
Photo of the right side of the gun. Note the 2018 "BI" datecode on the slide.
The new slide features a longer slide and barrel, along with lightening cuts where the forward slide serrations would be. I wasn't able to measure the barrel, however, I imagine that it is very close to 5 inches long, like many of the other long slide pistols that HK has produced over the years.
View of the left side of the VP9L. Note the VP9L-B rollmark that is present.
The VP9L has a blacked out, square notch rear sight, reminiscent of what is on the Match USPs, and HK45s. It is adjustable for both windage and elevation.
The front sight is a thin, red fiber optic style sight. The sight picture was fairly tight, which is very in line with the other competition and match pistol sights that HK has released over the years.
The last match-like component on the VP9L slide is the rubber O-ring on the barrel.
The rubber O-ring is added to help keep a consistent, tight lockup between the barrel and the slide, improving accuracy. Again, most of the HK match pistols, and the Mark 23, have had this feature.
I was not able to get a price on the VP9L kit, so we'll have to wait and see what it retails for in a few months.
HK 416 .22LR Pistol & Rifle
The other new product from HK is a .22LR that is made to emulate the looks, and "function", of the 416 pattern AR. I shot these on Range Day, and well, they're .22 caliber guns. Not much to say, but they are as ergonomic as the 5.56 416s that they are modeled after. These are made by Umarex, and hold an MSRP of $449.
A kitted out, suppressed .22LR 416 pistol...

... and the .22LR 416 rifle, also shown with a can attached.
I'm not going to lie, I was a little disappointed with the new products from HK at SHOT 2019. Many of us HK-holics were holding out for an optics ready model of the VP9, but we did not receive that. I'm puzzled why the VP9L kit does not have some form of optic mounting plate system, but that is a conversation for another day.