With the Glock being the most popular pistol on the market for the last couple of decades, Strike Industries took a shot at making Glock owner's lives simpler with their new All-In-One tool for Glock.
It combines three useful tools that will make servicing your Glock easier in a small enough package that there is little reason to not drop one in your range bag.
Specs From The Strike Website
Product Specs

Length: 2.85"
Width: 1.16"
Height: 0.48"
Weight: 2.6 oz
Materials: Steel
Color: black and chrome

Features

Glock Base Plate Removal Tool
Pin Punch Tool
Front Sight Removal tool
Compact folded design
All steel construction
The All-In-One tool has a nice tough steel construction with large thumbscrews on both the front and rear of the tool allowing you to loosen or tighten the handle in order to easily deploy a tool. Strike also included a keyring attachment, but if I am honest I will probably use that as a lanyard attachment point.
Here you see the magazine base plate tool. I don't know about you, but I struggle with removing the factory Glock base plate pretty often. This tool allows you to use the handle as a lever prying the base plate off the mag with minimal effort.
With a small amount of downward pressure, the base plate starts to slide off to the front, clearing the two "keepers" that Glock molded into the lips on the bottom of the mag.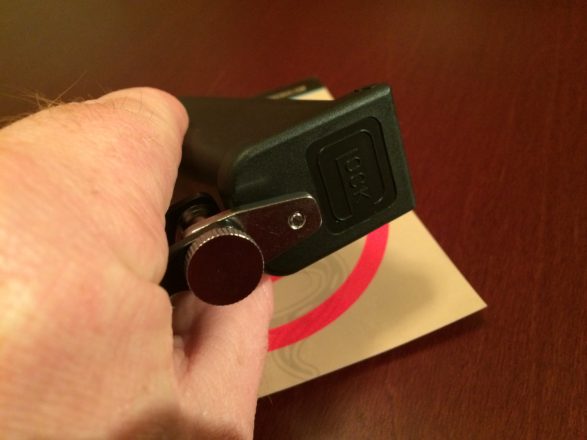 Here is where I think the All-In-One tool really shines, the front sight adjustment tool. With most Glock front sight tools hovering right around the MSRP of the All-In-One tool there is no reason to not buy the nicer Strike tool over the other ones on the market.
I tried it out on my Glock 43 and experienced no issues at all, my Glock 23 was a different story. The front sight hex screw was so close to the leading edge of the slide I was not able to get the tool over the hex head to loosen it.
The All-In-One tool has a magnet located in the sight tool's head, a really nice touch. This nifty feature will prevent users from dropping screws left and right. This nifty feature will prevent users from dropping screws left and right.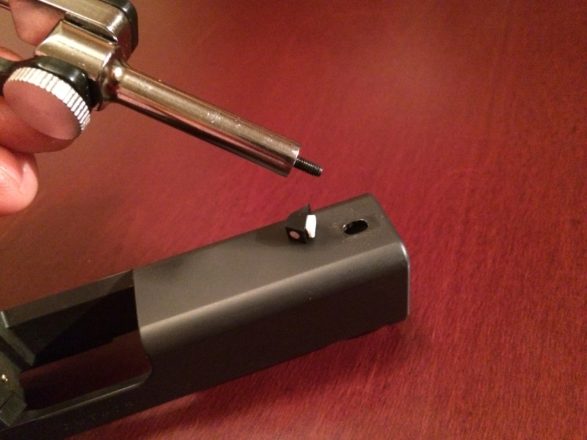 The last tool that Strike included was the Glock tool, AKA the Glock punch. It was perfectly sized for anything I could think of using it for and is made of that same nice steel as the rest of the tool.
Overall I am really pleased with the All-In-One tool from Strike Industries. It really provides a lot of functionality in a pocket-sized tool. I will say that this handy little tool is going to find a permanent home in my range bag, I might even go so far as to buy a second to toss into my cleaning kit.
If you are looking for a front sight tool, a Glock tool, or a magazine tool you should take a look at the All-In-One tool from Strike Industries. With an MSRP of $24.95, it makes for a pretty good bargain, not to mention that it would be a really solid gift for that Glock shooter in your life.
You can learn more about the All-In-One tool on Strike's website here.