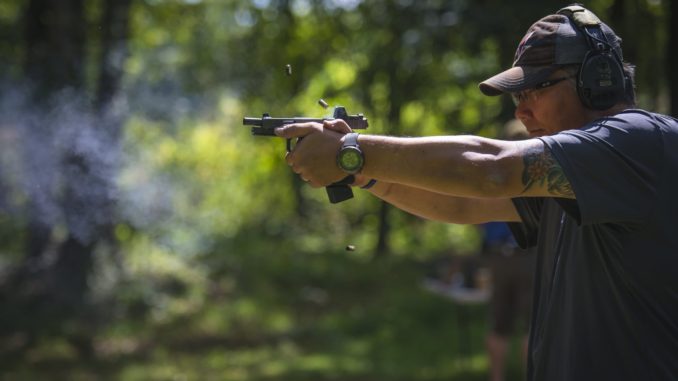 This post is just a quick heads up that Scott "Jedi" Jedlinski currently has a few slots left in his October 20-21 Red Dot Pistol class being held at Triple C Range in Cresson, TX.
Here is Scott's bio from the Primary & Secondary moderator listing:
Lifelong martial artist (TKD, Muay Thai, BJJ), no LEO or military experience (save being an Air Force brat), NRA pistol instructor (who isn't?). I have received previous training from George Wehby of BlackBelt Tactical, Matt Jacques of Victory First, John Murphy of FPF Training, Chris Sizelove of 1st Battalion, 75th Ranger Regiment, Aaron Brumley of Solo Defense, Steve Fisher of Sentinel Concepts, Greg Ellifritz of Active Response Training, Pat Goodale and Wayne Fisher of PFT Training, Ernest Langdon for Langdon Tactical and private training with Al DeLeon of the State Dept's MSD unit. I shoot anywhere from 200 to 400 rounds a week. I try to compete three times a month. I train BJJ 2 to 3 times a week. Strength & Mobility training twice a week. I am the 15th recipient of the F.A.S.T Drill coin.
Scott invited me to take the class and I would have been a fool to say no. While I am not sure what gun and gear setup I intend on using for the Red Dot Pistol class, it will either be my FN 509 Tactical or an ATEi Glock 19 riding in a PHLster holster with a Trijicon RMR RM06 on the slide.
The information below is the course information:
Prerequisites:
Must have already taken a fundamental class by a vetted instructor. Student should be able to clear Dot Torture drill at 3 yards
Topics Covered
 Zeroing your red dot. 10 yard zero. 25 yard confirmation. Ammo selection.
 Draw and how to stop fishing for the dot. Why back up irons are necessary?
 Only use the necessary amount of information required to make an acceptably accurate shot at the speed and distance required.
 Red dots up close. 5 yards and in.
 Red dots at distance
 Speed: Efficiency of draw and presentation. Concealed and Open setups. Speed is the economy of motion. Speed is not useless frenetic movement. Micro Drill training method.
 Dot tracking: Grip, stance, dot movement, predictability. Stop over confirming the dot!
 Modes of Practice: Speed mode. Accuracy Mode. Match/For Realz Mode.
 How to get better on your own. Dry fire for skill building. Live fire for confirmation.
 Target transitions
 Shooting on the move
 Why you should compete.
 Mini match to test skills.
Equipment needed:
Slide mounted red dot pistol.
The ability to carry 3 mags (1 in gun, 2 in pouches).
Good holster of student's choice. No Serpas. No old leather holsters.
500 rounds of reliable ammo.
Eye pro, Ear pro.
Open Mind
You can find more details on the upcoming Red Dot Pistol class on the Modern Samurai Project website or keep up with upcoming classes from instructors on the Primary & Secondary training calendar. Price for the two-day class is $400. Check out the after-action report on VDMSR if you want more information.