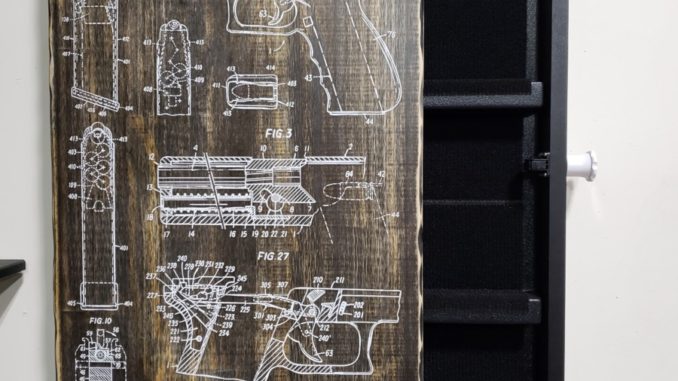 Tactical Walls had several new products on display at their booth during SHOT Show 2019.
The first two offerings are updates to the standard magnetic Wall Cover. The Concealment Artwork features original patent drawings for both the 1911, and the Glock 17. Each comes in your choice of blue or charcoal coloring, and includes one large magnet to help retain your firearm.
The Concealment Flag is a collaboration between Tactical Walls and Flags of Valor. Each flag is hand painted onto a pine board by combat veterans, and include the same hardware as the Concealment Artwork. MSRP is $375 for both the Artwork and Flag. 
Tactical Walls unveiled two new locking options in addition to the standard magnetic lock. The Concealment Locker features a metal container that is secured via a key, and is manufactured by Stack-On. The magnetic lock is removable for those not wanting dual locks, and the MSRP for the entire package is $679. The Concealment Safe offers a digital keypad with two backup keys. Upon opening an LED activates, illuminating the contents of the safe. MSRP on the Concealment Safe is $745. Both the Concealment Locker and Concealment Safe can be outfitted with either a chalk board, whiteboard, dry erase board, mirror, or customer supplied photo to cover the sliding door. 
Tactical Walls is offering 10% off all items in their store using the code "shot10" through this coming Sunday.