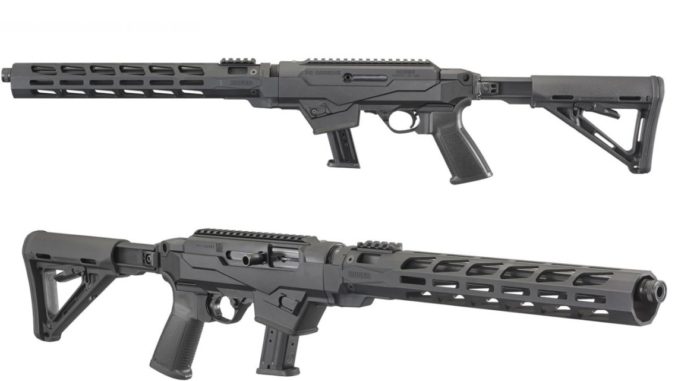 Hobbyists and PCC Competitors rejoice! Ruger recently released a new version of their excellent PC Carbine. The new model comes chock full of features that shooters have been asking for since the initial release.
The two most obvious upgrades are the AR-15 style grip and six position Magpul MOE stock. The magazine well is flared to aid with rapid reloads. A CNC-milled aluminium handguard extends to just behind the muzzle and four sides of MLOK. Atop the handguard is a small section of picatinny rail for mounting optics, in addition to the larger rail on the receiver of the PC Carbine.
Ruger also offers state compliant models for those living behind the iron curtain. These feature reduced capacity magazines, non-threaded barrels, and fixed stocks. Free state versions retain standard capacity magazines, and the 1/2x28 threaded barrel. All version feature reversible charging handles and magazine releases, along with the standard take-down.
The Carbine ships with SR series magazines, and includes the conversion for use with Glock magazines. Ruger sells conversions for American pistol magazines on their website for the three people who bought that pistol. MSRP on the new Ruger PC Carbine is $799