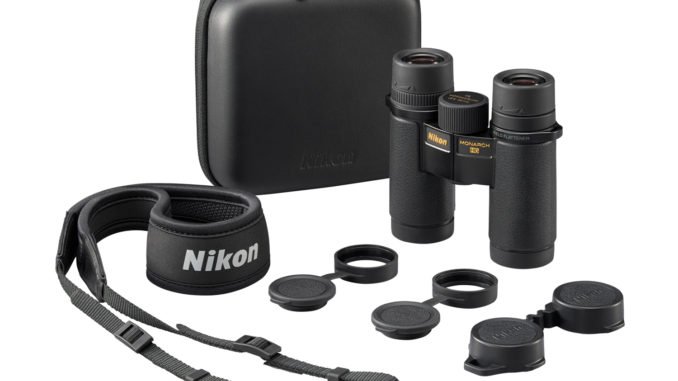 Nikon has announced that they are expanding the Monarch HG binocular line with a new 30mm option. The Monarch HG is built around ED or Extra Low Dispersion lenses with cutting edge lens coatings for the best possible light transmission.
Here is what Nikon had to say about it:
Melville, NY (June 28, 2018) — With a century of optics-building technology at its back, Nikon announces its most advanced, highly engineered MONARCH binocular is now available in a compact form. The new MONARCH HG 30mm series follows in the footsteps of its award-winning* 42mm siblings and provides nearly identical performance specifications in a smaller size and nearly 8-ounce reduction in weight.

For The Best Images, You Need the Best Glass
Extraordinary optical performance is key to the new MONARCH HG 30mm binocular. The optical system of the MONARCH HG is engineered around its ED (Extra-low Dispersion) glass with high-quality multilayer coating applied to all lenses and prisms. Dielectric high-reflective multilayer coating is applied to the binoculars' roof prisms, achieving a bright view of up to 92% or higher light transmittance, and natural color fidelity. To assure long-term optical acuity, scratch-resistant coatings protect the MONARCH HG objective and eyepiece lenses.

Field Flattener Lens System Keeps Everything Sharp and Clear
Nikon's Field Flattener Lens System works in conjunction with MONARCH HG 30mm's extraordinarily wide field of view—8.3° and 6.9° respectively in the 8x30 and 10x30 models—to provide a sharp, clear view to the lens periphery. This specification matches the FOV of the 42mm models of the same magnification.

Compact & Lightweight for Increased Agility
The new 8x30 and 10x30 MONARCH HG are built with a body made from magnesium alloy, providing optimum strength, impact resiliency and weight reduction. Tipping the scales at just under 16 ounces each, the binoculars' slim body profile is further enhanced with rubberized panels to provide a sure grip in any conditions. A high quality neoprene neck strap provides increased comfort and further reduces neck strain during long days in the field.

Built To Perform In The Toughest Conditions
Nikon shields MONARCH HG's interior lenses from fogging with an extreme waterproof rating that assures fogproof integrity even at altitudes to 16,000 feet, equivalent. For total versatility, the MONARCH HG 30mm binoculars include both integral flip-down rubber objective lens covers and rubber objective trim rings that can be interchanged at the user's discretion.

No Fault Lifetime Repair/Replacement
MONARCH HG binoculars are not only built for all-terrain ruggedness and all-conditions integrity, Nikon's No-Fault Repair/Replacement Policy also protects them for life. The 8x30 and 10x30 models include a semi-hard case to protect binocular during travel or storage.

The suggested retail prices for MONARCH HG 30mm binoculars are:

8x30 $949.95
10x30 $969.95

Specifications:

MONARCH HG 8×30 MONARCH HG 10×30
Magnification (×) 8 10
Objective diameter (mm) 30 30
Angular field of view (Real/degree) 8.3 6.9
Angular field of view (Apparent/degree) 60.3 62.2
Field of view at 1,000 yd. (ft) 435 362
Exit pupil (mm) 3.8 3.0
Relative brightness 14.4 9.0
Eye relief (mm) 16.2 15.2
Close focusing distance (ft) 6.6 6.6
Length (in.) 4.7 4.7
Width (in.) 5.0 5.0
Depth (in.) 1.9 1.9
Weight (oz.) 15.9 15.9
Interpupillary distance adjustment (mm/in) 56-74/2.2 -2.9 56-74/2.2-2.9

Nikon Inc. is the U.S. distributor of Nikon sports and recreational optics, world-renowned Nikon 35mm cameras, digital cameras, speedlights and accessories, Nikkor lenses and electronic imaging products.

For more information on Nikon's full line of Binoculars, Rangefinder Binocular, Fieldscopes, and Laser Rangefinders, please contact: Nikon Sport Optics, 1300 Walt Whitman Rd., Melville, NY 11747-3064, or call 1-800-645-6687. www.NikonSportOptics.com

All Nikon Trademarks are the property of Nikon Corporation.

*Monarch HG was awarded Field & Stream magazine's Best of the Test 2017 for binoculars in August 2017, as well as Field & Stream's Best of the Best 2017 for outdoor gear in November 2017.