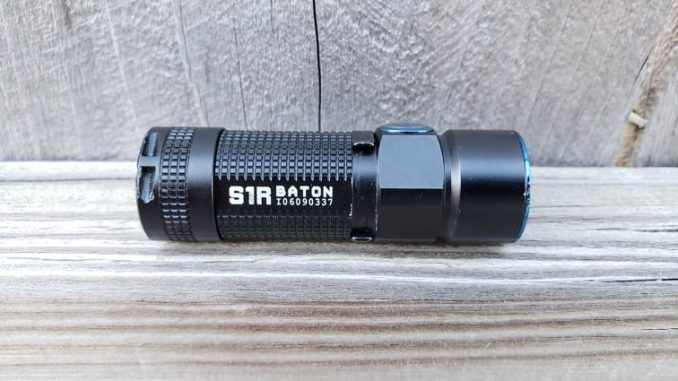 If you're anything like me, you're always looking for the next best thing. Despite being satisfied with my choice of daily carry flashlight, I was finding myself replacing batteries more often than I liked. Then something happened. In 2018 the firearms community went wild with Olight products, and they seemed to offer some unique features. The biggest selling point to me was the ability to easily recharge the light using their magnetic cable. With this in mind I ordered an Olight S1R Baton.
Form Factor of the Olight S1R Baton
The Olight S1R Baton is a compact light, just slightly larger than the single CR123 which powers it. Aluminum construction allows for a fairly unique design. The bezel features Olight's typical blue highlight. Just below the bezel is a section of flats which features the single button control, again wrapped by an Olight blue highlight. Sitting under these flats is the rotating, removeable (but not reversible) pocket clip. This clip is fairly strong, both in attachment to the light, and attachment to the pocket. Over the course of several months I had no issues with the pocket clip becoming detached or rotating on its own.
The main body of the light features a lightly textured grid pattern, interrupted by flats for branding and the light's serial number. The S1R Baton tail uses a threaded tail cap to contain the single CR123 battery. This tail cap includes loops for a lanyard, as well as the magnetic charging port.
Controls
Controls on the Olight S1R Baton are simple at first glance, but get more complex as you dive into the functionality of the light. There is a single button on the side of the light which controls every mode change, as well as on/off. This is a small, smooth, somewhat hard button near the bezel of the S1R Baton. There are five brightness settings: Moonlight, Low, Medium, High, and Turbo.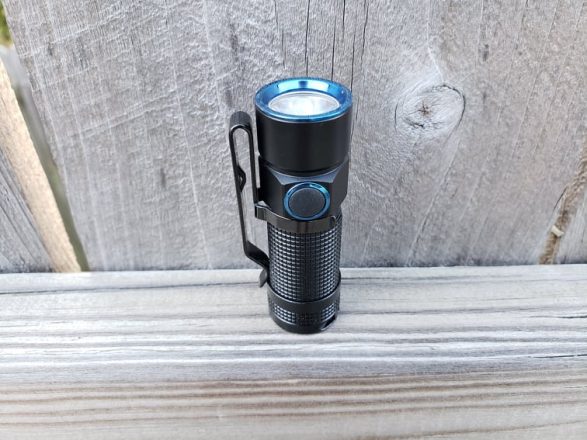 Overall I don't think the button placement is set up well for a defensive light. The small, side mounted light button creates directivity in the draw process, which can seriously stall light activation. Additionally, the light is fairly small and smooth, being fairly flush to the body of the S1R Baton. With a wide number of settings, including "midnight", strobe, and lockout mode, there's no rapid and reliable way to instantly active "high" brightness. This runs counter to traditional ideas for defensive lights, where the "high" mode is instantly accessible via a tail mounted button or switch. "Turbo" can be activated by double clicking the button, but I have found that to be unreliable at best.
While the light is supposed to return to it's previous brightness level upon activation, the S1R Baton reverts to medium brightness after 10 minutes from turning off. That being said, if you're simply using the Olight S1R Baton as a task light, button placement and design isn't a huge deal.
Power and Performance of the Olight S1R Baton
Getting power from a single CR123 battery, the Olight S1R Baton is a pretty compact light. With options for standard and rechargeable batteries, both of which are provided with the light. When using the rechargeable battery, Olight includes a magnetic charging cable which attaches to the tail end of the light. This charging cable features a small LED which changes from red to green based upon the charge of the light. The magnetic charging port allows the light to stick to metal objects, such as the hood of a car or underside of a workbench. This is probably my favorite feature of the light, and has come in handy several times.
Over the course of a couple years I found that the Olight S1R Baton needs preventative maintenance. This is due to parasitic drain of the battery. When sitting in storage, such as a vehicle or bag, the battery will slowly die despite the light not being used. This means that users will have to regularly swap standard batteries, or keep the light on the charger to ensure it is ready for use. Olight recommends disconnecting the battery to mitigate this problem, but I'm not a huge fan of that method.
Having kept this in my car for emergencies, it's a little disheartening to find the light dead on a dark road. Other rechargeable lights, such as the Surefire Stiletto or Streamlight Stinger have not given me this issue.
One issue I've seen with the magnetic charging port is interference from other metal objects. If something is able to connect to both the positive and negative portions of the tail, it can create a circuit, which can cause a variety of problems. Typically what I see is massive amounts of heat generating, often resulting in burns to clothing and skin of the user. The internet often claims this only happens with the Warrior series of lights, but I have witnessed it with the S1R, i5T EOS, Odin, PL Mini and Pro, along with others. Notice that my list includes non-rechargeable lights as well.
Output
Output varies widely based upon the selected mode. These numbers for lumens, candela and runtime are quoted from Olight's website.
Turbo

1,000 Lumens, 5,250 candela, 90 second runtime then drops to medium

High

600 Lumens, 90 second runtime then drops to medium

Medium

60 Lumens, 220 minute runtime

Low

12 Lumens, 20 hour runtime

 Midnight

0.5 Lumens, 192 hour runtime
With this variety of brightness levels, it's pretty easy to find one to suit the task at hand. Turbo is fairly bright for a light of this size, but not exactly the blinding light I hear described by some people online.
Durability
My S1R Baton has experienced a handful of shoulder height drops onto concrete to both the bezel and tail. These have resulted in scuffs to the light, but no serious damage. Overall I'm pleased with the durability of my experience, as comparably priced lights have faired worse. However, I have seen lights dropped similarly experience failures in their electronics. Specifically battery connections shorting out, then frying the light. This is not something I've seen with comparably priced brands.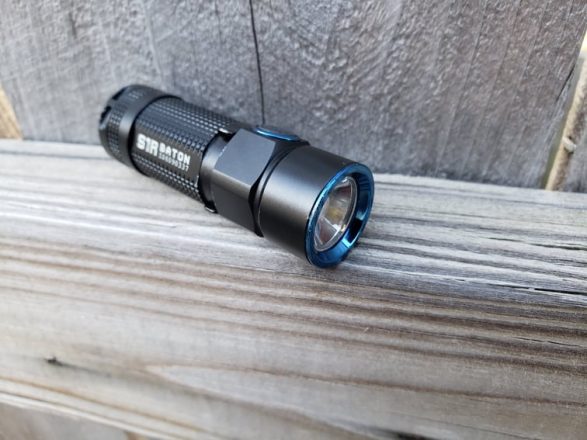 The light is rated IPX8 for water resistance, though I haven't tested this personally
Final Thoughts on the Olight S1R Baton
Overall I wouldn't recommend the Olight S1R Baton. From poor output and runtime, to parasitic drain, and safety concerns, there's a problem for everybody. If you already own one, be wary of the problems I've mentioned above. If you need a light for defensive or administrative purposes, look elsewhere. I wholly recommend the Streamlight 1L-1AA as an excellent light at roughly half the price of the S1R Baton.
MSRP on the Olight S1R Baton is $64.99