After a rude awakening during a training event with the Streamlight Stylus Pro, it was time to upgrade. I wanted something with a solid purchase in adverse conditions, and substantially increased brightness. Cost was also a factor, not wanting to break the bank if the light got lost, confiscated, or destroyed. With this in mind, I continued down the Streamlight product list, eventually settling on the ProTac 1L-1AA.
The Streamlight ProTac 1L-1AA is handheld flashlight designed for everyday carry. Coming in at 4.25" in length and weighing 2.80oz, the 1L-1AA offers enough girth to fill the hand without being too large for concealment. Being IPX7 water resistant, the light should still function even after being submerged to 1 meter for 30 minutes. While I haven't tested this specifically, the 1L-1AA has stood up to all manner of rain and sweat.
Let There Be Light
The big draw for me with this light was the dual fuel capability. It's name comes from the ability to be powered by both a single AA battery or a single CR123. Streamlight includes one of each size with the 1L-1AA, and both alkaline and lithium batteries are acceptable. Users will see differing levels of performance based upon battery type they choose.
CR123

High Power: 350 Lumens, 6,400 Candela, 1.5 hour run time
Low Power: 40 Lumens, 720 Candela, 14 hour run time
Strobe: 350 Lumens, 3 hour run time

AA

High Power: 150 Lumens, 2,750 Candela, 1.33 hour run time (alkaline), 4.25 hour run time (lithium)
Low Power:  40 Lumens, 720 Candela, 7.5 hour run time (alkaline), 14 hour run time (lithium)
Strobe: 40 Lumens, 3.5 hour run time (alkaline), 8 hour run time (lithium)
Using Streamlight's Ten Tap system, the ProTac 1L-1AA offers three functions; High, Low, and Strobe. To see all of the settings check out your manual. From the factory, the light is set to offer all three functions with various amounts of clicking of the tail switch. In this setting, prepare to accidentally activate strobe followed by low power when repeatedly pressing the switch. Luckily these settings are easy to change with just a few clicks of the button. I've kept mine in default the entire time with no serious issues arising from it.
Great Bod
The body of the 1L-1AA is fairly smooth, but features various textures and shaping to help get your grip solid during use. The head of the light has several flat segments to keep the light from rolling when set down. Your tail cap is knurled to aid in removal and also offers a little extra bite to stay in place. I like to grasp where the pocket clip hits my middle knuckles, providing a solid index point, and helping to lock my grip on the light. I've never had an issue where the light felt like it may slip from my hand during use.
Hold My Pocket
The pocket clip serves multiple purposes. First and foremost it attaches the light to your pocket. Being shorter, the 1L-1AA has been substantially less likely to eject itself from my back pocket than the Stylus Pro, generally only doing so when wedged improperly against my wallet. The backside of the clip allows you to attach the light to a hat brim, acting as an improvised headlamp. This method stays in place excellently, with more tension than the standard pocket clip portion.
The clip is also reversible for those wanting bezel-up deeper concealment. The downside to this style is the potential for negligent discharges of the light being more easily seen than when bezel down. The pocket clip is removable, only held on by friction. There have been several occasions where the pocket clip pops off, usually while in the seat of my car. When this happens, the light almost always falls deeper into my back pocket, with me finding the clip in my seat.
Final Thoughts on the Streamlight 1L-1AA
I've carried a Streamlight ProTac 1L-1AA everyday for over 3 years. The only time they have failed me is when I have lost them, and really that's me failing them. There are certainly brighter, longer lasting, more durable flashlights out there. Despite this, I am nearly completely satisfied with mine. With enough light to positively ID targets at 50+ yards during the low light portions of Shooter Symposium, to finding the pen that falls behind my desk at work.
I wholeheartedly recommend this light. It is tough enough to withstand more than what most people will throw at it, while being cheap enough to be easily replaced. The dual fuel capability means you should never have trouble keeping it fed, despite a potential for reduced effectiveness. If you don't carry a flashlight, start with this. You can buy the Streamlight ProTac 1L-1AA >>HERE<<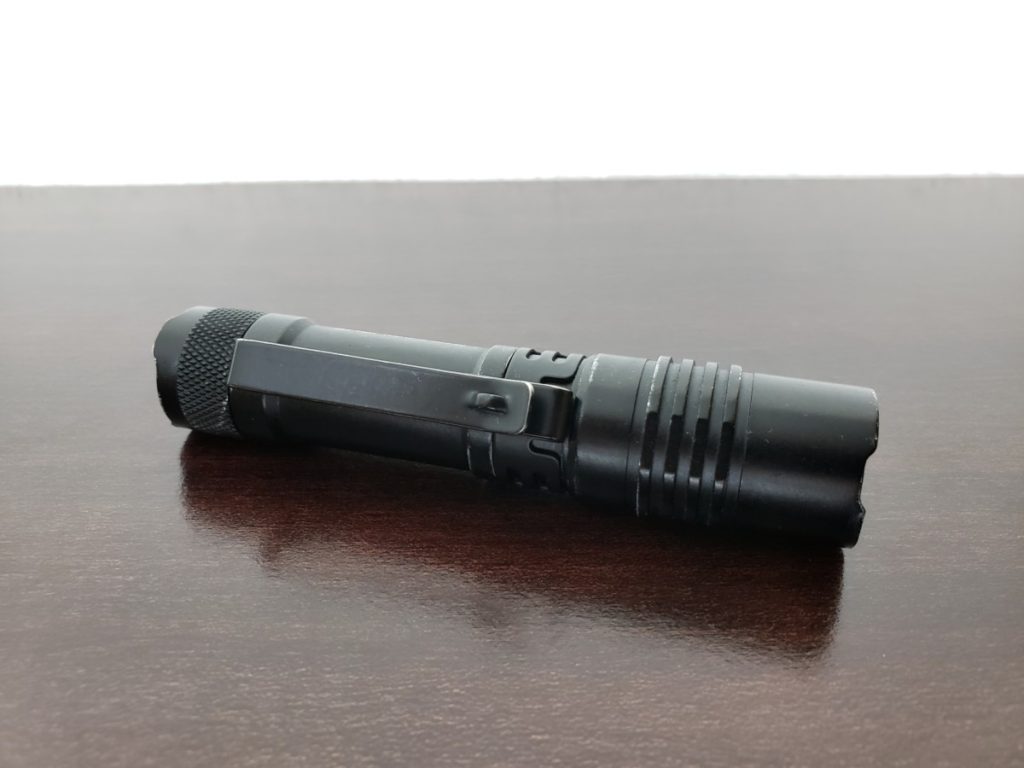 Affiliate Disclaimer: Firearm Rack is funded through direct donations and affiliate programs. Some links on FirearmRack.com are affiliate links. Using one of these links costs nothing extra, the retailer pays a percentage of the sale to Firearm Rack. Funding in this manner will assure that factual information is always first. If you would like our Amazon affiliate link or find more retailers on the Support Us page