In the past year I have become a huge fan of Blue Alpha Belts for my AIWB belts. After wearing the Hybrid EDC for awhile and being occasionally uncomfortable, the Low Profile EDC seemed like a nice belt to try. I was very surprised to find a belt that worked with my outfits more often than not, which made a huge difference in my desire to conceal carry.
Construction of the Blue Alpha Low Profile EDC Belt
The Blue Alpha Belts Low Profile EDC belt is made from two layers of 1.5″ nylon webbing that is sewn together with  bonded nylon thread. It is a stiff belt, but without the bulk of some other belts. Instead of a standard buckle, this belt uses a slim polymer buckle that adds virtually nothing to your waist circumference. The fit of the belt is determined when you are putting the belt on, which is great for me since my waist size does not seem to be consistent. Unfortunately, I do feel like I am more limited to sizing in this belt than in the Hybrid EDC. There seems to be less extra belt to accommodate the changes in my waist size day to day. At the time of writing the belt is a bit snug, but it is still a favorite.
The Low Profile EDC currently sells for $42.97 and comes in Black, Coyote Brown, OD Green, and Wolf Gray. It runs in size from 28-48, but you can contact Blue Alpha Belts for sizes that are outside of that range.
How it holds up
The Low Profile EDC belt holds up remarkably well for something so slim, and low profile. I have not seen any fraying nor tearing at the seams. The slim polymer buckle is also holding up well after months of consistent use. I wear this belt often, and it is my go to when I opt to carry AIWB. Previously, my husband wore this belt on duty for nearly two years, and it continues to to hold up without issue. I haven't had an issue wearing it in warmer weather, and it handles sweat well. The Low Profile EDC is great for conceal carrying in the desert. It is slim, but not flimsy.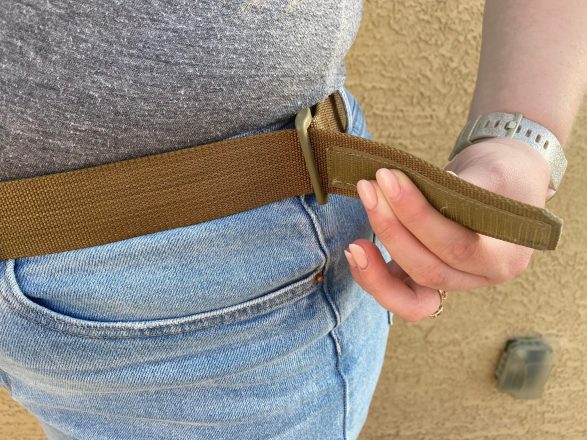 Conclusion the Blue Alpha Low Profile EDC Belt
The Low Profile EDC is currently my favorite belt to conceal carry in. It is inconspicuous, and while it is rigid, it doesn't feel like it gets in the way of my day to day movements. I absolutely love that I don't have to adjust how tight it fits before I put it on. Blue Alpha Belts Low Profile EDC is my hard and fast go to when I leave the house, I can't recommend it enough. While I don't have a ton of experience using different belts to conceal carry, I am confident that you couldn't go wrong with The Low Profile EDC.