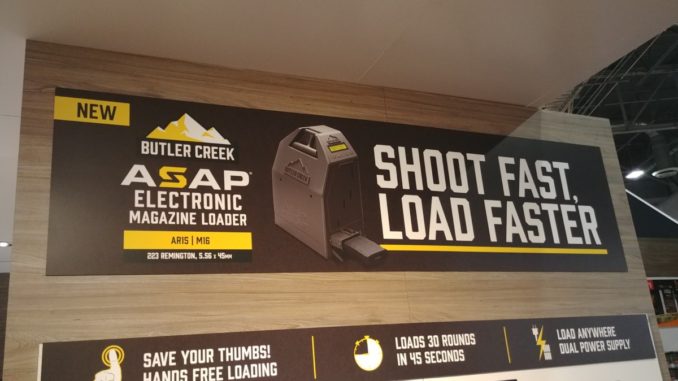 One of the things that caught my eye at the Butler Creek booth was the ASAP. This is a new for SHOT 2019 product, an electronic AR magazine loader.
The ASAP has a hopper at the top where you dump loose rounds. It can hold up to sixty at a time. There is a magwell at the bottom of the ASAP box, where you insert your magazine. Any standard AR magazine should work, as long as it is a box style magazine. Once you have ammo in the hopper, and a mag in the magwell, all you need to do is use the screen at the top of the ASAP to select how many rounds to load. You can do as little as one round, and as many as forty at a time.
The ASAP is either powered via wall outlet, or eight AA batteries. There's also a carry handle at the top of the ASAP, to make it easier to move, and it's not heavy.
A gentleman from the Butler Creek booth demonstrated function, and it worked as advertised. This seems like a specific tool, for specific aplications. I'm sure that the majority of the booths on SHOT Range Day would've liked to have had a few of these around.
MSRP is slated at $399.