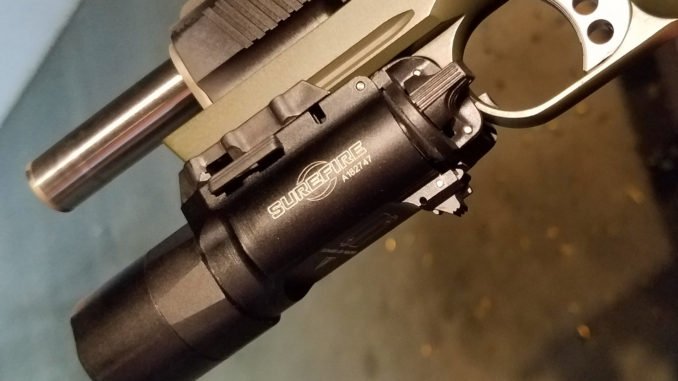 Back in July, I was sent a counterfeit Surefire X300U by an Amazon seller. The physical differences, while mostly subtle, are vast. This left me wondering how the two performed against each other, and how durable a knockoff light can be.
Not being one to waste an opportunity, I set out to put the counterfeit through its paces. The fake X300U rode along as my EDC for three weeks. Between training, my cleaning regimen, and having to de-gun for work, the counterfeit was drawn and reholstered roughly 800 times.
Range Time
The first 200 rounds fired were with a gen 4 Glock 19, including 50 Speer Gold Dot 124gr +P.
For the majority of shooting, the knockoff X300U was mounted to my gen 4 Glock 34. Approximately 2,000 rounds were fired with this setup--1,500 of which took place over 3 days during Haley Strategic D5 Handgun.
I also mounted the light to my Springfield Armory MC Operator, firing 110 rounds of Remington UMC 230gr. Interestingly, the battery compartment opens itself under the increased recoil of .45ACP.
The trigger guard of the 1911 prevents the batteries from falling out, but what little weather seal exists is compromised. Surprisingly, the light still functions with the compartment partially open.
Big Ol' Phony
There are several functional differences between the counterfeit X300U and the real X300U, in addition to the aesthetic differences noted in my previous article.
The battery compartment on the fake opens extremely easily, especially when mounting the light to a firearm. While not a massive issue when mounting to a pistol, problems start to emerge when using the light on long guns. If nothing is behind this light, then prepare to lose your batteries quickly and repeatedly. Surefire solves this issue with a low profile latch kept under high spring pressure.
When mounting to pistols, especially Glocks, the knockoff X300U frequently needs to be carefully guided into place before locking in. With the real light, the mount easily snaps into place no matter what rail is being used. I have never had the counterfeit fall off of a gun under recoil when not locked in, but the possibility is there.
Upon activating the two lights, there is a substantial amount of play in the switches of the counterfeit X300U before the constant-on beam appears. Additionally, there is an audible click when activating the momentary-on beam of the knockoff. Both of these are noticeably absent on the Surefire.
Aside from the obvious lack of craftsmanship, the counterfeit comes up short in the accessory department. Items missing compared to Surefire include:
Loctite
Instruction booklet
Surefire logo sticker
Product pamphlet
Safety warning card
Hardware for mounting on various rails and tools for changing hardware
Blinded by the Light
When I first turned on the counterfeit light, I was impressed by the brightness of the beam. Inside my home, even during broad daylight, the counterfeit is visibly brighter than a third generation Inforce APL (400 lumens). That being said, the Surefire blows the counterfeit out of the water when it comes to emitted light.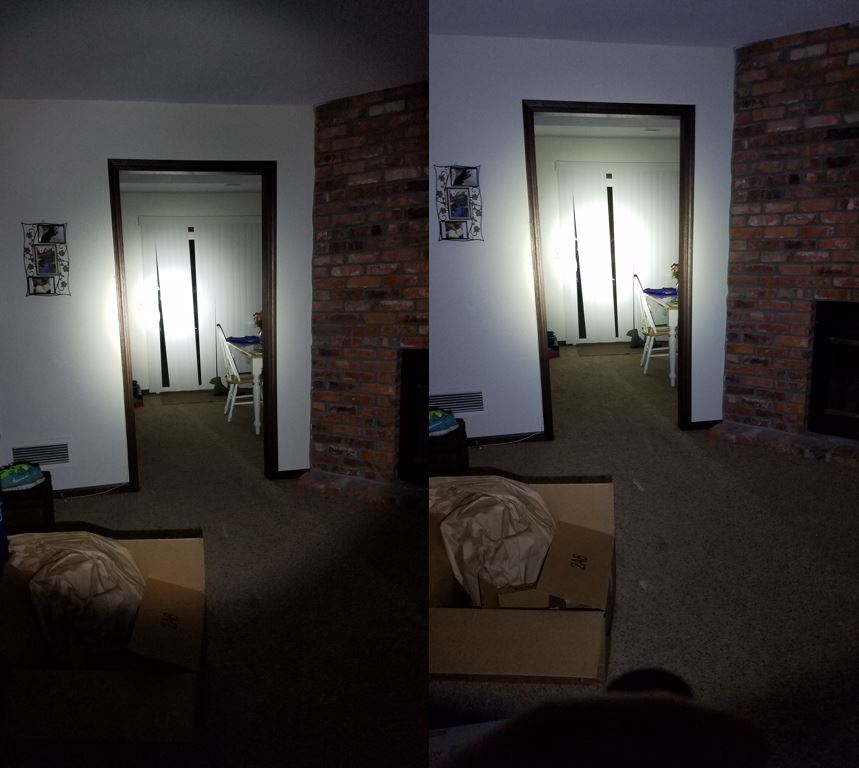 To see how the two compare, I shone each at the farthest distance within my house, 11 yards, in complete darkness. Pictures don't do the lights justice, but offer a glimpse into their performance. The Surefire bests the counterfeit in nearly every way: larger and brighter spill, larger and brighter hot spot, less segmentation of the beam.
The counterfeit X300U does have one advantage over the Surefire: it doesn't get nearly as hot. Within a few short minutes, the body of the Surefire becomes too hot to touch, while the counterfeit remains relatively cool. This is likely due to differences in output. Is this much of an issue since these aren't handheld lights? Probably not, but worth noting.
Final Thoughts
Overall, the counterfeit light actually seems to be a decent piece of equipment, aside from the battery door issues. Would I take this over an Inforce or Streamlight product? Probably not over Inforce, and definitely not over Streamlight. Even if this ends up being a stellar light, I'd rather have a known quantity, even a less capable one, than something with zero track record.
For free, this light makes me very happy. Any more than that and I'd spend my money on something I know will work when I need it. I will continue to shoot with this light and keep you updated on if/when it finally craps out.
Click here to buy a REAL Surefire X300U
Editor's Note: Make sure you are buying from a reputable retailer like Big Tex Outdoors, Brownells, or even a seller on Amazon with great feedback. Some of these fakes look very good and you might not know that you have been screwed by a dishonest person.