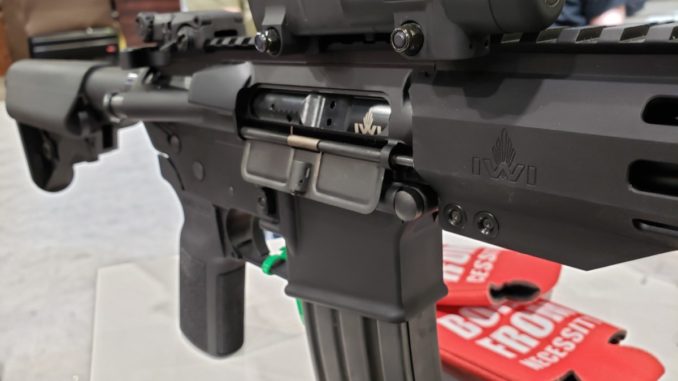 IWI had their new rifle, the Z-15 on display at SHOT Show 2020.
The Z-15 is IWI's first foray into the American AR-15 market. Aiming for the higher end of the entry level market, the rifle is a mix of upgraded and standard components. The 16" barrel is topped off with an A2 flash suppressor and features a 1/8 twist. A 15" rail comes with 7 sides of MLOK slots, with a picatinny rail along the top, with a midlength gas system underneath. The lower receiver, and controls are all milspec, and are right hand use only. I flipped the Z-15 safety a few times and found it to be gritty, and far from positive. IWI has upgraded the furniture to a B5 Systems pistol grip and SOPMOD stock. One PMAG, and a single MLOK QD cup ships with the gun. No iron sights are included.
IWI has plans to release both pistol and SBR versions of the Z-15. Full auto models will also be available for law enforcement, and those able to buy post 1986 manufactured machine guns. Currently there are no timelines for when those models will be brought to market.
The IWI Z-15 will be available in February 2020 with an MSRP of $899.
Affiliate Disclaimer: Firearm Rack is funded through direct donations and affiliate programs. Some links on FirearmRack.com are affiliate links. Using one of these links costs nothing extra, the retailer pays a percentage of the sale to Firearm Rack. Funding in this manner will assure that factual information is always first. If you would like our Amazon affiliate link or find more retailers on the Support Us page