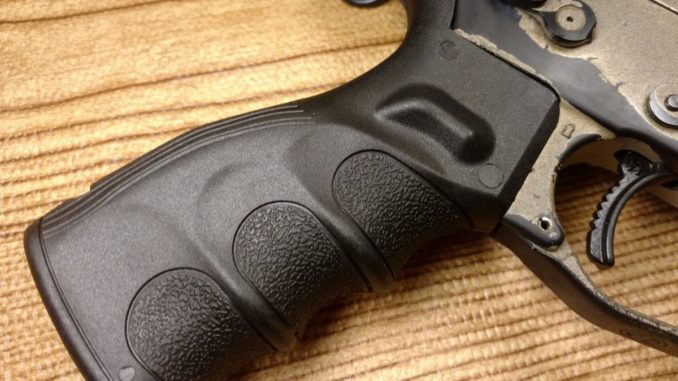 Pistol grips are a lot like underwear; we all have personal preferences, and we tend to stick to them. I'm a Magpul K grip man myself, but I wanted to try some different offerings on my ARs. While at SHOT 2019, I had the opportunity to meet JE Machine Tech, and sample some items for T&E. The product for review is their Advanced Pistol Grip.
What Is The JE Machine Tech Advanced Pistol Grip?
JE Machine Tech is a California based company. They manufacture their products in-house, which helps to reduce cost, and change product features rather quickly. They produce a lot of components for the California compliant market, at prices that are exceedingly less than a lot of their competition.
At the time of publishing, the Advanced Pistol Grip is priced at $10.94. I state the sale price, as I want that to be kept in mind while the features and my opinions of the pistol grip are being discussed.
The Advanced Pistol Grip is a sort of modified clone of the FAB Defense Ergo grip that was all the rage about 7-10 years ago. It is a fully polymer grip with a beavertail and finger grooves. The angle of the grip is much akin to the A2 pistol grip, which is more suited for longer length of pull guns. The Advanced Pistol Grip also features a storage compartment.
View of the storage compartment, ready for your Skittles.
In regards to quality, this pistol grip is not without imperfections. There are some "flashing" marks, but none that effect the feel of the grip. The fit of the grip onto the receiver is quite tight, which is not a bad thing, but meant that installation took a little longer than normal. The supplied screw and washer worked as expected, and the hole for the safety spring and detent was properly sized, and in the right location.
Where To Find The JE Machine Tech Advanced Pistol Grip
All prices are current at the time of publication. Please click the link to see the most up to date pricing.
Is The JE Machine Tech Advanced Pistol Grip Good?
During the testing period, I ran into precisely zero problems with the Advanced Pistol Grip, although that is to be expected. I have never had any problems caused by a pistol grip, and never had any break on me, and this is no different. Pistol grips, like I stated earlier, are much more about personal preference and design choice, rather than build quality. The JE Machine Tech offering is sturdy enough, but the design leaves something to be desired, at least for me.
Made in the USA.
The Advanced Pistol Grip is fairly comfortable in hand, although I'm not really a fan of the grip angle. I'm a weird AR shooter. I'm six feet tall, but I shoot my guns with the stock as collapsed as it can be. I prefer this style of shooting, as it allows me to have a smaller signature with the rifle, and be generally more maneuverable. The Advanced Pistol Grip's grip angle is a traditional, more swept back grip, which is just not as comfortable with a shorter length of pull gun. My favorite Magpul K grip has a vertical type angle, which aids in comfort with this type of shooting.
Despite sounding like I didn't like the grip, I actually like it when on a longer gun. This is leaps and bounds better than the A2 grip. I have a bin that is just A2 grips, I just can't stand the things. However, if had an A2 or A4 build, I'd be happy to throw this on there. Like many components that you can slap on your gun, there are specific uses for each one. I wouldn't slap a bipod on a 10" door-kicking gun, and a red dot has little place on a 20" precision rifle. The JE Machine Tech Advanced Pistol Grip just needs the right build to fit into. At almost a third of the cost of the FAB Defense grip that it emulates, is an easy buy. Just know what you are getting into when you choose this grip, and you should be happy.
The JE Machine Tech Advanced Pistol Grip was provided at no cost for the purpose of evaluation.