There are few things more fun than shooting a suppressed pistol. When I was contacted by my editor and asked to review the new Springfield Armory XD(M) threaded barrel, model I quickly answered the email with a "Hell yes!" Now before I go any further I want to establish that I am not the biggest fan of the XD line of pistols. I have owned a couple of the classic XD pistols over the years and seem to sell them pretty quickly. I wasn't too hopeful about the Croatian wonder pistol. I was wrong.
Taking a quick look at the specs from the Springfield website the XD(M) offers everything that you would expect in a pistol of this class.
Recoil System

 

One Piece Full Length Guide Rod

Sights

 

Dovetail Front and Rear (Steel) 3 – Dot ; Suppressor Height

Weight (with Empty Magazine)

 

31 ozs.

Slide

 

Forged Steel, Melonite® Finish

Barrel

 

5.28″ Steel, Melonite®, Hammer Forged, Threaded (.578″ x 28)

Magazines

 

3 – 13 Round, Stainless Steel
Springfield quickly shipped me the XD(M), I picked it up from my FFL eager to get it out to the range. As you might expect Springfield ships the threaded barrel model in the standard XD(M) case with all of the XD gear included that you would get with a standard XD(M). I really like that Springfield includes the holster and mag carrier so that a pistol owner has everything they need to shoot a match or carry it if they so choose.
It had been a long while since I had really looked at the XD line of pistols. I didn't remember them being this handsome. As you can see in addition to the threaded barrel Springfield included taller sights to clear a suppressor when it is mounted.
I do want to point out that the XD(M) threaded model is a rather big pistol. My FFL went so far as to say that it felt almost as large as a Mark 23 in his hands. I asked him to pull a full-size USP 45 out for a quick size comparison.
As I said, I was eager to get the XD(M) out to the range, so off I headed. Sadly I didn't have a suppressor that would fit the common .578″ x 28 thread pitch (Darn you HK) so I started the day off by making a lot of noise shooting at some steel.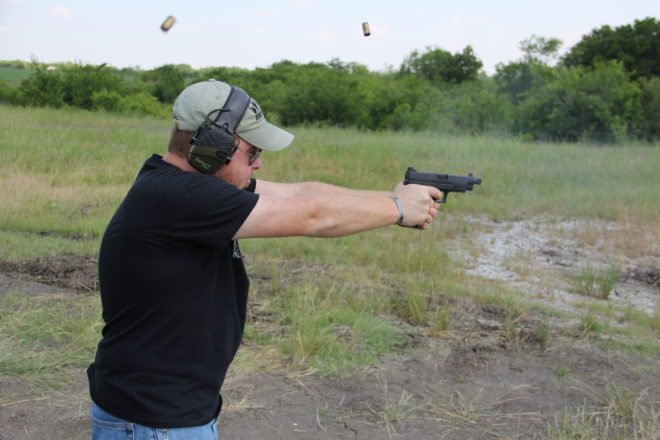 After a few mags, I handed the gun over to Alex C. my counterpart on The Firearm Blog's Youtube channel TFBTV. Alex also put a couple of magazines through the gun, and the XD(M) continued to digest everything we fed it.
After about 150 rounds of full metal jacket, I found some .45 hollow points in the bottom of my range bag and loaded those up, time to see if the XD(M) would be reliable with defense ammunition. You can see the ambi mag release here. With a full magazine it is a bit tough to operate, but once the mag is empty it is rather easy to use both right and left side of the release.
I handed the gun off to my friend Randy with 10 of the Magtech rounds loaded in the 13 round magazine. Every one of them fed reliably and hit about 3″ to the left of the point of aim like everything else we had shot out of it. Randy seemed pleased with the gun and said he was going to look into one further as a host for his Osprey 45 (which he neglected to bring to the range that day–bad Randy.).
Lucky for me I ran into my friend Ed with Midway Firearm Refinishing, who was kind enough to lend me his Osprey .45 since Randy had forgot his. I loaded all three mags up to capacity again and let loose on a steel plate. When I missed I was met with the sweet thump of a bullet hitting the berm instead of the sharp crack of a gunshot.
Ed came over and asked if he could have a go with the new XD(M). Since he was kind enough to let me borrow his suppressor, I gladly loaded another mag and handed it off to him. He took aim at the clay pigeons laying on the berm and started picking them off. Ed seemed pleased with the XD(M) but did mention that the trigger is kind of spongy. More on that in a bit.
At this point, it was time to take the suppressor off and see what kind of group I could get out of the gun at 15 yards. I had loaded up the remaining 9 rounds into two mags, 5 in one, 4 in the other. This photo was taken at the perfect time! The camera caught the gun just as the barrel was unlocking and the slide recoiling. Too cool!
The resulting groups were pretty respectable considering I am not the greatest marksman. Like I said, the pistol seemed to be shooting a bit to the left, but it did group well. The sights may have been a touch off, or the grip may not have allowed me to get a good purchase on the gun. Who knows.
After spending a couple of range outings and a few hundred rounds put downrange, I feel like the XD(M) really changed my opinion about the XD line of pistols. My only gripe is the trigger. I feel like a pistol with "Match" roll marked on the barrel should have a trigger that allows you to really wring every drop of accuracy out of the gun. Unfortunately, the trigger Springfield fitted to the XD(M) is spongy and has a lot of take up, and I also wasn't much of a fan of the reset. If Glock is able to provide a short and positive reset on a striker fired pistol, I don't see why Springfield didn't. I feel like the XD(M)'s reset was unnecessarily long.
The XD(M) threaded model is a Lipsey's exclusive and has an MSRP of $729. The XD(M) threaded model is also available in 9mm with an MSRP of $699. The .45 is only available in black, and the 9mm is only available in FDE. If you would like to find a dealer that can order one of these fine pistols for yourself, you can visit Lipsey's here to find a dealer in your area. More information on the XD(M) is also available on the Springfield website here.
I do have to admit, even though it had its share of shortcomings I am going to have to think really hard about if Springfield is going to get a gun back or a check.
This post originally was run on AllOutdoor.com - http://www.alloutdoor.com/2015/06/15/review-springfield-armory-xdm-45-acp-threaded-barrel-model/