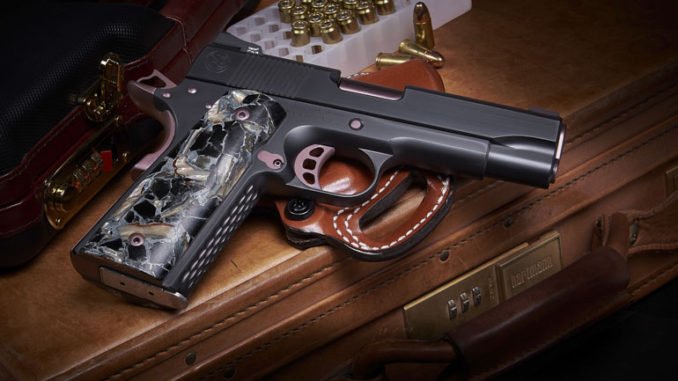 Pink guns: you either love 'em or you hate 'em. But gun companies wouldn't make them if there weren't a perceived market for bling-y feminine firearms. And if you're going to go pink, plenty of women also choose to opt for quality. That's apparently what top-end gunmaker Nighthawk Custom figured when they first rolled out their original slimmed down, commander-sized titanium blue Heine Lady Hawk.
Now Nighthawk's going even more girly and upscale with their new Lady Hawk 2.0 model. The 2.0, which will run you an extra grand over the original Lady Hawk, features pink accents (hammer, trigger, bushing, slide stop, safety, etc.) and grip choices that include materials like obsidian, abalone or zinc. Here's their press release . . .
Berryville AR: Nighthawk Custom, makers of heirloom quality 1911's, shotguns, and revolvers, is pleased to announce its first of several new models for 2018, by revamping the top selling Ladyhawk line. The new Ladyhawk 2.0 is the first major upgrade to this series of pistols. The slim framed commander sized gun has been a huge hit with women who desire high quality handguns designed for smaller hands.

Available in both 9mm and 45acp, as no cost options, this gun supports full powered modern ammunition in a thin framed package. What makes the Ladyhawk 2.0 different however, are it's aesthetic elements. Shooters have been asking for more feminine colors and styes to match the unique craftsmanship provided by Nighthawk Custom. The Ladyhawk 2.0 marries modern coating options like DLC and Rose Gold TICN with Obsidian, Abalone and Zinc.

Here are just some of the features:

• Finish: DLC with Rose Gold TICN finish on controls and barrel
• Grips – Custom Obsidian, Abalone, and Zinc
• Forged commander size frame and 4.25" barrel (also available with an officer size frame)
• Match grade 9mm barrel (also available in .45 ACP as a no-cost option)
• Heinie Slant Pro Straight Eight Tritium night sights
• Thinned front strap and mainspring housing
• Serrated slide top
• Scalloped front strap and mainspring housing
• 40 lines per inch serrated rear of slide to match rear sight
• Shortened slide stop and beveled frame
• Crowned barrel flush with bushing
• Lightweight aluminum Nighthawk Custom tri-cavity trigger
• New ultra hi-cut front strap
• Completely dehorned for comfortable carry
• Heinie recoil spring plug

Retail price on the Nighthawk Custom Ladyhawk 2.0 is $4695 with dealer and online orders being fulfilled starting today.