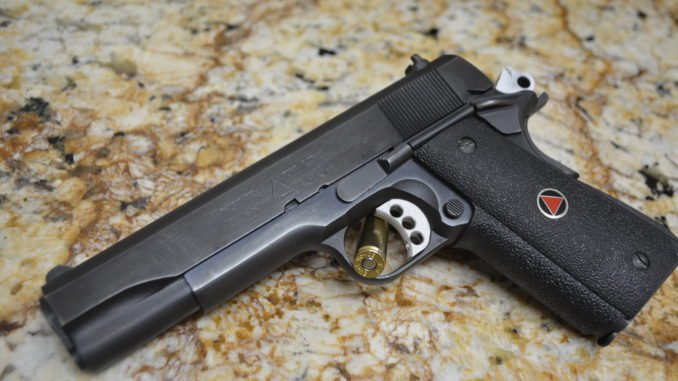 BLUF: The Colt Delta Elite oozes style, and backs that up with a highly functional design that has proven itself for over a century. The combination of the 1911 and the 10mm is a match made in Heaven; something JM Browning himself would be proud to behold.
A Quick History Lesson
The 10mm was developed in a team effort between Colonel Jeff Cooper and Dornaus & Dixon with the goal of pushing 200-grain bullets at 1,300fps out to 50 yards. The round was introduced in 1983, being paired with the Bren Ten pistol, developed by the same team as the round it fired. 10mm was formally adopted by the FBI after the 1986 Miami-Dade Shootout in response to perceived failures in their 9mm and .38 Special ammunition. Unfortunately, the increased recoil of the 10mm caused many FBI agents to fail their qualifications, which resulted in reduced power loads that ultimately evolved into the .40S&W.
The Colt Delta Elite was the second production handgun chambered for 10mm, initially released in 1987. Production ceased in 1996 due to a lack of sales. Colt re-introduced the pistol in 2008, with commercial sales beginning in early 2009.
Where Form and Function Meet
The Colt Delta Elite is a full size, 41 oz, GI style 1911. This example is equipped with a full-length guide rod, round mainspring housing, three dot GI sights, and a Commander-style ring hammer. Wrap-around Pachmayr grips are adorned with the Delta Elite logo, helping to cushion the stout recoil of the 10mm. Magazines hold eight rounds and sit flush with the frame.
A reflection of the times it was designed in, the pistol lacks any form of ambidextrous controls. The safety is slightly enlarged, though not to the degree of a modern 1911. The bluing is gorgeous having been polished to a mirror-like sheen on the sides of the slide, while the top has been dulled to reduce glare when aiming.
Using a modern gripping technique, I have been unable to cause any slide bite despite the GI style grip safety that allegedly turns hands into shredded cheese. Nicks in the steel frame from years of use create some sharp edges, but nothing substantial enough to cause pain.
Trigger Time
I fired 240 rounds across two range trips and experienced two malfunctions. The slide twice locked back on a loaded magazine when using Remington UMC, which was remedied by racking the slide. During shooting I mixed ball and hollowpoint rounds in the same magazine with no issues. Shooting was done offhand, with both slow and rapid fire.
100  Rounds SIG Sauer Elite Performance 180gr
50 Rounds Remington UMC 180gr
50 Rounds Federal American Eagle 180gr
20 Rounds Hornady XTP 180gr
20 Rounds Federal Hydra Shok 180gr
American Eagle has the least felt recoil, being similar to an average .45 ACP loading. SIG Elite Performance has the most recoil for ball, and second highest overall, behind Hornady XTP. Interestingly, Federal Hydra Shok had second softest recoil, hitting barely harder than American Eagle.
My first few magazines were full of flinching and sore hands, but after modifying my grip I was able to control the Delta Elite nearly as well as any .45 ACP 1911. Hornady and SIG ammo have significantly higher recoil, somewhat comparable to .45 Colt.
Unfortunately ,I could not test any hotter loads, as the above is all that my local shops keep in stock. My timeline for testing was compressed, so waiting for an online ammo order was not an option.
The Colt Delta Elite is not the highest capacity, lightest weight, or most modern pistol, but it doesn't need to be. It mixes a highly capable cartridge with a highly capable pistol and looks good doing it.  I want one, I need one, I will own a Colt Delta Elite.