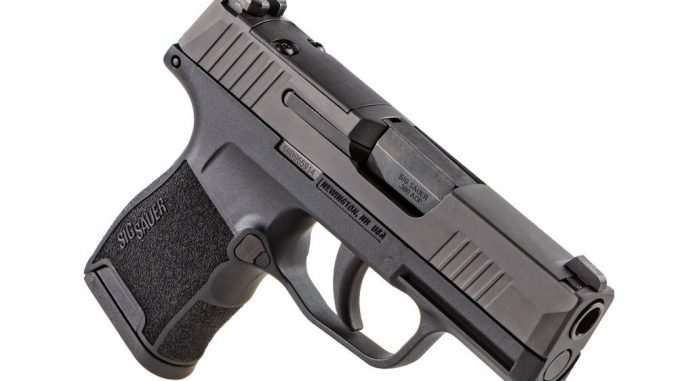 Today we learned of a new addition to the P365 line from SIG Sauer. This time around we're getting the standard P365, but chambered in .380ACP, or 9x17. This keeps the impressive capacity of the P365, with reduced recoil for more sensitive shooters. Two versions will be available, one with a manual safety, and one without. Check out the product page >>HERE<< or read the details below.
380ACP P365 from SIG Sauer
The P365-380 offers all the same features as America's #1 selling micro-compact pistol, now in the softer shooting 380 caliber resulting in easier handling and less felt recoil.

The long-awaited P365 chambered in 380 is finally here, creating a new, softer shooting, easier handling micro-compact option for everyday carry. It uses the same grip module and fire control unit as the popular 9mm version with a lightened slide and barrel making it completely compatible with all existing P365 holsters.  With a Nitron® finished stainless slide, DLC barrel, and completely redesigned two-piece captured guide rod, the P365-380 is the most durable 380 micro-compact pistol on the market.  Rigorously tested at SIG SAUER, the P365-380 was designed for all shooters, especially those with smaller hands and those who find the manipulation and recoil management of 9mm caliber pistols challenging. 

Each P365-380 comes standard with SIGLITE® night sights for effective sight acquisition in all lighting conditions.  The P365-380 slide includes an optic cut compatible with the ROMEOZero Elite or any optic with the same footprint.  Additionally, the dovetailed front and rear sights allow for effective co-witnessing in the proper configuration.  Because the P365-380 shares the same fire control unit and grip module as all standard P365s it is compatible with all of the same accessories, such as flat triggers, FOXTROT lights, XSeries grip modules, etc.  Each pistol includes (2) 10rd magazines (one flush fit and one extended) and a magazine loader standard. The P365-380 is the ultimate micro-compact pistol offering less recoil, less racking force, and less compromise in an everyday carry pistol.

Nitron® finished optic-ready slide
Shared FCU and grip module with P365 9mm
Less recoil and reduced racking force
Accessory rail
(2) 10rd magazines w/ mag loader

** PLEASE NOTE ** The P365-380 fits all standard P365 holsters.