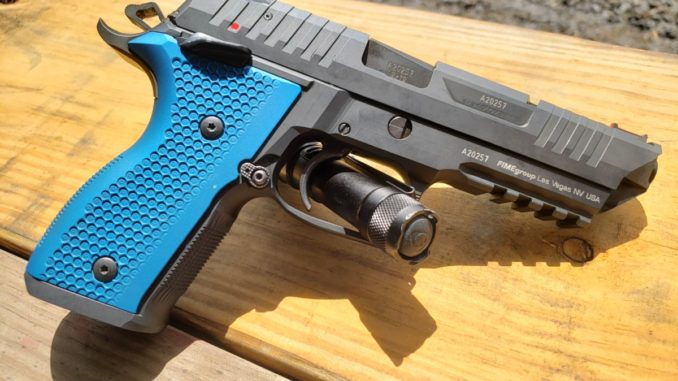 One of the more eye-catching guns at Big 3 East 2019 was the Rex Alpha pistol. Designed from the ground up as a competition gun, the Rex Alpha is chock full of features that should delight any shooter.
Built Like A Bank Vault
Steel replaces the aluminum frame found in previous Rex pistols, adding weight and controllability to the Alpha. The grip has been reprofiled with front and backstraps being aggressively checkered and the trigger guard generously undercut. Three ambidextrous magazine release buttons are included, along with three ambidextrous safety levers (the decocker has been removed).
Rex Firearms includes three 17 round magazines with the Alpha and a flared magazine well to facilitate rapid reloads. Also included are three different springs so users can customize the weight of their trigger press.
With 6.8 inches of space between the fully adjustable rear and fiber optic front sights sitting atop a 5-inch barrel, shooters should have no problem taking rapid and accurate shots from distances near and far.
Shooting
During Big 3 East I easily put 200+ rounds through the Rex Alpha. It and the Rex Firearms Delta were the stars of their booth, tearing through the majority of the rounds fired for Rex Firearms. The only malfunctions I witnessed were from user error; limp wristing, riding the slide release, etc. Plate racks and dueling trees were cleared with ease by even the most mediocre shooters. The higher bore axis compared to my usual Glock was noticeable, but not distractingly so. The Alpha was undoubtedly my favorite pistol to shoot throughout the week.
Looking Forward
The Rex Alpha is allowed for use in USPSA under Production. With its features and price point, the CZ and EAA fanboys may have a contender on their hands. With no factory milled slides currently available, it's only a matter of time before someone figures out how to mill the slide for a Delta Point Pro and bring the Alpha to Carry Optics.
MSRP on the Rex Alpha is $1,099, but if you hunt around you might be able to find it in the $870 to $950 range new.
Affiliate Disclaimer: Firearm Rack is funded through direct donations and affiliate programs. Some links on FirearmRack.com are affiliate links. Using one of these links costs nothing extra, the retailer pays a percentage of the sale to Firearm Rack. Funding in this manner will assure that factual information is always first. If you would like our Amazon affiliate link or find more retailers on the Support Us page