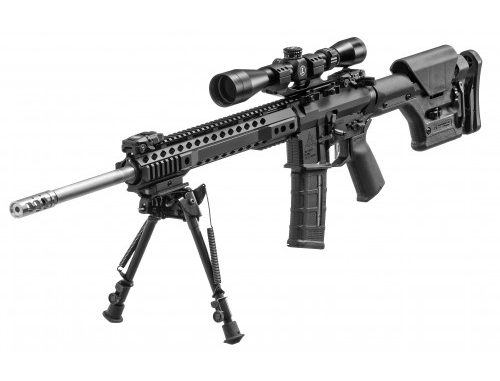 If you are looking for a turn key, ready to shoot, accurized AR15 there aren't many choices out there. Before I go into too much detail about the Rise Armament RA-331 rifle, I want to get the MSRP out of the way, $2530 without optics or $3013 with a Leupold Mark AR. It is on the premium end of the pricing scale, but you do get what you pay for. I would go so far as to say that this is THE nicest AR15 I have ever had the pleasure to lay hands on.
Let's take a look at the key features list for teh RA-331 from their website.
KEY FEATURES
Built for precision and accuracy
20.2-inch 416 stainless steel barrel, 1:7 ratio
13-inch slim-line billet aluminum handguard with Picatinny rail system
RISE Armament advanced-performance trigger (3.5-pound) for extra control
Milled 7075 aluminum billet receivers with mil-spec hard coat
Premium hard chromed bolt carrier group
Stainless steel RISE Armament compensator, designed and built to help stay on target
Comes standard with a bipod mount
Magpul PRS adjustable stock
Weight: 10.9 lbs.
Overall Length: 40.465 inches
Barrel Length: 20.2 inches
Handguard Length: 13 inches
Shown with optional Leupold Mark AR optic, available for an additional $483
Starting at the muzzle of the RA-331, Rise has fitted their own 416  Stainless RA-701 Compensator. It did an outstanding job of keeping the recoil to a minimum for fast follow up shots. It is mated to Rise's SB-202 Sniper Barrel also made from 416 Stainless. At 20.2″ long it features a 1/7 twist rate and a .223 Wylde chamber that allows you to use both .223 Remington and 5.56 NATO.
Wrapped around the barrel is Rise's 13″ free float slim-line billet aluminum handguard, I found it to be rather sturdy and well thought out. It features a full-length picatinny rail along the top with three short picatinny rails at the 3, 6, and 9 o'clock positions. It also has 4 QD sling mounts to accommodate any sling choice you might have without adding more bulk to the rail.
The rifle Arrived with Magpul MBUS back up iron sights mounted to the rifle. At the 6 o'clock position the rail the RA-331 sported a GGG OD Harris Bi-Pod mount mated to a Harris SLM Bipod. A nice lineup of parts so far, it seems every piece of the puzzle is chosen carefully.
The RA-331 that Rise sent me included the $483 Leupold Mark AR option. Rise doesn't really go into detail on their website, but a 4-12×40 with a Mil-Dot reticle showed up. There are plenty of reviews out there that will tell you that it is a superb optic, it proved to be well matched to the rifle. Rise mounted it in a Burris P.E.P.R. mount. My only gripe here is that it was not a QD mount. While this may be a more solid alternative to many QD mounts, I would have liked to be able to access the backup iron sights without tools.
As you would expect on a build of this level both upper and lower receivers are nicely milled billet units. They fit together rather nicely but still had enough play to separate the halves easily. Rise also fitted a nice ambi selector switch, a nice touch. The grip is one of the rubber coated MOE+ Magpul offerings.
Rise included some nice touches on the lower receiver such as the "checkering" on the front of the magwell. The pattern they used on both upper and lower halves is functional as well as aesthetically pleasing.
Taking a closer look at the lower receiver you might notice Rise fitted their single stage RA-535 Advanced Performance Trigger.  With an advertised pull weight of 3.5 pounds, it really was a treat to shoot with. I really liked the almost flat profile of the trigger, it offered the familiarity of a curved trigger with the benefits of a flat one.
Here you see that Rise used a hard chromed bolt carrier group, a standard dust cover, and a standard mag release button. Another nice touch on the machined brass deflector, I really liked the shape they gave it. Again, not only is it well thought out, but aesthetically pleasing also.
Breaking the rifle down reveals they used what appears to be a standard rifle buffer and spring. They also used a Magpul PRS stock. Another downside I noticed is the lower receiver has no QD sling mounts. The PRS stock does have more traditional sling mounts if you need them.
I drug my wife out as camerawoman to my gun club and started by taking some shots at the 200-yard steel plate. Landing hit after hit was very easy, I wish my club had a long lane to really stretch the rifle's legs.
Next, I set a target up at the 100-yard line. I was using XM193 5.56, probably not the optimal choice but it would do in a pinch.
The results were pretty good if you factor in the less than ideal ammo choice. If it hadn't been for that one shot I pulled it would have produced a pretty good group. With the pulled shot it measured out at 1.22″, without including the flyer, it measured at .519″. Pretty impressive with mil-spec ammo!
In conclusion, I am highly impressed with the rifle that Rise sent me. They spent quite a lot of time carefully selecting quality parts to expertly assemble into a superb rifle. If you are in the market for a turnkey long range rig you should include the RA-331 as a solid contender. The MSRP is a bit steep, but as I said, you do get what you pay for. Aside from a few small gripes I was very pleased with the shooting experience. I must admit, I am going to have a hard time sending this one back.
This post originally was run on The Firearm Blog - http://www.thefirearmblog.com/blog/2015/05/20/review-rise-armament-ra-331-long-range-rifle/