After years of carrying pocket size Maglite flashlights it was time to upgrade. The low output and and poor controls frustrated me to no end. Taking a quick look at the military exchange on base, my options were limited to Maglite, Chinesium, Streamlight, and Surefire. The stylus pro caught my eye. As a poor E-3, I was blown away that I could get 100 lumens and 950 candela in such a small package for roughly $20. My Maglite was 15 lumens and cost more than that. I knew that this would be the last light I'd ever need. Or would it?
Streamlight Stylus Pro Construction
The Streamlight Stylus Pro is a compact pen light that runs on two AAA batteries. At 5.3" long and weighing just over 1.6oz, this was seemingly ideal for a daily use light. The Stylus Pro features one brightness setting, with battery life slated at 8 hours. There are no fancy settings here, simply momentary on for a light press, and constant on with a full click of the rubberized push-button tail switch. IPX4 water resistance means the Stylus Pro should be safe with light splashes of water--don't take this on your next anti-piracy op. There's nothing fancy or tactical here, just inexpensive simplicity.
Hands On Time
I carried the Streamlight Stylus Pro for roughly two years. Multiple times a week it came in handy, finding things dropped behind desks, lighting up keyholes, and helping with other menial tasks. My only complaint was the length and weak pocket clip. Frequently the light would work its way out of my back pocket while seated. I lost one as it bounced out of the pen pockets on pant legs while hurrying up a staircase. Despite repeated falls onto concrete and steel from chest high or less, the Stylus Pro continued working without issue. Any cosmetic damage or loss was low impact due to the low cost of the light. Everything was sunshine and rainbows until I took my first low light pistol course.
Hard Lessons
Imagine the most ideal low light situation: no photonic barriers between you and the target. Several other shooters shining their lights down range to help illuminate the target. You are no more than 10 yards from the target, and know for certain that you need to shoot. Even with all of this, you struggle to see anything more than the outline of the silhouette.
Suddenly my 100 lumens were nothing. I couldn't believe how weak my light was when the distance increased past a single yard. The thin, smooth body of the light couldn't have been more difficult to grasp unless it was covered in oil. More often than not I pushed the Stylus Pro nearly out of my hand trying to activate the light no matter the grip style I used. Things were not going well.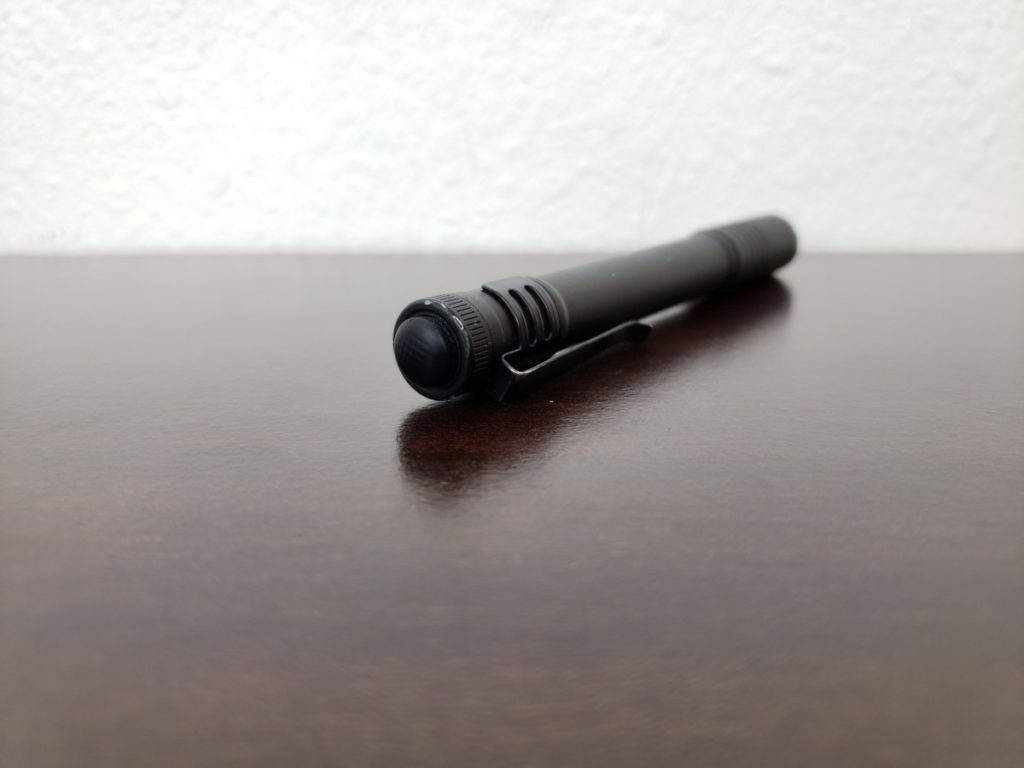 The following day I shelved the Streamlight Stylus Pro in favor of something a little more powerful. The Streamlight ProTac 1L-1AA.
Final Thoughts on the Streamlight Stylus Pro
100 Lumens and 950 candela ain't shit. An extremely thin and sleek body is NOT conducive to practical use, especially with sweaty or cold hands.
If you're looking for a small little light to help find things around the office, this might be for you. If you need to convince someone to carry a light, and they don't want anything "big", this might be for them. For those wanting to see anything further than a meter away, or have a positive grip during use, avoid the Streamlight Stylus Pro. It worked for me until it didn't, and thankfully it didn't in training.
For roughly $20, this is one of the better options out there. Personally, I'd up your budget to around $40 and get something more powerful with better texture. Buy the Streamlight Stylus Pro >>HERE<< or buy the Streamlight ProTac 1L-1AA >>HERE<<
Affiliate Disclaimer: Firearm Rack is funded through direct donations and affiliate programs. Some links on FirearmRack.com are affiliate links. Using one of these links costs nothing extra, the retailer pays a percentage of the sale to Firearm Rack. Funding in this manner will assure that factual information is always first. If you would like our Amazon affiliate link or find more retailers on the Support Us page