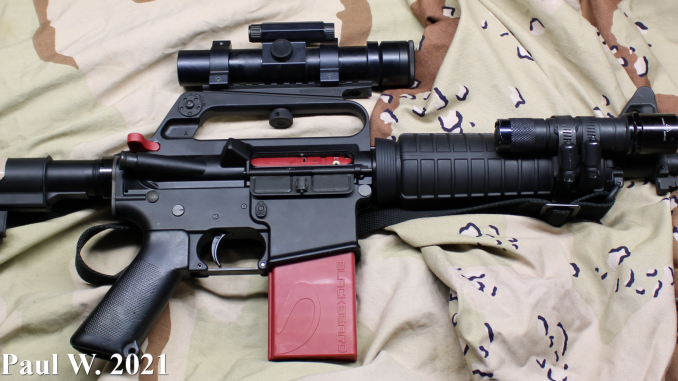 2021 marked an interesting change in viewership among our readers. In the past, news about guns and gear typically raked in the views, with editorials and reviews falling far behind. This year, we've seen the reverse, with news falling in views and reviews and editorials performing excellently. While part of this is due to a lack of SHOT Show in 2021, it's still a bit strange in our mind. With the year coming to an end, we've compiled our best performing articles of the year in case you missed them.
Paul's review of the Mantis Blackbeard is one of the best performing articles of all time for Primer Peak. Growing exponentially, it's taken us all by surprise. Being a fairly unique piece of gear, with significant benefits, our viewers can't get enough of this review.
Several of the staff at Primer Peak own and use the PHLster Enigma to varying degrees. Wearing his day to day in the course of his career, Sean has spent a lot of time optimizing his Enigma. Trying out a variety of modifications and accessories, his advice can take your concealment game to levels most never thought was possible.
Paul's ongoing series on the history of Aimpoint is a stellar resource for those interested in how we got to today's technology. Starting at the beginning, the Aimpoint Electronic overview has proven to be a popular article among readers. As the series marches on you can see the slow progression of technology, and learn how viable these classic optics are for modern shooters.
Despite mandates going the way of the Dodo in many places, masks remain a requirement in much of the world. Even when not forced, their are often still advantages to keep wearing yours when in public. These benefits are not only medical in nature, but social and privacy related as well.
In 2020 I published my "Why Sidecar Style Holsters Suck" article. This exploded in popularity and generated more than it's fair share of rage among certain circles. Shortly thereafter, my most recent sidecar style holster review dropped, covering the Tier 1 Concealed Axis Elite. While I often consider this to be the best sidecar style holster on the market, it still has some serious shortcomings. Find out how it stacks up to the competition in this review.
Looking Forward
What were some of your favorite articles we produced throughout the year? What would you like to see in 2022? If there's something you'd like to see in the new year, leave a comment below, or join our Discord server. Let us know what you'd like to see, or maybe you can join our staff and have your voice heard among the community! We're always looking for new contributors with unique perspectives.