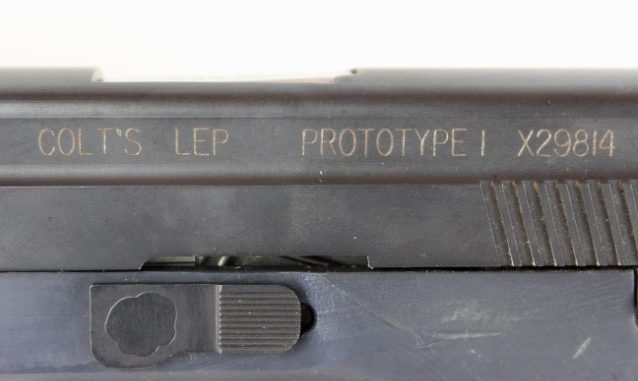 Personally, I am not a firearm collector, normally I focus much more on developing shooting skill. That doesn't mean I don't enjoy looking at rare prototype guns on Gunbroker now and again.
This slideshow requires JavaScript.
More from the Gunbroker listing:
RARE Colt LEP (Law Enforcement Prototype) pistol chambered in .40 S&W. This gun was developed by Colt to potentially compete in the Law Enforcement industry. According to Colt, there were approximately 38 of these manufactured, 12 of which were destroyed by the factory. This is one of the remaining examples. This gun was purchased directly from Colt and includes a factory letter. The letter included in the images is a photocopy and the original letter is not wrinkled. Please refer to images.
This slideshow requires JavaScript.
More from the Gunbroker listing:
For sale is a gorgeous KAC SR25 ECC upper with the rare Geissele prototype rail. This upper has only been test fired, take a look at the pictures and you will see that it is in mint condition! Comes with original manual and test target. Feel free to ask any questions. Item is located in RI so local pickup in the northeast is available, otherwise will ship fully insured.
This slideshow requires JavaScript.
More from the Gunbroker listing:
Dan Wesson Wraith .45 acp suppressor ready. This is the Wraith PROTOTYPE, first one built (and yes CZ did misspell the word "suppressor" on the label). As you can see it differed from the production by having front cocking serrations and there's no name on the slide, meaning it was made before they had a name picked out. Comes with hard case and 1 magazine. Has been shot by CZ for testing and at demo shoots but the round count appears very low and since was the proto it was stamped at CZ as a blem. Awesome piece and would be great for a collection and a shooter. If you have any questions please ask.
This slideshow requires JavaScript.
More from the Gunbroker listing:
WALTHER 
MODEL: P99 PROTOTYPE TEST GUN 
CALIBER: 9MM 
BLUED SLIDE & POLYMER FRAME 
4" BARREL 
"V" SERIAL NUMBER PROTOTYPE 

INCLUDES: 
1 16RD MAG 
BOX 
TEST TARGET 

CONDITION:
EXCELLENT 
DISCREETLY IMPORT MARKED ON THE MAG WELL 
This slideshow requires JavaScript.
More from the Gunbroker listing:
Super rare Mauser M1906-08 experimental pistol, one of fewer than 100 made (highest recorded number known is 77), and the first Mauser to have a flap-locked mechanism. SN: 51. Cal. 9mm x 25 mm (DWM case 487B). This 2nd variation pistol has a 4" bbl with a banded front sight and a half round-half octagonal bbl whose chamber is hand inscribed "WAFFENFABRIK / MAUSER OBERNDORF A.N." Major components are rust blued. Bolt is strawed while the extractor, safety, safety release button, trigger, magazine retention spring and grip screw are fire-blued. Disassembly shows all matching numbers except for the magazine whose body is numbered "142" and whose fire-blued base is numbered "72". Impeccable provenance with previous owners including Henk Visser and Dr. Geoffrey Sturgess. Exact gun pictured in Handguns of the World by Ezell, co. 1981, on page 402 but with 20-shot magazine. Also illustrated in The Borchardt & Luger Automatic Pistols, Vol 1-3 book, again with the longer 20-shot magazine. CONDITION: Superb professional restoration with deep chamber markings, flat planes, sharp edges. Major parts with correct rust blue; enhanced fire blue on the small parts. Orig grip retaining much of its orig varnish. Slight blunting of checkering. Bright bore with sharp rifling. Perfect manual mechanics. One of the most unusual, recognizable and desirable pistols ever made by Mauser that could easily be the centerpiece of any early automatic pistol collection. A HISTORIC INVESTMENT!
This slideshow requires JavaScript.
More from the Gunbroker listing:
Up for this auction is a Smith & Wesson Performance Center Model 686 .357mag (7) shot Revolver. Ser#XPX0035 (tag#2524). Revolver is a PROTOTYPE and is very rare. It has a matte black finish and beautiful wood grips. Slight turn line on cylinder and a few tiny scratches on left side of frame otherwise in great shape. Barrel measures 3" with a good clear bore. Revolver will come with the manual & original factory hard case. Great firearm to get into your collection!

Please feel free to email or call me with any questions. Please call 860-649-7599 or Cell Phone 860-978-7839 8am-10pm EST ask for Kevin or Maureen. FFL FAX 860-512-0161. Thanks for looking and Happy Bidding.
This slideshow requires JavaScript.
From the Gunbroker listing:
BERETTA 
MODEL: 92 COMBAT 
CALIBER: 9mm 

VERY HARD TO FIND VERSION OF THE BERETTA 92

INCLUDES:
FACTORY BOX
2- MAGAZINES 
TOOLS

CONDITION: 
OVERALL AN EXCELLENT PISTOL WITH ONE SMALL SCUFF ON THE LEFT SIDE OF THE SLIDE

DISCREETLY IMPORT MARKED ON THE BOTTOM OF THE MAG WELL