This year I wasn't able to attend SHOT, instead opting to take the Rangemaster Master Instructor Course. Despite this, I still kept an eye on the products being released to see if anything caught my eye. Somewhat surprisingly, a ton of things grabbed my attention. Below are some of my picks for the good, the bad, and the meh of SHOT Show 2022.
The Good of SHOT Show 2022
Surefire Turbo Series Lights
For the past few years people have been waiting for Surefire to catch up to Modlite and Cloud Defensive in terms of light output. Well the wait is over. The new Turbo series of handheld and weapon mounted lights use 18350 and 18650 batteries to substantially improve output and run time.
Surefire Turbo Weapon Lights
The Scoutlight Pro offers 550 lumens with 71,000 candela with a 2 hour runtime. For those looking to save space or weight, the Mini version produces the same output with a 45 minute run time on a single 18350.
The X300T is the latest update to the X300 series of pistol focused lights. With an 18350 battery, Surefire advertises 500 lumens and 50,000 candela with a one hour run time. Holster compatibility is supposed to be 100% across X300U series holsters.
EDC-DFT Handhelds
Handheld lights have been updated as well with the EDC-DFT series. The larger EDC2-DFT provides 550 lumens and 72,000 candela with a 2 hour run time using a single 18650 battery. The mini version, EDC1-DFT, gives the same output with a 45 minute run time on a single 18350 battery.
Prices on all of the new lights are still to be determined. Surefire expects a release date of March. Stay tuned for more information.
Cloud Defensive Rein Updates
The Cloud Defensive Rein is one of the most popular Scout style lights on the market. Known for incredible durability, it is also one of the larger lights around, which is a common criticism. Cloud Defensive has listened to their customers and is releasing an updated Rein with a new light head.
This smaller head is roughly 0.20 smaller in diameter, reducing its size by nearly half. Output has also been improved, now boasting 70,000 candela and 1,100 lumens, making it just slightly more powerful than its main competitor, the Modlite OKW. Additionally, the new Rein heads are also compatible with Cloud Defensive's upcoming handheld light, the MCH.
Pricing and release dates are still TBD.
Aimpoint Duty RDS
Aimpoint is bringing their Micro series of optics to a budget friendly price point. Think of the Aimpoint Duty RDS as the Micro version of the PRO or ACO. It offers 30,000 hours of battery life on setting 7 with a single CR2032 battery. Boog bois are in luck as there are four night vision settings, and six daylight settings. Using the standard Micro footprint, all of your high speed aftermarket mounts are fully compatible. Aimpoint currently offers one reticle size, a normal 2MOA red dot.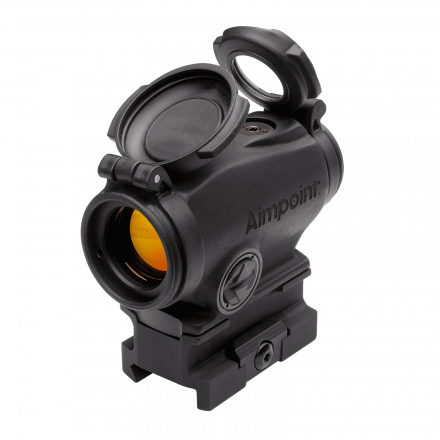 MSRP on the Aimpoint Duty RDS is $499
Holosun SCS and EPS Micro Red Dot Sights
Holosun SCS
During SHOT 2020 I covered the Holosun Solar Charging Sight (SCS) before it was officially announced. This optic is purely solar powered, no batteries whatsoever. With no battery compartment to take up space, the SCS is small enough to be compatible with factory height iron sights. Red and green dots are available, with multiple reticles as is standard with most Holosun optics. Mounting is simple, screwing directly into MOS cut slides, no adapter plates necessary.
Steve Fisher and Aaron Cowan have had their hands on the SCS for over a year to put it through its paces. Both have yet to kill their examples, with solar charges lasting for weeks in total darkness. They also claim that it is the most responsive auto-adjusting optic they've used to date, with no issues adapting to dynamic lighting.
MSRP on the Holosun SCS is $399.00
Holosun EPS and EPS Carry
The Holosun EPS is essentially a 509T for use on smaller slides. Instead of the 509T crossbar, it instead uses top-down screws like a Holosun 507 or Trijicon RMR. The EPS Carry is an even smaller version for use on slim slides, using the Holosun K-series footprint. Both offer a 50,000 hour battery life with solar power backup using a single CR1620 battery. Optic heights are low enough to use factory irons, and feature integral rear sights. Due to their small size, only a 6MOA dot is available, in both red and green reticles.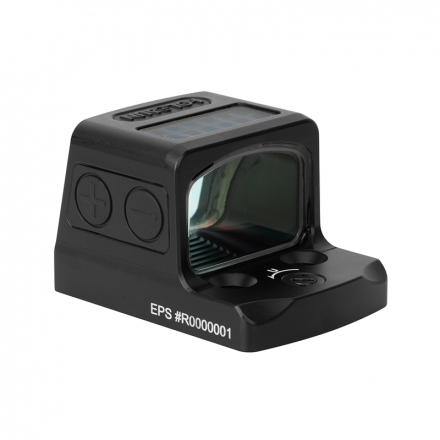 MSRP on the EPS series is $435.
Springfield Hellion Bullpup
Springfield Armory revealed their Hellion rifle just before SHOT, but close enough. This is Springfield's licensed version of the Croation VHS2 service rifle, with is essentially a bullpup G36 rifle.
Controls are fully ambidextrous, with reversible ejection for you disgusting lefties out there. The full length top rail features integral flip-up BUIS, and covers the rotating charging handle. The handguard provides three MLOK slots each at 3, 6, and 9 o'clock. Using STANAG magazines, the Hellion is fully compatible with PMags, unlike the FS2000. One of the standout features of the Springfield Hellion is the adjustable stock, which is largely unheard of in bullpup rifles. The 16 inch barrel features a 1:7 twist, with a two position gas block for suppressor use.
MSRP on the Springfield Armory Hellion is $1,999.
The Meh of SHOT Show 2022
FN High Power
Not to be outdone by Springfield Armory, FN is releasing their own updated take on the Hi Power, calling their new gun the High Power. The new pistol features ambidextrous controls, texturing on the front and rear strap, and no magazine disconnect. Magazines have improved capacity over the original, coming in at a solid 17 rounds. There are also three color options available, FDE, Stainless Steel, and Black. FN has updated the design of the pistol, offering modern takedown, and stronger construction.

Due to this new construction, the FN High Power is only a facsimile of the original Hi Power. There is virtually no parts commonality between the two, and holsters will likely be completely incompatible. Additionally, the FN High Power is significantly more expensive than modern competitive options, with MSRP ranging from $1,269 to $1,369.
Girsan P35 Match
Girsan is upping the Hi Power game with an improved version of their P35 in the form of the P35 Match. The P35 Match offers several modernizations to include an extended beavertail to reduce slight bite, a 1913 accessory rail, and ambidextrous extended safeties. The trigger has been reshaped to a modern flat face, the magwell is slightly beveled for easy reloads, with sights updated to a fiber optic front and fully adjustable rear. There are three cerekote color options; black, FDE, and two tone grey, all of which come with G10 grips.
Despite all of these improvements, there are a few downsides I see to the P35 Match. The front and rear straps of the grip have been left totally smooth, which will likely reduce control of the gun. With the accessory rail on the dust cover, holster compatibility with be limited on top of the already sparse support for modern Hi Power holsters.
MSRP and release dates are still TBD.
Shield Sights Mini Sight AMS
The AMS is the first closed emitter micro red dot sight from Shield Sights. Interestingly, it uses the standard Shield RMS footprint. The AMS is compatible with factory irons, but also features a built-in rear peep sight, which obscures quite a bit of the sight picture. There are twelve brightness settings, three of which are night vision. Shield Sights offers 13,000 hour battery life on setting six with a single CR2050, with options for CR2032 as well. Shooters can pick from four reticles, 2MOA and 8MOA dots, each as a single dot or with a dotted ring.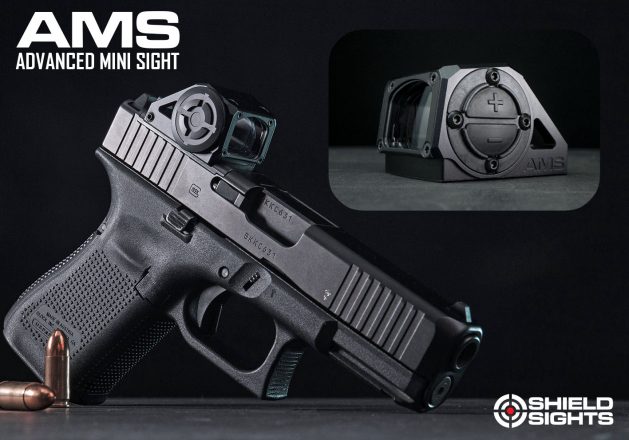 While Shield Sights aren't my preference, it's always good to see more closed emitters to drive competition. Pricing is still TBD, with a release date somewhere in 3rd quarter 2022.
 Swamp Fox Kraken
The Kraken is the first closed emitter optic from Swamp Fox. Much like the Shield AMS, the Kraken uses top-down screws for mounting, opting for the RMR footprint. Powered by a single CR2032, battery life is expected to be 2 years. Included shake-awake could substantially improve battery life as well. Reticles come in both green or red, with a single 3MOA dot. MSRP is expected to be around $300.
Again, Swamp Fox isn't my preferred optic, but they've been making strides in durability in short time. More closed emitters, especially at budget prices, can only help to bring people into the fold.
Eotech EFLX
Eotech is back in the micro optic game with the EFLX. This MRDS uses the DeltaPoint Pro footprint, making it one of the few options outside of Leupold and SIG to go that route. Using a top-load CR2032 battery the Eotech EFLX gets roughly 20,000 hours of battery. Reticles come in 3MOA and 6MOA varieties, with a single option for color being red.
MSRP on the Eotech EFLX is $389, with a release date sometime in May 2022.
The Bad of SHOT Show 2022
Franklin Armory Glock Binary Trigger
For those unfamiliar with binary triggers, here's a quick overview. Traditionally found in carbines, binary triggers typically feature a selector lever to activate the binary part of the system. Once activated, a single round is fired when pressing the trigger, and again when releasing the trigger. This allows two rounds fired for every full cycle of the trigger. Some people equate this with a poor-man's burst or simulated full-auto on their gun, especially with a quick trigger finger. Now you can get one of these triggers in your Glock.
Franklin Armory is now making Glock 17 length slides which feature a G18-esque selector lever to activate the binary portion of the device. Shooters will supply their own barrel, spring, and frame. Both irons-only and optics ready versions of the slide were on display during SHOT, but Franklin Armory is unclear if they will move forward with optics support. MSRP on the Glock Binary Trigger is $899.
I'm sure someone asked for this, but I don't want to be on the same range as them. RIP to the ceilings of your local range. Folks may want to refresh their trauma training before release.