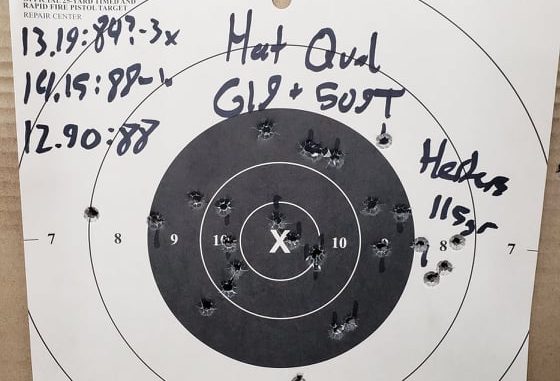 Kyle Defoor is highly respected in the shooting community, and is widely known for his impressive marksmanship. The Defoor Hat Qual is one of the quintessential precision pistol drills, and is a staple of his courseware. I'm no stranger to shooting at 25 yards and beyond, but I've only attempted this drill on two occasions. It's certainly a more complex drill than you may think at first glance. What's it like to shoot Kyle's Hat Qual?
Setting Up the Defoor Hat Qual
For this drill you need a B-8 target, a pistol loaded with 10 rounds, a timer, and your holster. There are no established provisions for lower capacity pistols, though I'd subtract two seconds for every round you're missing. I shoot the Hat Qual from concealment, but duty holsters are also acceptable.
Place your target at 25 yards to begin. On the beep, draw and fire all 10 rounds into the B-8 in a single string of fire. Par time is 20 seconds. All shooting is done from standing. Shooters get 3 attempts at this drill to achieve a passing score.
Scoring this Drill
Scoring is very straight forward. Each ring counts for as many points, with misses subtracting ten points per miss. Passing score is 90% on a single run.
No extra points are provided for shooting faster or slower, so long as you stay under 20 seconds. Breaking the par is an automatic fail for that run.
Range Time with the Defoor Hat Qual
The first time I shot the Defoor Hat Qual was in the Spring of 2019. This attempt was from low ready due to range restrictions. I was a newbie to par times and shooting at 25 yards, which is reflected in my scores. Two runs result in a 79 and 72, under par, with a dropped shot each. In short, two fails by a fairly wide margin.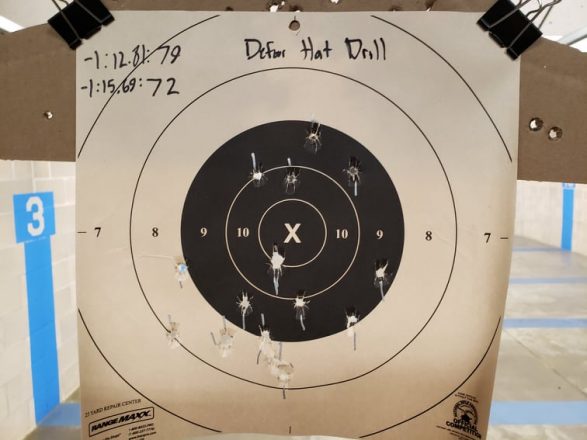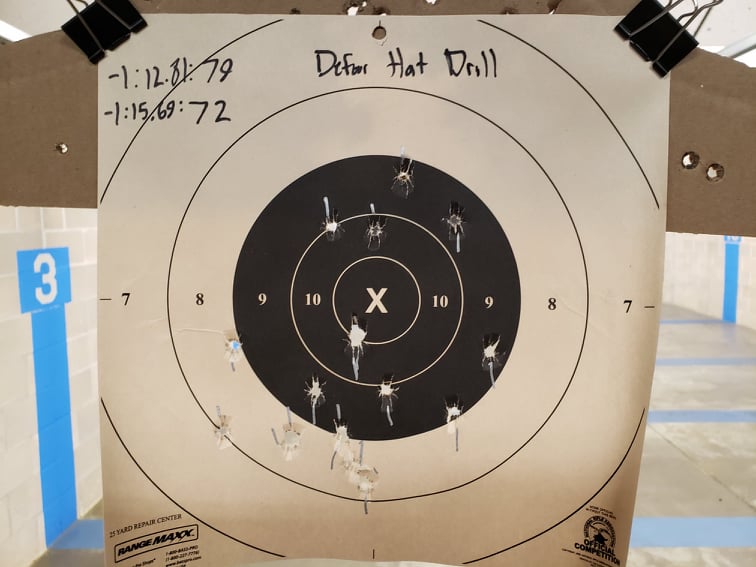 Fast forward to early July 2021 and I give the Hat Qual another try. Three runs result in an 84, 88, and another 88, all under par with all rounds on paper. Still a fail, but certainly in a better place than I was previously. My big problem here is impatience. I'm used to drills allocating a second or less per round, causing me to shoot faster than necessary, reducing my accuracy. The difference between one and two seconds may seem small, but it can make a huge impact at this distance. This is a drill I'll likely try again in a few months. If I end up passing, I'll update this post with my new results.
Have you shot the Defoor Hat Qual before? Show us your scores on Facebook or in our Discord. Don't forget to check out what else Kyle Defoor has to offer on his site as well.