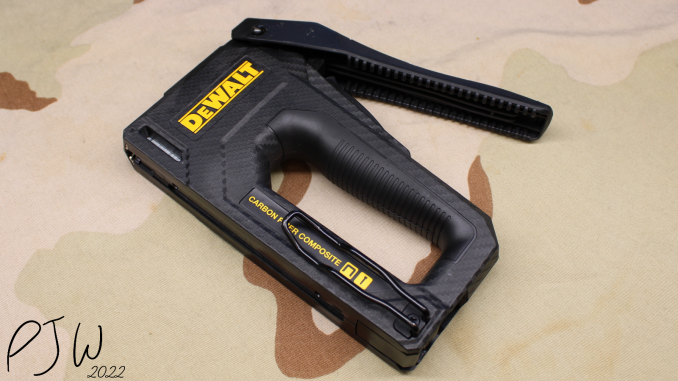 I'm a min-maxer at heart. I like to use the best gear when possible, and cut out the bad stuff. I shoot paper targets 99% of the time, so I've been on a journey to find the best stapler. I've tried many staplers, and many came up short. However, the DeWalt Carbon Fiber Staple Gun might be the best yet. How does this unique stapler hold up over many range trips?
What is the DeWalt Carbon Fiber Staple Gun?
Well, it's a staple gun, but made of carbon fiber and other composite materials. This is the definition of "it is what it says on the tin". It is separated from the herd due to the materials, and that it can take both nails and staples. If you've used a staple gun before, this will feel normal in the hands.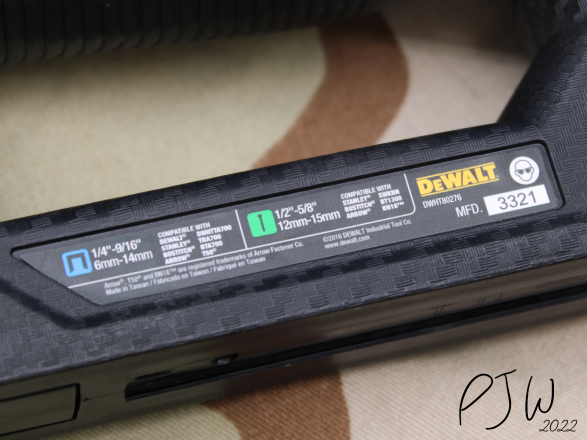 Since I bought mine, I've exclusively used 3/8" staples. I've found them to pin targets to my cardstock backers well, without tearing right out the back. Loading the DeWalt stapler is pretty easy, same process as any manual stapler. The staple gun is made in Taiwan, which was honestly a surprise to me, as I expect Chinese made stuff at this price point. Speaking of price, I was unable to find an MSRP, however I've seen these run between $33 to $40 online. I bought mine via Amazon, as it was the cheapest place to buy one.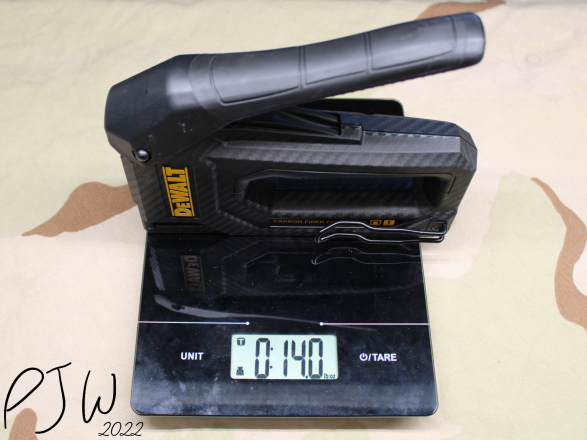 Advertised weight on the DeWalt was incorrect in every listing I saw, but I registered 14 ounces while fully loaded with 3/8" staples. Nice and light, nearly half the weight of the metal staplers I've used in the past. Speaking of use, how did it hold up during my time?
Using the DeWalt Carbon Fiber Staple Gun
I shoot a lot of B8s, Dot Torture, and other specific targets. I run through a ton of staples, as all of my targets get at least 4 staples to get put up. Since I bought the DeWalt back in May, I've shot about 1600 staples through it. During that time, I used it on hot, humid, and rainy days, and it has accompanied me on trips all over the country. I'm happy to report that I've had nothing but good experiences with this stapler.
The light weight and pocket clip on the DeWalt make carriage on the person very easy. I'm used to lugging around a steel stapler, so the heavily reduced weight was extremely nice. The feel of the DeWalt is excellent too, as the texturing on the grip and trigger prevent slipping, and make the squeeze quite easy.
It may sound goofy, but I never ran into any overpenetration issues with the DeWalt. I've used staplers in the past that just send the staple clear through the target and backer, but this one didn't. No jams or stoppages occurred during my use, which honestly surprised me. I'm so used to cheap staplers jamming, so this was a very pleasant change of pace.
The elements never seemed to effect the DeWalt either, as rain and humid weather never led to a stoppage. My only gripe is that with the color of the stapler, as the black base color attracted a lot of heat during the sunny days. Overall, this stapler has been great.
The Verdict
For me, a sign of quality gear is simple; When using it, it does not hold you back. The DeWalt Carbon Fiber Staple Gun was something that made the facilitation of shooting much easier. Often, I found myself thinking "Damn, this is so much nicer than my old stapler". I know it sounds dumb, but such a simple upgrade has really upped my range "quality of living". I know that this staple gun is meant for carpenters and flooring guys, but it works very well for my needs, and it might just suit yours too.