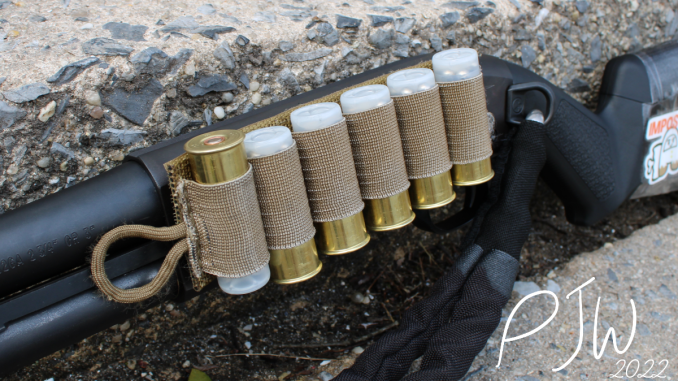 I've blasted through a lot of shotgun shells over the years, and have always liked having a sidesaddle. Sidesaddles make loading shotguns much easier, and let you stow ammo on the gun more efficiently. The issue with sidesaddles is that once you run through the ammo in them, they are dead weight. Well, the Esstac Shotgun Card aims to correct that, along with allowing you to "reload" the sidesaddle space easily.
What is the Esstac Shotgun Card?
Esstac is a soft goods company, located in Washington state. They manufacture excellent magazine pouches, belts, and other gear here in the states. However, today's topic is the Shotgun Card.
The Esstac Shotgun Card is a really simple product. It is an elastic and fabric sidesaddle that uses hook-and-loop webbing to attach to a shotgun. This design makes the sidesaddle compact, and can be pulled from the shotgun. With this, you are able to "reload" that space on your shotgun with another sidesaddle! It's a really simple idea, and is a big part of how Esstac got so popular.
The Shotgun Cards come in 4 round to 7 round capacity, and sell from $12 bucks to $15 on Esstac's website.
This is an incredibly simple concept, so let's dive right into mounting and employing the Shotgun Cards!
Using and Abusing the Esstac Shotgun Cards
Mounting the Shotgun Card is really simple. Clean your receiver using some alcohol, and let it dry. From there, throw a female section of hook-and-loop (the loop part) onto the receiver. Let it set, so that it adheres properly. Once it is firmly attached, you are good to slap on your Shotgun Card!
Loading the Shotgun Card is simple, but is easiest to do when it is off of the gun. One end has a 550 paracord pull on it, making retrieving the card from the shotgun an easy process.  The elastic on the shell holders are very tight, which leads to an excellent retention, but harder loading. No biggie, as they will break in with some use.
Once you slap the Shotgun Card on, you are ready to rock! Performance as a sidesaddle is great, as the shells are retained well, and extract from the saddle with ease. Over the last two years, I've done plenty of reloads using the shot card, and have had no issues with them whatsoever. Weather has had no effect on the durability of these either, as the rain and snow hasn't hurt them yet.
The only gripe that you'll mention is a quickly fixable one. As seen in my photos, there will be fraying over time on the edges of the card. Nothing that a quick pass with a lighter cannot fix. The elastic will eventually wear out too, but it hasn't happened to me yet.
Do I Recommend the Esstac Shotgun Cards?
If the answer isn't obvious, I've failed as a writer. I've had nothing but pleasant experiences with the Esstac Cards, and plan on buying more. They do so much more than most rigid sidesaddles, while allowing you to reasonably carry more shotgun shells on you.
If you were looking for more shotgun accessories, check out Dan's article here.