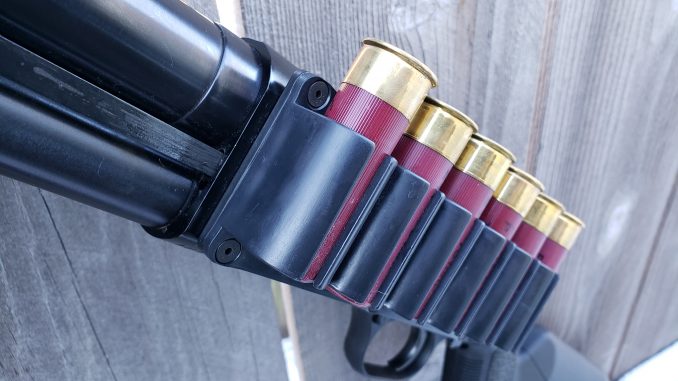 Now that you've decided what action, bore size, and model of defensive shotgun you're using, it's time to outfit your gun. There are a variety of parts and accessories to choose from, and not all are created equal. Here we'll go over some of our preferred additions for our defensive shotguns. Some of the suggestions below assume you're using a 12 gauge shotgun, though many of these have options available in other bores as well.
Quality Ammunition
You need ammunition that is both reliable and accurate. You can get rifle-like accuracy out of your shotgun with certain loads, as well as liability inducing inaccuracy.
We've spoken on ammunition selection before, so I won't delve too deeply into that subject here. The typical best answer is Federal Flite Control of the 8 pellet, 00 buckshot variety. Next best is the same in 9 their pellet load. Hornady Critical Defense, and Hornady American Gunner are also good, with slightly reduced accuracy from the previous rounds. If you can't find those, any sort of 00 buckshot should keep you in an 8ish inch circle up to 7-10 yards, which is a fairly average home defense distance. Slugs will over-penetrate but have their place depending on your circumstances. Birdshot is for birds, as it will not get effective performance to reliably stop a threat.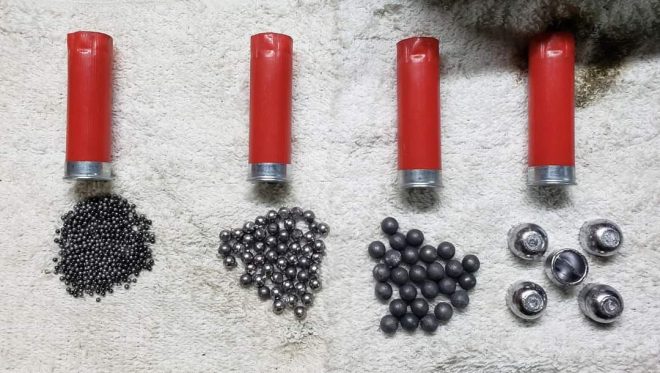 Regardless of your selection, be sure to pattern your chosen ammunition with your gun. Fire a few rounds on paper at various distances found throughout your home. This will let you know what kind of accuracy you can expect, and what your limitations are for high risk shots.
Side Saddle
You likely won't need spare ammunition in a defensive encounter when employing a shotgun. That being said, more rounds certainly won't hurt you. If you're training, like you should be, easily accessible ammunition will be a necessity. Side saddles affix to the receiver of your gun, keeping ammunition readily available, and make a variety of reloading methods possible. Additionally, these spare shells stay with the gun, meaning you won't have to throw on your battle belt or plate carrier in the middle of the night.
Soft Side Saddles
Soft shell side saddles have been increasingly popular over the past several years. These typically attach to the receiver with high strength Velcro, allowing users to swap cards rapidly. Often made from elastic, these loops expand to hold your shells, but collapse when empty, making for a trim profile when stored, and weighing next to nothing. This low weight is helpful during extended shooting sessions, and can be a major benefit for inertia driven guns.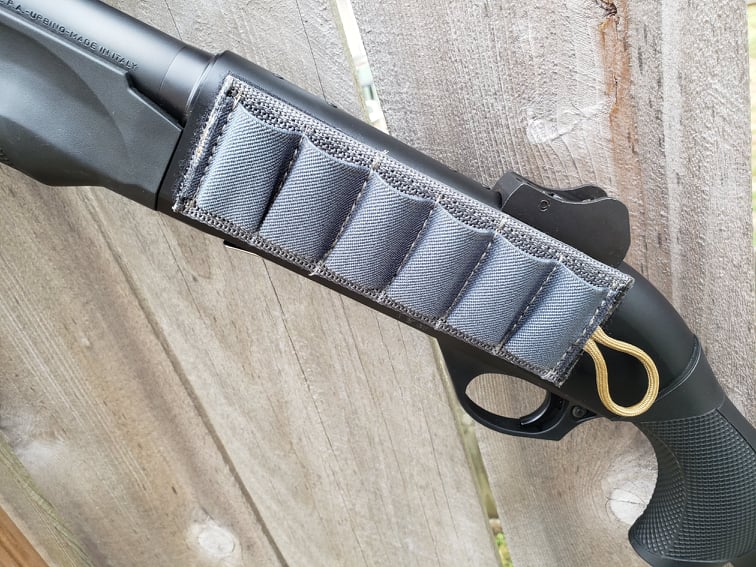 Vang Comp and Esstac are the two most common recommendations for soft side saddles, also known as shot cards. Most of my experience comes from the Esstac variety, being mounted on my Benelli M2 Tactical. The Vang Comp shot cards are a bit more expensive, and are only offered in six-shell varieties. Esstac gives users more options for capacity, but I typically recommend sticking with between four and six shells for weight and bulk savings. Both brands are solid, with slightly different construction to suit different preferences.
Rigid Side Saddles
A more traditional side saddle is made of a rigid polymer or plastic material. These loops remain open, even when empty, making loading the saddle a little easier than a soft saddle. Some plastic saddles can be brittle, especially when exposed to cold or sunlight over long periods of time. My Maverick 88 has had a cheap TacStar side saddle on it for years without issue, though mine seems to be an outlier among friends.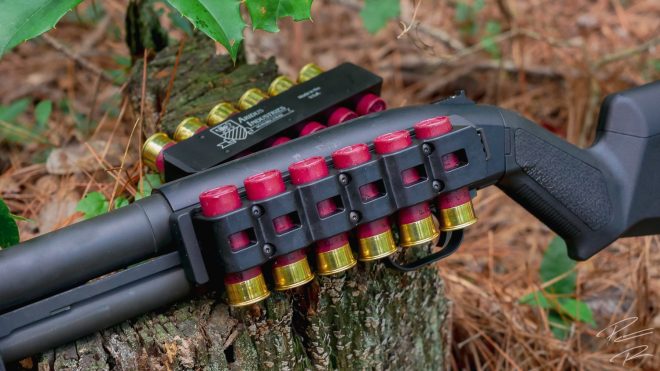 Aridus Industries makes a rigid side saddle for Remington, Mossberg, and Beretta shotguns. Though heavy, it is widely regarded as an excellent piece of equipment. Unlike most rigid saddles, it offers quick detachment, allowing for the fast replenishment of ammunition in class, or easy storage in a pinch.
Stock Shell Holder
Some shooters prefer to keep their spare ammunition on the stock of their shotgun. This can be done in two primary ways; either with a shell card or with a stock wrap. From Walmart tier elastic wraps to custom leatherwork, possibilities are only limited by your funds. When I still shot 3-Gun, a stock wrap was a big help, allowing me to conduct some rapid strong side reloading. These will likely be your cheapest and easiest method of carrying spare ammunition, but could impact your ability to properly mount the gun.
Shorter Stock
Most shotgun stocks are significantly larger than necessary. When shooting birds and clays, this isn't much of a problem. When using a modern stance for defensive shooting, the longer stock will reduce your control of the gun, thereby increasing felt recoil, and adding difficulty for smaller statured shooters. Swapping out your stock for something shorter is a good idea, and is fairly easy to do on most guns.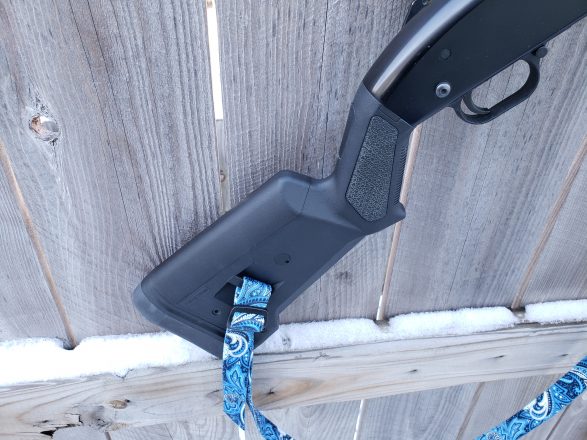 My preference is the Magpul SGA stock. This allows users to add spacers, increasing or decreasing the length of pull to their ideal size. We can also add cheek risers of varying size to accommodate optics or other sighting systems while maintaining a proper cheek weld. Additionally, Magpul includes provisions for attaching a sling in multiple configurations.
Other good options include OEM youth stocks from your shotgun manufacturer, as well as youth stocks from Choate and Hogue.
Weapon Mounted Light
White light is always recommended on a defensive gun. It's critical that you properly identify your target before firing, ensuring that what you're aiming at requires lethal force. There are several options for mounting lights to shotguns, with some being far better than others.
Integrated Light Forends
Surefire has been the standard for integrated light forends for decades. Supporting both Remington and Mossberg with the DSF-870 and DSF-500/590, most pump-action users will be covered. Less common firearms, and semiautos need not apply. With an awesome track record for durability with law enforcement and militaries around the world, these shouldn't let you down. Shortcomings include their price, coming in around $350 new, and their weight, at 17.8 ounces. Output is decent, with 600 lumens and 13,000 candela being solid inside the home, but lacking in the wild.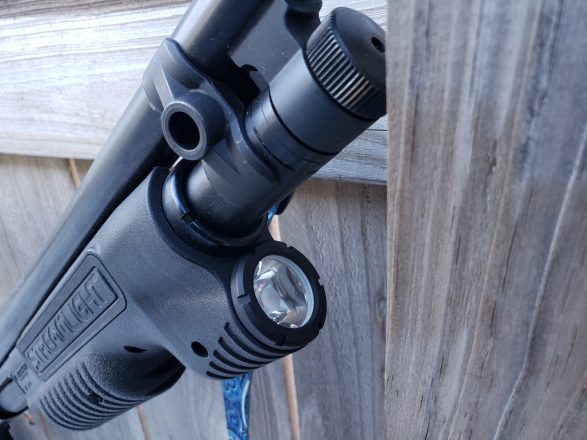 Streamlight recently joined the integrated light forend game with their TL-Racker. Again, only Remington 870 and Mossberg 500/590 users are supported. Though a quick swap of the action bars allows for Maverick 88 support as well. Being a newer contender, long term durability has yet to be established, but Streamlight has a solid track record overall. Price, weight, and output are substantially improved over the Surefire offering. The TL-Racker comes in at roughly $125 new, and only weighs just over 12 ounces. Output crushes the DSF forend, with 1,000 lumens and 20,000 candela.
Rail Mounted Lights
If an integrated forend isn't your speed, there are plenty of options for mounting white light. Mossberg makes several shotguns with 1913 rails fixed to the forend. Companies such as RS Regulate and GG&G make rails which clamp onto the magazine tube for the addition of lights and other accessories. I used a Streamlight rail clamp for several years with decent results, though the durability of the polymer was questionable at best.
A very popular option is the Magpul MOE MLOK forend. This completely replaces the OEM forend, supporting Remington 870 and Mossberg 500/590 shotguns. These provide users three sections of MLOK for the addition of rails, white light, handstops, and more. Beretta 1301 users can use the Magpul Zhukov handguard in the same manner with fantastic results.
Sling
For a defensive shotgun inside the home, I consider the sling optional. If your plan is to hold your ground and wait for police, then there's not much need to sling the gun. However, a sling can be helpful in training, and for people who may need to venture into the home to secure family members. Look for something easily adjustable, in a two-point configuration. This will ensure you have control of the gun both on and off your body. I like the
Blue Force Gear
Vickers sling for most of my guns.
Improved Sights
With an entire article dedicated to shotgun sighting systems, I'll keep this brief. We can do good work with a simple bead sight, but upgrading can only improve our abilities. From ghost rings and express sights to red dot optics, we have a lot to choose from.
Improved Controls
Most shotguns have controls that seem to be more of an afterthought. Safeties are often small, and awkwardly placed, making them difficult to actuate under stress. The addition of enlarged control surfaces can ensure that we effectively activate or deactivate our safeties at the moment we need them most. Vang Comp, Taran Tactical, and others make enlarged safeties and other controls, allowing for rapid and easy use.
Training
People like to solve problems by buying new equipment. Often times they fail to learn how to properly use that equipment, which then turns into buying something else to fix a perceived problem. How do we fix this expensive cycle? With training. There's more to effectively using a shotgun than most people think, and there are plenty of high quality instructors across the country. My recommendations include the following: Hardwired Tactical Shooting, Rangemaster, Rob Haught - Symtac Training, 360 Performance Shooting, Justified Defensive Concepts, LLC, Active Response Training, Sentinel Concepts, First Person Safety.
I've personally trained with Tom Givens of Rangemaster, Lee Weems of First Person Safety, Steve Fisher of Sentinel Concepts, and Darryl Bolke of Hardwired Tactical. While Darryl is the only one I've taken shotgun specific curriculum from, all of them are considered subject matter experts on use of the gauge. I'd recommend getting into one of their classes before spending big money tricking out your shotgun with the latest accessories.
More Shotgun Primers
Check out the other articles in our defensive shotgun primer series below!
Action Types for Defensive Shotguns
Sighting Systems for Defensive Shotguns
Storage Conditions for Defensive Shotguns
Ammunition Selection for Defensive Shotguns