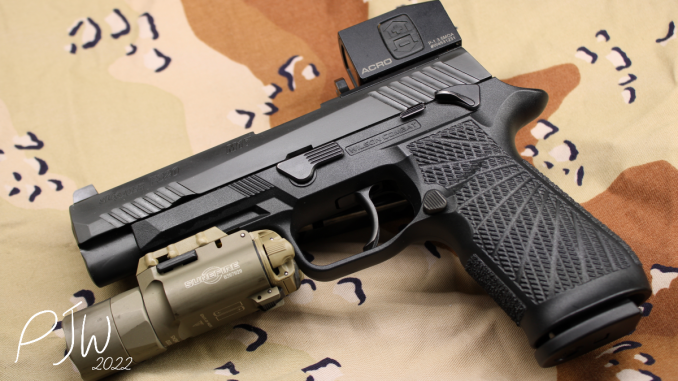 Steel magazines for modern handguns are not cheap. I've been shooting a SIG M17 and M18 for nearly the last year, and was trying to find an alternative to spending $35-$45 bucks per OEM magazine. Well, I found the SIG P320 ACT Mag, which seemed like a good offering for quite a lower cost. What are the ACT mags, and how do they compare to the OEM offering?
The SIG P320 ACT Mag
Well, the SIG P320 ACT Magazines are just that; P320 mags made by ACT of Italy. ACT is a subsidiary of Armscor, the same company that owns Rock Island Armory. Back in my more youthful days, I had an old RIA 1911 that shipped with ACT mags. They were pretty reliable, and were generally my second choice after Wilson Combat mags at the time. Having had good prior experiences with them, I decided to buy half a dozen of the 17 round mags.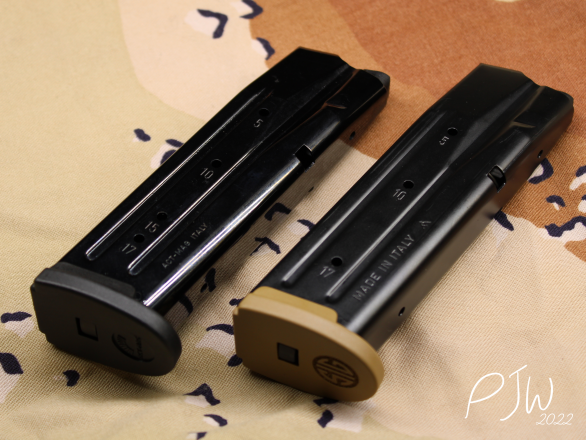 On the exterior, the only noticeable between the ACTs and the OEM mags are the finish. The standard OEM mags are a matte finish, while these ACTS are a shiny blued look. The ACT also has an additional witness hole that marks for 15 rounds, while the OEM does not. However, once you take the mags apart, you can see more differences.
This slideshow requires JavaScript.
The ACT and OEM mags both feature very similar baseplates, locking tabs, magazine bodies, and followers. However, they have vastly different length magazine springs. The ACT mag spring is about an inch and a half shorter than the OEM spring. This is kind of unusual, but is no cause for concern. Well, as long as the magazine performs well. Did it?
Shooting With The SIG P320 ACT Mag
I exclusively shot my SIGs using the ACT magazines from my receipt in November of 2021, to final testing in February of 2022. My previous P320 mag testing did not go so smoothly, so I tempered my expectations appropriately. However, I really didn't need to.
I am happy to report that the SIG P320 ACT mags ran flawlessly. No malfunctions, no failures to lock back when empty, and drop free the same as the OEM mags. I fired about 900 rounds through my half dozen mags during the testing period, although 600 of those rounds were concentrated on one mag in particular. I numbered all of my mags using yellow tape, and mag #3 got extra use. It survived every drop from shoulder height onto gravel, got rainy and muddy a few times, and never gave me any issues.
I tested the mags exclusively using my M17 in Wilson Combat frame, and used a mix of 115gr and 124gr ball ammo, and some Speer Gold Dot 124gr. Again, no issues with feeding at all. The mags were used in many drills, and their blued finish has held up well with repeat drops, insertions into guns, pulls from mag carriers, and more. Shooting at speed did not cause any issues with the magazines either. Below are two drills I shot using the M17 with ACT Mags.
Do I Recommend the SIG P320 ACT Mag?
It is a resounding "YES!" from me. These magazines work wonderfully, and cost a lot less than the OEM mags. They are well made, and I foresee buying more in the future as I get deeper into the P320 platform.