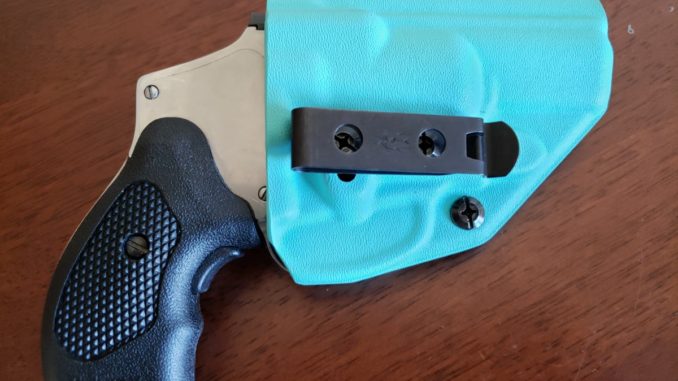 Despite being the go-to carry gun for decades, snub nose revolvers get very little love from the modern world. Manufacturing for both accessories and guns slowly wasted away as wonder-nines dominate the market. Even getting a good holster can be a challenge. Luckily a few companies are stepping up, ensuring the wheelgunner isn't left behind. One of these is Harry's Holsters, with the Icon.
The Icon is designed from the ground up as a revolver holster. Currently, the Icon is available for Smith & Wesson J-Frames with 2.125-inch barrels in both .38 Special and .357 Magnum. Compatibility with the Ruger LCR in both 1.87" and 3" configurations and 3" S&W J-Frames is coming soon.
Design
Harry's Holsters' Icon is completely ambidextrous. Retention is adjustable, with mine being perfect from the start. The Icon features four adjustments for ride height and one for cant. There is a large channel for night sights, such as those on my S&W 640 Pro.
While there are no factory options for a wedge or claw, the holster has plenty of room for a shooter to add their own.
The Harry's Holsters Icon comes equipped with a Discreet Carry Concepts Mod W clip. This version fits up to a 1.75-inch belt, though other sizes are available. For those wanting a different attachment method, the Mod W is removable. Normally I prefer soft loops, but I love the Mod W.
.38 Special only guns will fit slightly more loosely than .357 Magnum guns due to their smaller size. This causes no issues regarding retention, though users will experience slight wiggle in the holster.
Carrying
Harry's Holsters' Icon has solidified its place in my carry rotation. Originally planning on carrying this setup for a week or two, I am closing on my fourth month exclusively carrying the Icon. While a J-Frame certainly has less firepower than my typical G34, the ability to simply throw a gun on and go is a luxury I had forgotten. The clip stays firmly in place both with and without a belt, making this my go-to solution when in athletic gear or pajamas.
If you are looking for a holster to carry your J-Frame (or soon to be LCR), then definitely give Harry's Holsters Icon a try. I love mine, and I'm sure you will too. You can find the Icon for sale HERE on Harry's website, which retails for $59.99 as of the time of this writing.
The Harry's Holster Icon was provided at no cost for the purpose of evaluation.
Affiliate Disclaimer: Firearm Rack is funded through direct donations and affiliate programs. Some links on FirearmRack.com are affiliate links. Using one of these links costs nothing extra, the retailer pays a percentage of the sale to Firearm Rack. Funding in this manner will assure that factual information is always first. If you would like our Amazon affiliate link or find more retailers on the Support Us page