Elite Tactical Systems (ETS) has been known as the "clear magazine "company for a while. From what I've seen online, their magazines are very popular, but mostly because they look "cool", not because they are excellent quality. I've generally heard poor things about ETS mags, and their lack of reliability. Despite this, I decided to grab one of the P320 mags, and give it a try. Very quickly, I found that the magazine was a total disappointment.
Clear Mags: Any Practical Use?
Before I get into how fast the ETS P320 mag crapped the sheets, I need to talk about clear magazines. I've never been a fan of clear magazines, because they always seem to fail more often, and faster than standard magazines. The materials used for a truly clear, or smoky-clear magazine generally do not lend themselves to durability, rigidity, or reliability. The material being weaker means that the magazine has to be oversized (generally), to make up for the structural deficiencies. Depending on the gun, this means that the magazine may not fit well into the frame or receiver, may not drop free, or worryingly, may cause reliability concerns.
What do we receive in this trade off? Well, we get to see the rounds in the magazine. NEATO! Window cuts and witness holes do the same thing, but don't generally compromise one of the most important parts of the firearm. The magazine is the lifeblood of any gun, and bad mags will kill otherwise great guns. Generally, clear mags are quite bad. The ETS P320 magazine is no exception.
First Impressions of the ETS P320 Magazine
I purchased the ETS P320 30 round magazine during the summer sales that happen from Memorial Day through the 4th of July. MSRP on the magazine is $21.99, but I paid $19.99 on sale. Street price on OEM P320 mags can run the gamut from $32 to $60, so a single Jackson for a mag seems great.
Once I had received the magazine, I could tell why they had their reputation; it felt like a cheap toy. The magazine feels flimsy, the polymer felt slimy, and the follower and magazine spring looked cheap. I tested the magazine in both my OEM SIG M17 frame, and in my B&T USW frame, and the fit was extremely tight in both. With the slide locked to the rear, the magazine would not drop free from the gun, and required a firm pull to remove. With the slide closed, the magazine would have about a 50/50 chance of falling free, but that doesn't really matter.
I can overlook an extended magazine not dropping free if it works, but did it even do that?
Testing the ETS P320 Magazine
On a recent range trip, I brought my ETS P320 magazine along to test it out. I've mostly shot my SIG M17 while it was in my pistol braced B&T USW kit, but I did bring the OEM frame along, just to try the ETS mag in that too. Up to this point, I've fired about 500 rounds through that specific M17 fire control group, with zero malfunctions using OEM magazines.
I fired only 50 rounds of 124gr NATO spec 9MM before I stopped my testing, as I incurred 30 malfunctions during that period. It was only one specific type of malfunction, and a weird one to boot. I had the gun lock open, via the magazine body engaging the slide release. I tried the magazine in both frames, with the same malfunction happening both times. The extra material near the feed lips were slightly engaging the slide release arms, which was causing the gun to go to slide lock after nearly every shot. I made sure that it wasn't my thumbs causing the gun to slide open, and yeah, it wasn't.
I was able to get some "bursts" of 2-3 rounds off before it locked open, but only once or twice. Needless to say, this is a serious reliability problem. The magazine needs more plastic to try and emulate the strength of the steel OEM mags, but that came to bite it in the ass. I decided that 50 rounds was enough to be able to make this call to end the testing, as short of filing down the sides of the mag, the issue was going to persist.
Can I even recommend this mag for any use?
Uses for the ETS P320 Magazine
I'm not going to recommend this magazine. It was not reliable, is poor quality, and has no redeeming factors. However, it makes a good sh*tposting tool.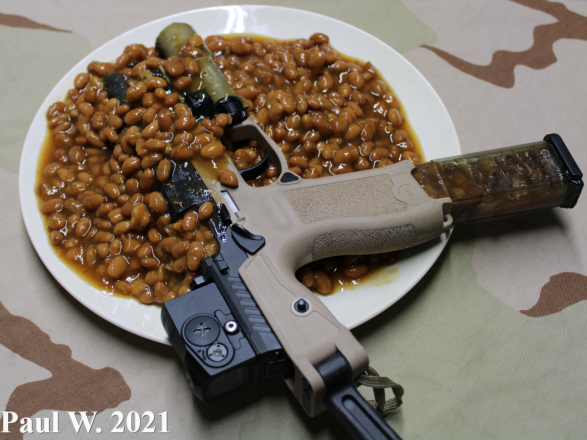 The ETS magazine looks pretty good when packed full of baked beans. If you want to pack a magazine full of baked beans, I would recommend the ETS P320 magazine. But if you want to use it for, I don't know, shooting? That I cannot recommend.