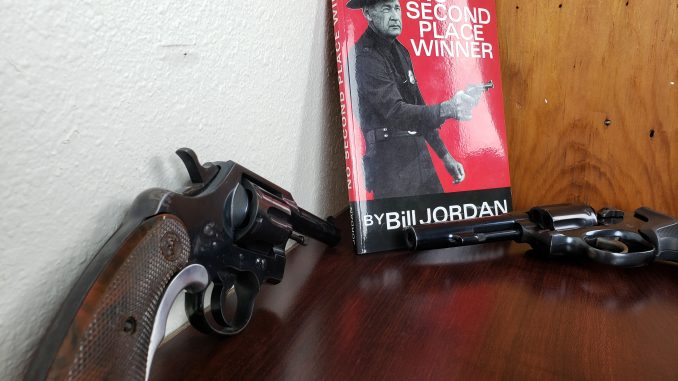 Spend a little bit of time in the firearms world and you'll begin to see old ideas regurgitated as something new and groundbreaking. Whether that's a piece of equipment, a tactic, or technique, it's likely been done before. Those who fail to learn the lessons of history will repeat it. Or something like that. While it's easy to scoff old material as being outdated, sometimes you can find forgotten information and context. This mindset leads me to reading some historic works. One of which is No Second Place Winner, by Bill Jordan.
Despite being a name hardly recognized by many of my millennial peers, Bill Jordan is an incredibly important figure for both Law Enforcement and civilian firearms enthusiasts. A colonel in the USMC with service in WWII and Korea, Jordan is best known for his 30 year career with US Border Patrol. During this time he was instrumental in developing more effective equipment including holsters and revolver grips bearing his name. He also had a hand in designing the .41 Magnum round, which never gained as much traction as the earlier .357 and .44 magnums.
No Second Place Winner
Published in 1965, No Second Place Winner is just slightly younger than my father. I cracked open the 114 page book expecting some quaint old solutions to long solved problems. Boomer/Fudd tier ideas on stopping power and reliability. What I found was pleasantly surprising.
The book opens with brief words on borders between nations, the content of the book, and a couple of war stories from Jordan's time with Border Patrol. Instantly the language makes clear in what era this was written; simultaneously familiar and foreign, like reading your grandparent's youthful diary. There is certainly no language barrier, but you may have to slow down a bit to gather everything properly.
Grandpa Jordan's Gear
The first real chapter deals with holsters, or Fightin' Leather. Here Jordan covers holster design and retention methods. Several high quality photos demonstrate pros and cons on variations of holster drop and cant in context. How holster placement and retention can help prevent a gun grab while allowing the wearer rapid access in an emergency. Options for duty and plainclothes (concealed carry) are covered, showing the best available for the day; some of which are still widely used in wheelgunning circles today.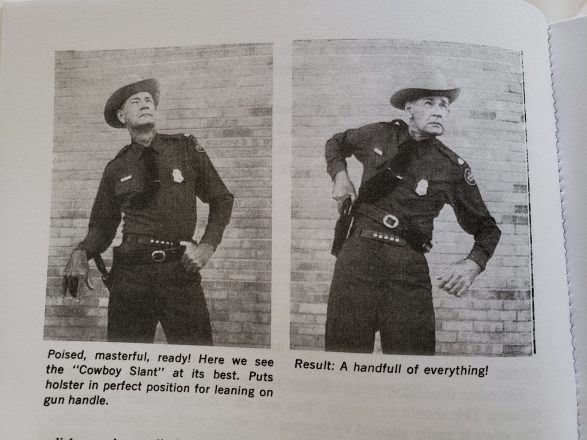 Immediately following this is a chapter on how to properly care for a leather holster, along with proper wear on the body. I've seen more than my fair share of wannabe Operators who make the same errors Jordan warns against over half a century ago. Shooters of today, just as yesteryear, taking cues from the media instead of truly testing their equipment.
From here we move into revolver grips, or stocks to be more articulate. Bill Jordan's specialty grips ruled the roost for years in the revolver world. Nowadays people tend to gravitate toward VZ Grips and the like, but the principles remain the same. We need to properly fill the hand with grips actually designed for combat shooting, both single and two handed. Interestingly, we seem to have reversed the problem in 2020, with many seeking grip reductions on their polymer frame pistols. All this time and ergonomic perfection still alludes us!
Tactics, Techniques, and Procedures of a Bygone Era
The Fast Draw chapter is something sure to ruffle feathers in the Instagram age. This is the first chapter that really caught my attention, seeing direct ties to modern shooting techniques, both good and bad. Bill Jordan details economy of motion, and the natural point of aim. He goes after the speed-rock and the gunman's crouch techniques, explaining the fallacies behind their conception. Expectations of timers and targets are given so shooters can record their progress. In certain drills, Jordan was known to make hits from the holster in under 0.30 splits, while advocating for 0.60 for the average shooter. Toward the end of the chapter he speaks about safe and effective dry fire habits for starting your fast draw training, then wraps up with stories of fast draws in real defensive encounters.
From here Bill goes into sidearms of the day, along with academics on various calibers and training ammunition. The old "Revolver vs Auto" reliability topic is brought up, showing where many of today's myths came from, and how they were once rooted in (now distorted) fact.
Hard Fought Lessons
The final two chapters cover Combat Style Shooting and Gun Fighting. Those familiar with Shivworks ECQC will recognize Bill's shooting from various stages of the presentation based upon range. Shooting from the hip, Bill manages effective hits on target out to 15 yards. Unlike modern point shooters, who suggest gun fights happen within close range, Jordan encourages sighted fire out to 25 yards and beyond.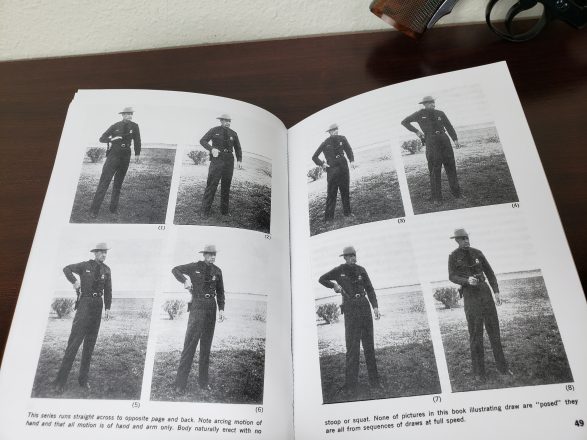 "Take your time, fast." The final chapter, on Gun Fighting, is chock full of advice without giving many definitive answers. Jordan addresses some misnomers and myths, and provides suggestions on tactics and mindsets. Hard learned lessons, most of which still ring true today fill the finale. Bill signs off with words for readers, law enforcement and civilian alike.
Final Thoughts on No Second Place Winner by Bill Jordan
I first read No Second Place Winner nearly a year ago, and once again while writing this piece. Much like leather holsters and double action revolvers, this book is likely to be passed over by most modern shooters. This is truly a shame. Bill Jordan's insights are articulate and interesting, providing a clear picture of the standards of days gone by. Many topics covered here have been "rediscovered" in recent years by those claiming to be revolutionary. In reality, all we've done is ignore the lessons of the past. While some portions may be outdated, much is relevant today, and all of it is fascinating.
Whether you're a history buff looking for another piece for your collection, or a serious shooter searching for lost knowledge, No Second Place Winner is a must-have for any collection. New copies are still in production, you can find yours >>HERE<<