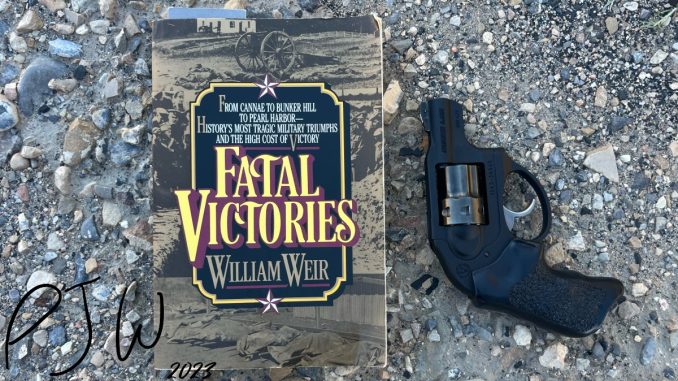 As part of my ongoing non-fiction reading, I've been consuming a lot of similar books. The topic for this review is Fatal Victories, a 1993 book by William Weir. This book is quite similar to How To Lose a Battle, which I recently covered here. That book kind of sucked, which when contrasted by Fatal Victories, shows how much better it could have been. We'll get into brass tacks here, but as a TL;DR, this is how to write a retrospective on Pyrrhic victories.
What is Fatal Victories?
Fatal Victories is a collection of examples of Pyrrhic victories. Starting with Cannae in 216 AD, the book runs through notable battles to 1968, ending with the Tet Offensive. The book is broken into 4 sections, signifying a change in the world with each one. Most of the battles are ones that I was not extremely aware of, however, Weir does a great job in changing that.
Fatal Victories is extremely well researched. What I really like is that Weir provides a lot of context, which helps to paint the picture much better. Each chapter isn't just about the battle at hand, it's about the lead up, and the fallout afterwards. This is something that I really enjoy, as it imparts the knowledge onto the reader much better than just giving the order of battle out of context.
I knew what the Peace of Westphalia was, but I didn't know much about the Thirty Years War. Weir really helped to fill in the blanks, and show the lead up to the Battle of Lützen in 1632. All of the chapters are like this, providing so much context to help the reader to understand the impact of the battles being discussed. 
Yo Dawg, Heard You Liked References
We are absolutely spoiled by the advent of the internet. There is so much knowledge at our fingertips, just a Google search away. Fatal Victories was written in the pre-internet era, and as such, the research done is even more impressive. Weir lists all of his sources, and cites from specific works in rather heavy note and bibliography sections. From books, to newspapers, to recollections of philosophers, Weir shows where he gathered his info in a manner that is exceptionally well done.
On top of being very well researched, this book is generally quite unbiased. Rather than trying to "pick a side" for each battle, Weir just shows it how it was. He will give examples of what lead to failures, and the impact of the battle. However, it doesn't feel like there's a subjective angle at any point.
With having a well researched and objective book, I really got a lot of value out of it. Now, there's certainly been more research done on the battles discussed since 1993. However, the important stuff is still within these pages.
Now, information is great, but it's got to be enjoyable to read if you want to retain it. Thankfully, Weir does that too.
Hard To Put Down
This was a quick read for me. This was mostly due to the bite-sized chapters, and the wonderful writing.
Fatal Victories is 14 chapters long, with each chapter being about 20-30 pages in length. This isn't super heavy, and for me, made for quick reading while doing my cardio in the gym. On top of the length, Weir knows how to write history without making the topics dull. While it doesn't read like an action novella, FV is a fun read. Weir keeps in the details of bloody combat, and again, really does a solid job in painting a mental picture for each battle.
Excellent prose meets a ton of research, and that's a recipe for a book that I'll love. This is very reminiscent of Shattered Sword, as it's densely packed with info, but doesn't make it a chore to consume it. This review isn't super detailed about the chapters, as each one is its own story. However, nearly all were equally enjoyable to read.
The Verdict
It should be obvious, but I'd easily recommend reading Fatal Victories. It provides a ton of info, in a very consumable form. Reading a chapter or two a day lead to a fast read, but I certainly felt enriched by the experience.
I read a first edition paperback copy, but looking online, the more recent 2006 printing is more commonly available. I couldn't check that copy to see what was changed, but it looks like chapters are the same. Either way, a used copy will only run you about the cost of a cup of coffee. I picked my secondhand copy up at the wonderful Weller Book Works in SLC. If you happen to be passing by, I'd recommend checking out their store
Book Recommendations & Patreon Link
Listed below are books that I've previously reviewed, and would recommend to you:
If you'd like to support me on Patreon, I've got the link for that here. Nearly everything that I do on Primer Peak is paid for out of my own pocket, and my content is not shilled or driven by manufacturers or companies. If you decide to donate, I'd really appreciate it, as it would allow for me to continue to bring you quality work.