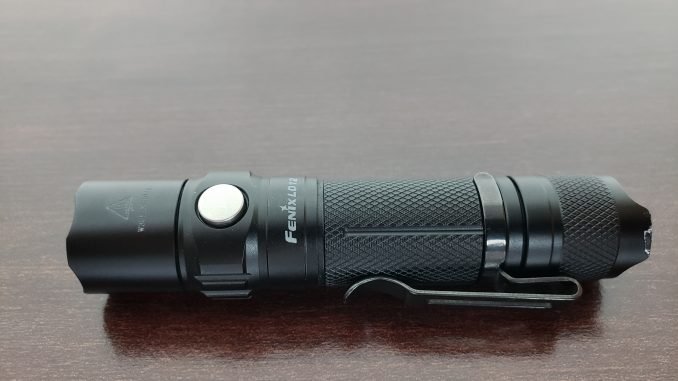 I'm always looking for the next best thing, whether that's guns, optics, flashlights, and more. For handheld lights I want to squeeze out as much power as I can in my preferred form factor. This continually leads me to new makes and models to see how the competition stacks up. I first learned of the Fenix LD12 after reading Justin's review over at Swift, Silent Deadly. Being a big fan of his work there and at RevolverGuy, my curiosity was piqued. Shortly thereafter, I had an LD12 of my own.
Form Factor
The Fenix LD12 is a fairly conventional handheld light. Made from anodized aluminum, the light is just slightly smaller in diameter and length than the Streamlight 1L-1AA. The details make this light stand out. Fenix includes fantastic texturing on the body, offering a solid purchase without being rough on the hand. The tailcap is harder to press than my 1L-1AA, cutting down on accidental activation of the light. Just behind the bezel is slightly oblong, allowing the LD12 to be placed down without rolling away.
This slideshow requires JavaScript.
A unidirectional belt clips means the Fenix LD12 must be carried bezel-down if clipped into a pocket. This clip rotates to suit the user's preference of orientation. In my experience, the clip is very secure. In several months of carry I never lost the light or had the clip become detached. Additionally, the clip never rotated in the pocket, ensuring consistent button placement when drawing the light.
Fenix LD12 Controls
Controls are a fairly conventional, two button setup. The tailcap switch is your on/off button. Pressing lightly can provide momentary light, while a deep press provides an audible and tactile "click" for constant light. This button is textured for a positive purchase with the thumb. There is some fencing on either side of the tailcap switch to aid in preventing accidental discharges of light. It is possible for the light to stand using the fencing, though the slightest of bumps will knock the LD12 over.
A smooth, grey button on the oblong area near the bezel provides brightness adjustment once powered on. the LD12 remembers your previous brightness setting even after several weeks without being activated. The LD12 cannot be activated solely using this button. Once on, holding this side button will activate a strobe mode until pressed again.
Power and Performance
The Fenix LD12 is capable of using either a AA or 14500 battery, the latter of which provides higher output on the brightest setting. All other settings remain at the same brightness regardless of battery selection.
Output
Turbo: 150 lumens, 2,500 candela (AA) or 320 lumens, 5,000 candela (14500)

AA Runtime: 75 minutes to 1.75 hours depending on battery
14500 Runtime: 1 hour. Light steps down after 5 minutes, raising run time to 3 hours

High: 70 lumens
Medium: 30 lumens
Low: 5 lumens
The Fenix LD12 can run on both rechargeable and non-rechargeable batteries. There is no way to determine remaining battery life on the fly, though that hasn't proved to be much of an issue. After several months of carry, the batteries never ran dead, and the included rechargeable batteries can be fed through a simple USB-C.
While I haven't had the opportunity to use this light in any low-light courses, its familiar controls and comparable output to other offerings suggests it would perform admirably to similarly sized lights.
Fenix lists the LD12 as IP68 rated, making it submersible to roughly 1 meter. I did not test this, but the light was rained and sweated on with no apparent issue.
Durability
The biggest downside of the Fenix LD12 so far has been the durability. Like all of my lights, it hasn't been abused, but it certainly hasn't been babied either. There have been a handful of drops from various heights onto asphalt, concrete, and more throughout my workdays. After a few drops, the light no longer reliably turns on. In some cases the LD12 forgets its' previous brightness setting, or will shut off upon impact. Typically, clicking the tailcap repeatedly will remedy the situation. If this fails, unscrewing and retightening the battery compartment will solve my issues.
This slideshow requires JavaScript.
Overall, the Fenix LD12 has not suffered any greater damage than other lights I've covered here thus far. Despite this, it is the only one to have its' function impacted. This makes me wary of long term durability. After contacting Fenix they offered to replace the light once sent in.
Final Thoughts on the Fenix LD12
The Fenix LD12 offers good controls, solid output, and a great form factor. The low price of the light makes these features even more attractive. I was very happy with mine until the above mentioned durability concerns. With those in mind, I do not think I can recommend the LD12 above comparable options. That being said, this is a sample size of one, and I know others who have had better luck with their. Once I receive my replacement from Fenix and thoroughly vet it, I will update you with my findings.
MSRP on the Fenix LD12 is $49.99, you can buy one
>>HERE<<