If you have been watching any of our recent TFBTV videos you know that we have picked up a couple of sponsors, one of those being Grizzly Targets. As soon as the Grizzly Targets AR500 Steel Targets arrived at my house I had to get them out of the packages and get them put together.
Grizzly thought out the design of these targets well requiring only cut two-by-fours to complete the stand. I took the IPSC hostage target and the 18″x24″ rectangle target with my father and I to my gun club so my Dad could break in his new to him Colt Python.
Here is a better view of the ISPC ABC zone steel plate and "bad guy" swinger. The "bad guy" swinger is 1/4″ thick and the plate itself is 3/8″ thick. It looks too pretty, gonna have to fix that soon. You can see the replaceable 1/2″ carriage bolts used to attach the plate to the mounting hardware.
Grizzly did a great job with the mounting hardware.
The bases are galvanized to prevent rust and have mounting stake holes cut to make sure the target stays up regardless of what you hit it with.
Here is the 18″x24″ 3/8″ thick rectangle target, pretty self explanatory I think. I found that I enjoyed shooting this target the most.
Again, you can see the heavy duty hardware that the 18″x24″ plate rides on.
I broke out the testing implements. My USP Compact 9mm, Sphinx SDP Compact, M&P 22, NAA 22lr revolver, and Dad brought out his 4″ Python.
I shot the targets a bit then decided I needed to paint them. While the coating they ship with is pretty darn tough, I really do like seeing the impacts a bit more clearly.
I did the same with the 18″x24″ plate.
I set Dad loose with his Python. I have to admit, it was really cool watching him reconnect with a firearm that he carried concealed in the 70's. He often talked about how much he regretted selling it before my birth, I really am grateful that my friend Yale who was able to find me a Python that my Mother and I could afford to get him.
I stepped up to the plate (Groan ….) and took a few rapid fire shots on the hostage target. It took the beating well.
After Dad and I shot the heck out of both targets (there were several re-paintings) it was time to pack it up. The targets took our range outing rather well, I look forward to many years of service out of the Grizzly Targets.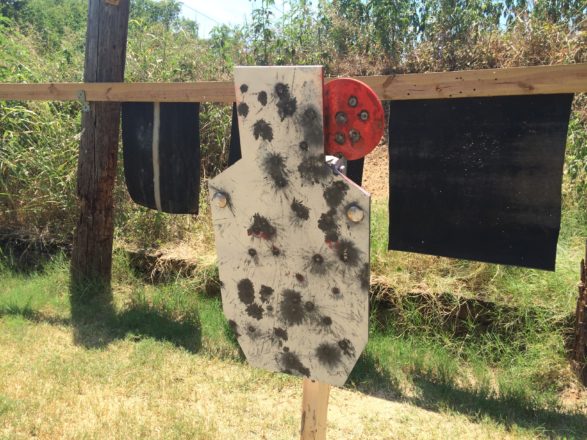 You can see the "bad guy" swinger took the impacts well. Dad seemed to like hammering the "bad guy" with .357 mag.
The 18″x24″ plate took a nice beating too, I still had 100 rounds of 12 gauge I wanted to let loose on it before we headed home. I had to move ranges though, don't want to tear up the backstops with a crap ton of tiny little pellets
At the shotgun range I decided I wanted to take as much of the paint off as I could. I wish I had brought some stakes because I knocked it over a few times mag dumping a loaned Mossberg 930 JM Pro.
I have to admit, I am rather pleased with the Grizzly targets. Shooting steel really brings a new dimension to my range trips, if you haven't tried it I highly recommend it.
Grizzly has several options that fit just about any budget. The IPSC hostage target has a MSRP of $299 – $349. The 18″x24″ plate has a MSRP of $265. You can check out all of Grizzly's offerings at their website here.
This post originally was run on The Firearm Blog - http://www.thefirearmblog.com/blog/2015/08/21/review-grizzly-targets-ar500-steel-targets/