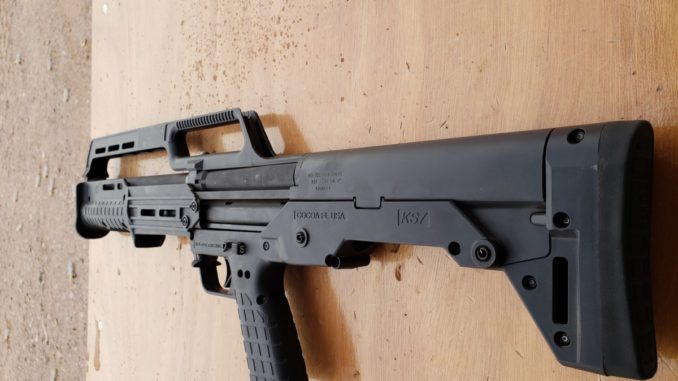 The Kel-Tec KS7 is a 12 gauge, single tube, bullpup style pump-action shotgun. It holds 6+1 rounds of 3" shells, or 7+1 of 2-3/4" shells. During Range Day I fired 10 rounds of birdshot, and 5 slugs, all 2-3/4, and encountered no issues feeding or ejecting.
The improved pump of the KS7 is far more ergonomic than what is typically found on shotguns, with this actually contoured to the shape of a human hand. The action is surprisingly smooth, being about as nice as my broken in Maverick 88.
Coming in at 5.6 pounds, with an overall length of 26.1", the Kel-Tec KS7 is over a pound lighter and a foot shorter than a traditional defensive shotgun. Despite its trim proportions, the KS7 manages to be pleasant to shoot, even when using slugs.
The carry handle presents serious Starship Troopers vibes, but is practical as well. The front sight is a triangular piece of fiber optic, with the rear sight being horizontal lines in the vertical portion of the carry handle. This allows shooters to get a better fix on their elevation than a traditional bead sight. For those wanting something different, the carry handle is removable. Kel-Tec will soon be offering KSG rails so shooter can mount their favorite accessory onto the KS7. 
With an MSRP of $495, the Kel-Tec KS7 looks to be another winner. This is definitely a piece I plan on getting my hands on in the future.