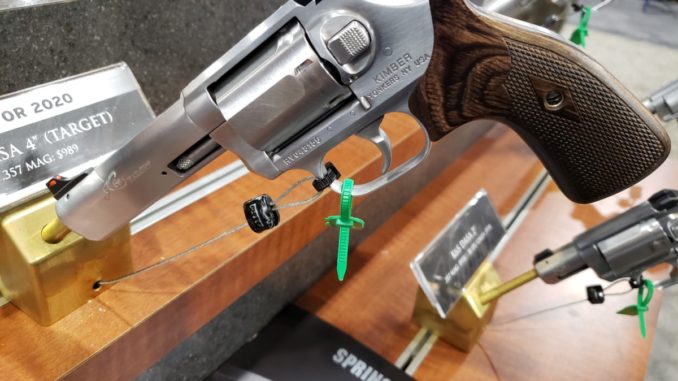 Kimber had their new four inch barrel K6S DASA revolvers on display at SHOT Show 2020.
The DASA is Kimber's new, exposed hammer, DA/SA line of revolvers. These are the first iterations of the K6S featuring an exposed hammer, and Kimber has kicked this off with a new, four inch barrel length. The guns remain mechanically unchanged, offering a smooth double action press, and six shot capacity. Hammers are placed unusually high on the K6S DASA, and are rather large, making for an easy grasping surface. Interestingly, Kimber has opted to keep the reduced length ejector rod with the 4" barrels, despite the room for a lengthened rod. This could become a problem, as shorter ejector rods are less reliable in clearing spent cases than longer rods. I suppose size isn't everything.
Two models of the K6S DASA 4" are available, Target and Combat versions. The Target model features an adjustable rear sight, and a red fiber optic front sight. The Combat version has non-adjustable three dot sights like on the shorter barrel K6S.
Both versions of the Kimber K6S DASA 4" will be available in May. MSRP is $989 for both the Combat and Target.
Affiliate Disclaimer: Firearm Rack is funded through direct donations and affiliate programs. Some links on FirearmRack.com are affiliate links. Using one of these links costs nothing extra, the retailer pays a percentage of the sale to Firearm Rack. Funding in this manner will assure that factual information is always first. If you would like our Amazon affiliate link or find more retailers on the Support Us page